Get To Know 'Stewards And Hamiltons' Sidekick Dean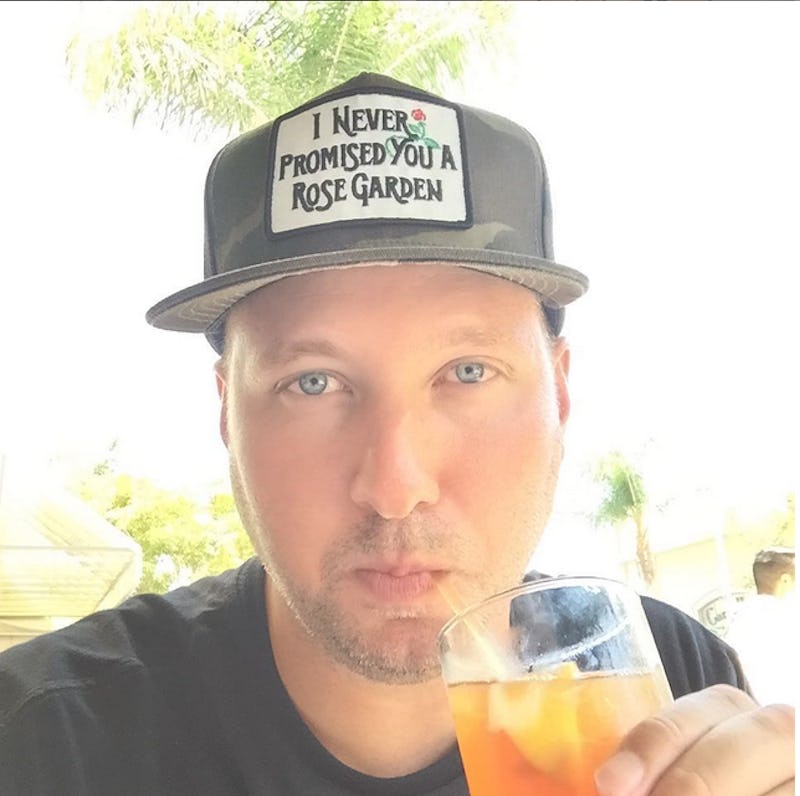 Stewarts & Hamiltons: It's a pretty clear divide. When E! premieres the new reality show on July 26, most of the cast members fall into one or two camps, as the title suggests. On one side, you have the Stewarts: Singer Rod Stewart; his wife, author and philanthropist Alana Stewart; and their children, model Kimberly and her brother Sean. On the other side, you have the Hamiltons: Actor George Hamilton (Alana's ex-husband) and his sons, actor/musician Ashley Hamilton and his 15-year-old half-brother, George Hamilton Jr. That's pretty clear cut. So then who is Dean Geistlinger, Stewarts & Hamiltons' last castmember?
Obviously, he's neither a Stewart nor a Hamilton. Instead, he'll be on the show in a best-friend capacity. He's the live-in BFF of Kim Stewart. Since he's not a celebrity dad or the offspring of famous parents, like most of the other people on the show, not much is actually known about him. He's kind of a mystery. We'll have to wait for Stewarts & Hamiltons to premiere before we can get a picture of who he really, truly is. But I'm sure you've heard of some of his work once I tell you his big professional accomplishment. Here's what you need to know about the shrouded-in-mystery Dean Geistlinger.
He's Best Buds With The Stewarts
I mean, obviously. But lest you think it's all a show for the cameras, just know that there's a lot of love for the Stews filling Geistlinger's Instagram.
He Has One HUGE Claim To Fame
According to legend, Geistlinger was the one who discovered Eminem. Or helped discover him, at least. He attended the Rap Olympics as a former-intern-turned-assistant to Jimmy Iovine at Interscope. Eminem lost his rap battle, but caught Geistlinger's attention. "I'm like, that's it—it's over for me," Eminem wrote in an annotation quoted by Vulture. "This kid from Interscope, Dean Geistlinger, walks over and he asks me for a copy of the CD. So I kind of just chuck it at him. It was The Slim Shady EP. We come back to Detroit, I have no f**king home, no idea what I'm gonna do. Then, a couple weeks later, we get a call. Marky Bass said, 'Yo, we got a call from a doctor!'" And Dre never would have heard of Eminem if it weren't for Geistlinger.
He Went On To Be In A&R
That's Artist & Repertoire, for those who aren't into music-biz lingo. Basically, they're the people who find new artists. His tip for those who want to be discovered? Get to the chorus, and get there fast. "With demos I usually get to the chorus of every song," he says in the above video. "[The chorus] is usually a minute and a half in every demo unless it's just complete gibberish recorded onto a cassette...I just listen for lyrics and just lyrics and their style and their delivery."
He Might Have A Different Idea Of What This Show Is About
The Kim & Dean Show? You have to wait for your third-season spinoff, Geistlinger!
He Has A Fondness For Baseball Caps
It's cute, in a Frank-from-30-Rock kind of way. I wonder how many he'll break out for the first season of Stewarts & Hamiltons.
Image: dean_dean_dean/Instagram