BSB's "The Call" Music Video Is Full Of Lessons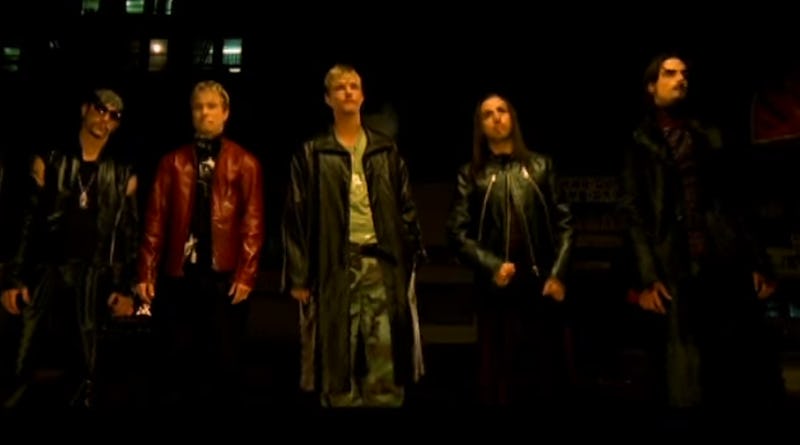 Let me tell you the story about the call that changed my destiny, er, the story about Backstreet Boys song "The Call" (aka the "UH OH! It looks like someone caught the cheatin' bug! Gotta go!" anthem). 15 years ago, the boy band released a larger than life (sorry I'm not sorry) music video for the second single off of Black & Blue. An action/adventure/sci-fi/revenge thriller, if you will. In "The Call" vid, AJ McLean, Howie Dorough, Nick Carter, Kevin Richardson, and Brian Littrell all play "The Boyfriend" who toys with the idea of cheating on "The Girlfriend" with "The Affair Avenger." And though the music video dropped in 2000, its messages continue to ring true today. (Yes, as a matter of fact, I am patting myself on the back for cramming three phone puns in one sentence.)
On first glance, it may seem like the video's "think twice before you step out on your girlfriend/boyfriend/wife/husband because you might wind up chasing and being chased by The Affair Avenger" theme is the video's only lesson. It most certainly is not. There are some more lessons sprinkled throughout. Timeless life lessons. Lessons that should be taken very seriously. Lessons that, if followed, will ensure that you lead your best life. Here are some of the extremely invaluable life lessons that can and should be gleaned from "The Call" music video:
Be sure to leave a cheese grater next to your cat's food dish.
What if your cat prefers shredded kernels? It's always nice to give your cat the option.
Keep your cell phone far away from green lasers.
A green laser will sap a cell phone's battery life faster than you can say "changed my destiny." Green lasers are evil like that.
Do whatever it takes to avoid an unnecessarily high cab fare.
Catch ya later, traffic jam.
If you see a billboard with your face on it, don't stop and stare.
IT'S A TRAP!
If you see a grocery cart move by itself, sprint away.
The grocery cart is most certainly being pushed around by a grocery store ghost. GET OUTTA THERE!
Don't bother knocking over an entire display of cans to trip a grocery store ghost.
Three or four cans is all it takes to thwart a grocery store ghost. Seriously. Don't ruin the whole display! Do you have any idea how long it took to assemble?!
If you notice a Howie Dorough doppelgänger situation happening, don't be too embarrassed to ask questions.
Don't ignore the mysterious doppelgänger. Something weird is happening. You'd be crazy not to ask the Howies for an explanation.
If you're wearing a Howie Dorough mask and Nick Carter catches on, roll away.
The jig's up, bucko.
Images: BackstreetBoysVEVO/YouTube (9); Kristie Rohwedder/Bustle (8)