11 Cool Travel-Inspired Tattoos For Wanderlusts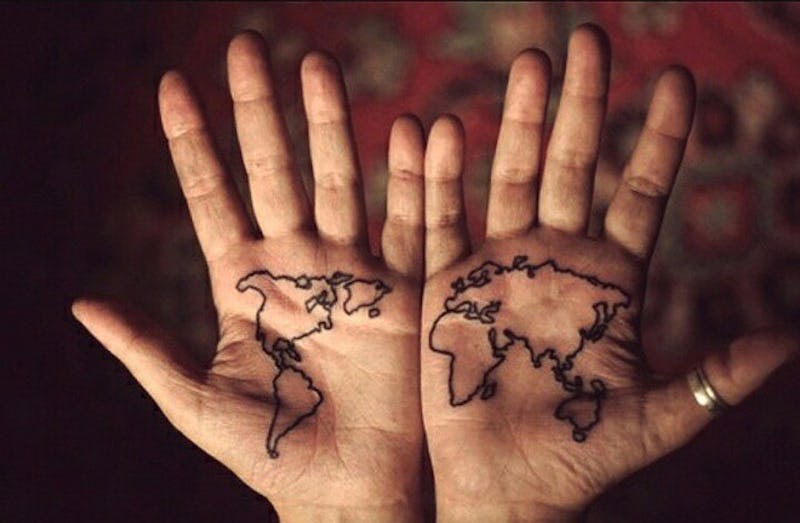 From decking yourself out in travel-inspired clothes and jewelry to looking up all the best states for road trips, it's pretty obvious that you've been itching to explore. There's definitely no shame in that — in fact, allow me to further fuel your wanderlust spirit with some amazing travel-inspired tattoos. Whether you're a world traveler or an dream explorer, these incredible ink examples will have you running to your nearest tattoo parlor, maybe even one out of this country.
You can try to decorate your room with photos of you on your favorite trips or change your laptop background to where you want to visit next, but there's just something about committing to this life of a wanderlust and getting permanently inked to prove it.
Sure, the month of July is already coming to an end, which means summer is basically halfway through, but who says you can only travel now? It's always summer somewhere in the world. As long as you're alive and well (and you've been racking up some vacation days at work), then your spontaneous "summer trip" can happen any time of the year.
These tats will definitely serve as a great reminder to get up and travel!
1. Not all who wander are lost
Such a great quote.
2. Have Plane, Will Travel
Love this peek-a-boo placement.
3. Color Collage
Get a collage of three things that you love about traveling and stick a banner that says "Wanderlust" on that baby.
4. Simplistic Text
OK, I know feet are one of the most painful places to get a tattoo on, but this beautiful piece looks so worth. Plus, symbolically, your feet are what leads you to travel.
5. Intricate Map
Viking vibes are strong with this piece.
6. Map Outline
This tat will definitely serve as a great reminder to explore the whole world.
7. Miles To Go
Don't ever stop because there will always be miles to go.
8. Cityscape
Pick your favorite city.
9. Paper Plane
Quirky, innocent, and cute. Love it!
10. Explore
I seriously can't get enough of these scripted texts.
11. Stamped
It'd be cute if you stamp yourself with your hometown so that wherever you go, everyone will know your roots.
Images: terrimariecorrigan, _polariodofus, sr27, jcote103, twilighttattoo, travel_tattoos/Instagram (6)