Willie Geist Channels LL Cool J On Lip Sync Battle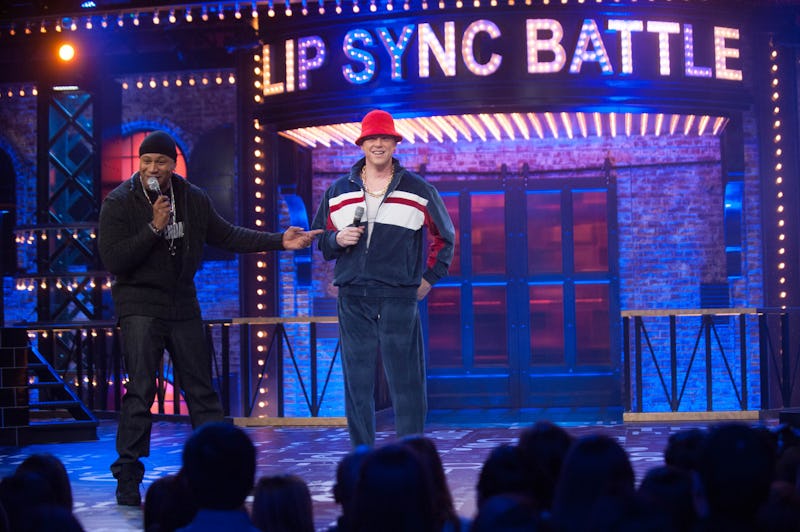 Well this is certainly one way to win a battle. On Thursday night's hit Spike TV series Lip Sync Battle, TODAY show anchor Willie Geist took on Andy Cohen of Watch What Happens Live for the ultimate prize: The Lip Sync Battle belt that color commentator Chrissy Teigen revealed she and her mom bedazzled themselves. While both men brought it in a big, big way, Willie Geist beat Andy Cohen after shamelessly channeling LL Cool J for his second song choice with the hit single "I Need Love." Now for those of you who don't know, "I Need Love" is a classic LL Cool J track. In fact, it's one of the main reasons he's earned those initials "LL" before his name. After "I Need Love" came out, there was no way the ladies wouldn't love him. While Willie Geist may not have had the swagger of vintage (and let's face it, current) LL Cool J, he definitely knew that the song choice would be precisely what the host and the crowd wanted to see.
The battle began with both men on an even terrain. Andy Cohen began by syncing to Cher. But Geist hit back hard with yet another diva, Dolly Parton, by performing the song "9 to 5." It was definitely not obvious from the those two initial performances who would take home the belt. But it became immediately clear upon LL Cool J's reaction to Willie Geist entering the stage in the rapper's signature fashion.
Just imagine, if you will, Willie freaking Geist syncing to this song perfectly. The performance was minimal, Geist took the stage by himself and stayed up there without a gaggle of dancers swaying behind him. But he did pull a few tricks out of his velour sleeves. When Geist did the obligatory bend down to get closer to the fans, he plucked two girls out from the audience to dance with him. Obviously they were dancers on the show, but the surprise of it was smart and hilarious. I think at this point even Andy Cohen knew that his rendition of "Working For The Weekend" wasn't going to cut it, even if he did bring out what he liked to call "straight Andy" for the performance.
When the time came for the LL Cool J to respond Geist's performance, the words seemed to escape him at first. Then he made this hilarious comment: "You look like me but with a genetic mutation." And that's not all, Geist asked LL Cool J's opinion on the outfit to which the rapper replied that it was pretty much spot on. Geist asked about the hat and the rapper stated that it was perfect, and then we were gifted with this exchange:
Geist: "Yea but your chain is bigger."
LL Cool J: "well it is what it is"
Take that as you will. In the end it was no contest, Geist was the winner and he graciously shared his triumph with Cohen. The two men had nothing but love for one another, and really that's the best part about Lip Sync Battle. When two friends compete in such a fun way, it's just so damn fun to watch.