Popular Baby Brand Recalls Thousands Of Strollers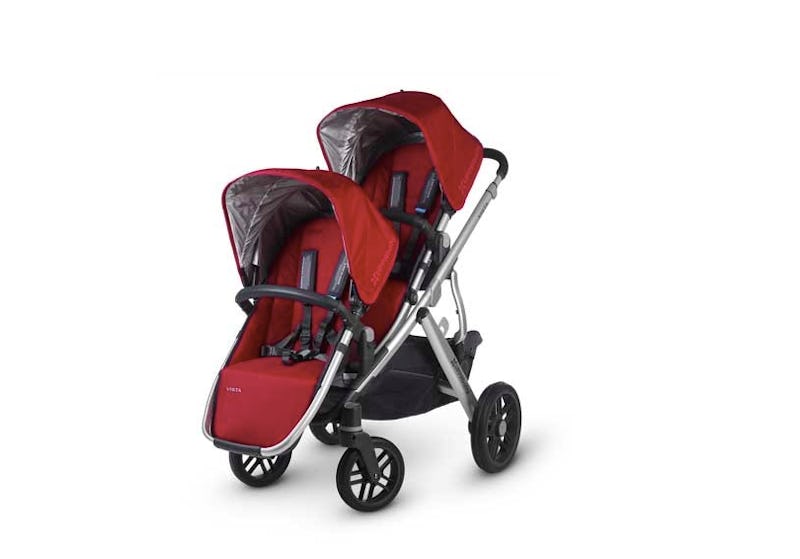 The überpopular stroller brand UPPAbaby is recalling 71,000 strollers and seats in the U.S. this week due to a possible choking hazard, the Consumer Product Safety Commission reported Wednesday. The recall, which also affects 8,000 products sold in Canada, was issued for the 2015 Cruz and Vista stroller models, as well as UPPAbaby's RumbleSeat attachment. The main issue, according to the CPSC, has to do with its foam crossbars, which have raised choking concerns after 22 reported cases of children biting off foam pieces were brought to the government's attention.
In an email to Bustle Friday, UPPAbaby's Director of PR, Sarah Hines, notes that this is the first recall in history for the stroller brand, which stepped in after customer concerns were raised. "We were proactive and contacted the CPSC and conducted a safety advisory back in the beginning of June to mitigate the bumper bar potential risk by sending out bumper bar covers to registered customers," says Hines, who also adds that since June, all products sold have bumper bar covers with them. A statement posted on the brand's website Thursday also aimed to calm customer fears, saying:
We value our customers and are committed to providing you with a stroller that meets our high quality standards. Please be assured that providing safe strollers and baby gear for children and families is our number one priority. In an abundance of caution, the company, in cooperation with the CPSC, is conducting a voluntary recall of the bumper bar on the 2015 VISTA stroller, 2015 CRUZ stroller, and 2015 RumbleSeat. This does not impact and/or effect previous stroller models. UPPAbaby has resolved and mitigated any potential risk, by reintroducing a warning label and bumper bar cover which zips over the bumper bar.
As the CPSC notes, the items affected were sold at BuyBuy Baby, among other retailers, and online at Amazon.com from December 2014 until this month. The Cruz and Vista strollers recalled all have gray or black frames, black fabric seats, a colored fabric canopy, and a black basket under the seat. The RumbleSeat, if you're unfamiliar, is a separate seat that can be attached to the frame of either UPPAbaby stroller to make room for a second child.
Think you, or someone you know, might own an affected model? The CPSC urges you to remove the bumper bar immediately and contact UPPAbaby — either by calling customer service toll-free at (844) 540-8694 from 9 a.m. to 5 p.m. ET (Monday through Friday), or emailing the retailer at contact@uppababy.com. UPPAbaby is offering free covers for the bar, complete with a new warning label, according to the CPSC.
UPPAbaby Cruz
UPPAbaby Vista & RumbleSeat
UPPAbaby RumbleSeat
UPPAbaby Bumper Bar
If you don't have a kid but these strollers look familiar to you, it's because you've probably (OK, definitely) seen one cruising down the sidewalk about a million times in the last year. UPPAbaby's Cruz and Vista models are super popular among parents, which is why news of this latest recall spread like wildfire on Twitter.
Luckily, though, no injuries have been reported, and the recall — while still sizable — comes nowhere near the scope of the last big stroller recall issued by the CPSC. That one, you may remember, happened in November 2014, when 4.7 million Graco stroller models were recalled in the U.S. due to possible fingertip amputation hazards. Another 210,000 were recalled in Canada and Mexico, making it the largest stroller recall in history.
For more info on the UPPAbaby recall, you can read the CPSC's full report or visit UPPAbaby's official website to register online for a new bumper bar cover.
Image: Robert Valencia/Flickr