Everything You Need To Know About Jet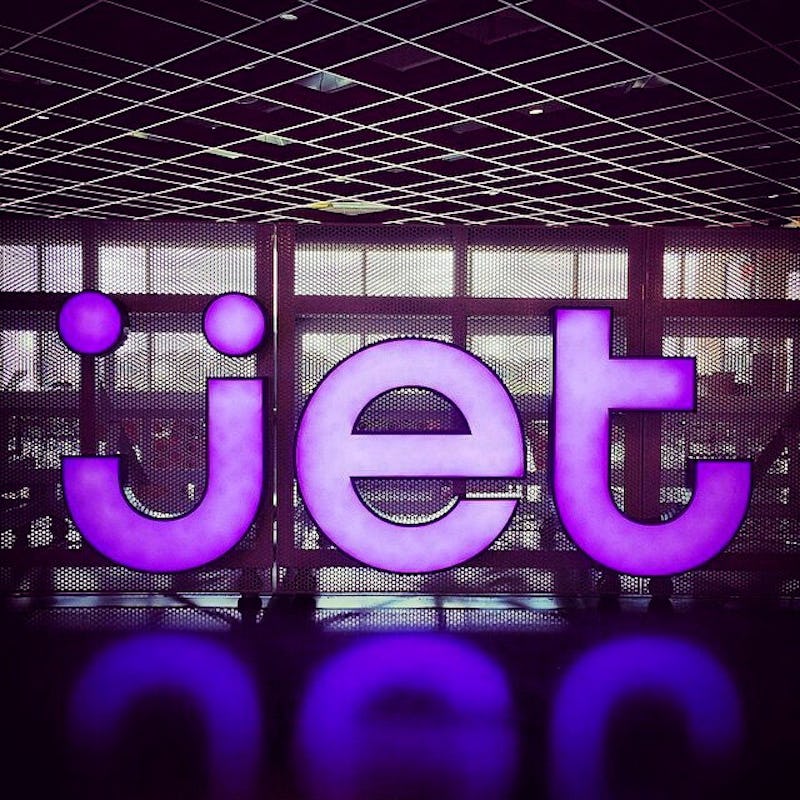 A new shopping site launches everyday, perhaps every hour, and each one promises to "revolutionize" this, or be the "Warby Parker" of that. It's not hard to get e-commerce whiplash trying to keep up. But enter Jet, an online shopping club that launched this week, and is already slated to give other similar retailers a run for its money.
With 1,300 retailers, from Adidas to Zara, already in its portfolio, Jet aims to have the lowest prices online. That's a hefty goal, but Jet has spent a lot of time and money on a very complex algorithm (masked by a super user-friendly interface) that will make good on that promise.
Jet seems to be out for world domination, at least when it comes to saving money on everything from cameras to cleaning supplies. But execs are particularly interested in targeting older millennials, who have more spending power than their younger, just-out-of-college counterparts, but with a home mortgage or a baby on the way, may be more conscious about saving hard-earned moohla.
I took Jet out for a test drive, and while there wasn't the staggering range of products like on a site like Amazon (yet!) it was exciting to interact with the inventory and literally see prices rapidly tick lower and lower, in real time, each time I added an item to my cart. Here's why, millennial or not, you should care about Jet:
1. "Get Savings On Pretty Much Anything"
Those are their exact words, spoken by comedian Kumail Nanjiani (the dude from Silicon Valley) in a video posted on Jet's landing page, and that line is also the first thing you see when you navigate to the shop, along with a très cute pooch modeling next to some everyday necessities. Ruff, er, 'nuff said.
2. It's Clean And Simple
Let's be honest; sites like Amazon and ebay can sometimes look a little cluttered. There's a lot to see, a lot of competing prices, and a lot of "what if I can get a better deal with this other seller versus that one?" Because of the aforementioned algorithm, Jet does that price comparison for you, behind the scenes, so your pricing automatically adjusts to give you the best rates on everything, every time you add something to your cart. The interface looks clean and friendly, lending itself perfectly to selling beauty products, clothing, and more.
3. Your Zip Code Will Save You Money
It's not that some zip codes have better deals than others. It's that some retailers provide better pricing to certain zip codes, and those are the ones Jet pairs you with. Using your location, Jet's algorithm pairs you with retailers closest to you, or that offer the best rates to your area.
4. Earn Money Even When You're Not Shopping
Head to Jet, search through their partner sites, and click through to those sites from Jet, and when you complete a purchase you earn up to 30% cash back to your Jet account, so you can use it towards a future purchase. One-hundred and fifty dollars spent on J Crew, for example, could toss $22.50, or 15%, into your Jet account.
5. Tons Of Ways To Save
There seem to be endless options to save a bit here and there along every step of the way, from shopping to checkout, which is the opposite of a lot of shopping experiences, where you're constantly being hounded to add or upgrade. Instead, Jet gives additional percentages off for using one credit card over another, or opting out of free returns.
Of course, as with any new tech, there are some not-so-great aspects which deserve some pointing out. For example, speed is not a priority. Unlike sites like Amazon, which famously houses its own membership program Amazon Prime, Jet is not all about free two-day delivery, same-day delivery by drone, or even free returns.
However, the site just launched earlier this week, and as they say, Rome wasn't built in a day, so it remains to be seen if Jet will win its way into the hearts of millennials, bargain hunters, and loyal Amazon Prime members. But with founder Marc Lore's pretty impressive track record (he worked at Amazon for several years), a growing roster of retail partners, and a reported $100 million marketing budget, it looks like the sky's the limit for Jet.
Image: jet/Instagram