How To Help Two Lafayette Survivors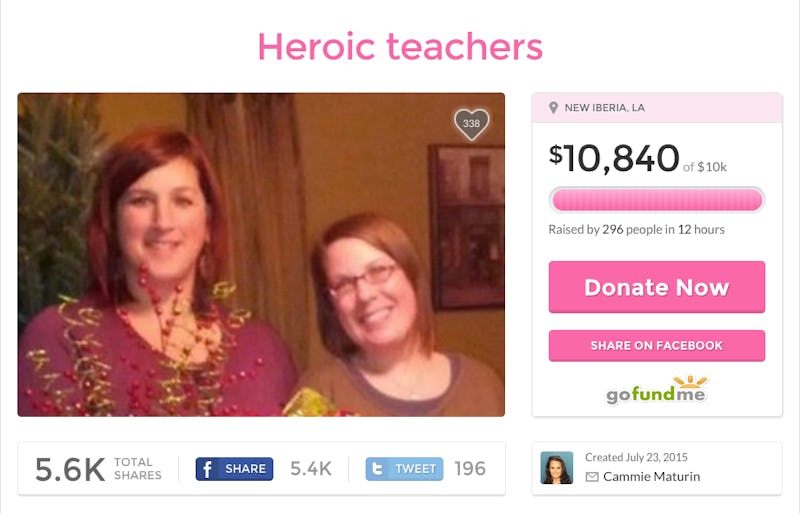 A shooting at a movie theater in Lafayette, La., has left three people dead, including the gunman, and nine more injured. But during the night of tragedy, the story of two heroic women emerged: Two teachers who were inside Lafayette theater at the time of the shooting tried to protect each other, and although both of them were injured, one of them managed to set off the fire alarm to let everyone know there was an emergency. In the aftermath of the shooting, a friend of teachers Jena Meaux and Ali Martin has set up a GoFundMe page to support the two women.
Cammie Maturin, a resident of New Iberia, La., who identifies herself as a former colleague of the two teachers, set up the fundraising page on behalf of the Iberia Association of Educators to help Meaux and Martin cover any possible medical expenses that aren't covered by insurance as well as make up for any time they might lose with the school year approaching. On the GoFundMe page, Maturin describes Meaux and Martin, who teach at Jeanerette Senior High School, as "strong," "beautiful," and "brave" heroes who have earned the love and support of their community.
Both Meaux and Martin were shot in the leg, with one of them having thrown herself in the path of a bullet in order to save the other from being shot in the head. Louisiana Gov. Bobby Jindal commended Meaux and Martin after the shooting for their heroic actions.
Out of tonight's tragedy, you are beginning to hear stories of heroism and self-sacrifice. Couple of teachers at a movie together, one of the teachers literally jumped on top of the other — may have saved her life. Literally took a bullet that could have hit the second teacher in the head. The second teacher was injured, was shot but not life-threatening. She is one of those being discharged tonight. Despite being injured, the second teacher was able to pull the fire alarm and help to save other lives.
After just 12 hours, the GoFundMe page has already surpassed its original fundraising goal of $10,000, but it's not too late to continue helping out. Maturin, who said she planned to visit with both women on Friday, explained the necessity of supporting these two selfless women.
These are two women who would give the shirts off their backs. They have bought so many times — school supplies, uniforms. They take out of their pocket to give to kids. The thing we can do as colleagues is to give back to them. You have two wonderful people who are going to be scarred for life — more than just the gunshot wounds.
Images: GoFundMe (1), Getty Images (1)