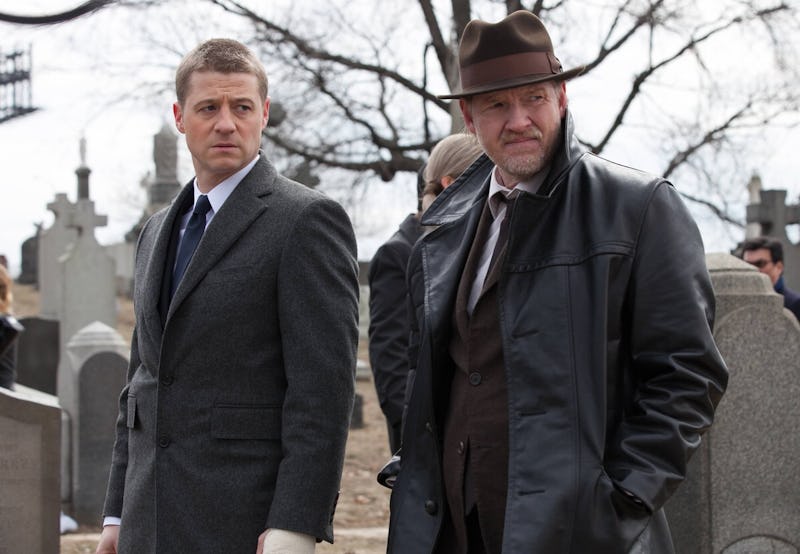 If you're not already excited for Gotham Season 2, this teaser should do the trick: Set to a slowed down, acoustic-y cover of Duran Duran's "Hungry Like the Wolf," the teaser proves not only that Gotham Season 2 will be filled with tons of new villains and badass storylines, but also characters on the hunt. As Ben McKenzie's Detective Jim Gordon says to his commissioner, played by Hannah Horvath's dad (aka Peter Scolari, for all you non-Girls fans), "I told you I'd break you. I will." We next see him loading a gun, before entering into an alliance of sorts with the Penguin. EEK.
Additionally, the teaser features quick snapshots of the villains to come, including Victor Zsasz, a supervillain sometimes referred to the most soulless of them all. The most exciting thing, however, is our first tease of Shameless star Cameron Monaghan, who was announced earlier this summer to be playing a character in Season 2 who may or may not be The Joker. (My money's on the "may.") For what it's worth, Monaghan appeared in an episode during Season 1 as a troubled teen named Jerome, which coincided with showrunner Bruno Heller saying in February that the character marks "the beginning of the Joker saga," — but is not necessarily the Joker himself.
However, I think that if the demonic grin in the teaser is any indication, we definitely have a Joker in this deck.
Check out the trailer here, and get ready for the "Rise of the Villains."
Gotham Season 2 will premiere on Sept. 21.
Image: Jessica Miglio/Fox