How To Avoid Caked-On Foundation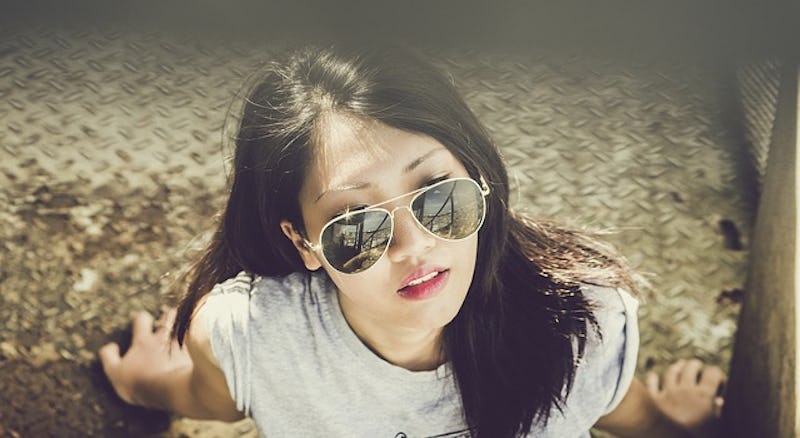 Just about anything can lead to makeup melt-off, or worse — it gets caked on, and fast. No one needs their foundation sinking into their pores or settling into every crease of their face, so avoiding caked-on foundation is a must. Caked-on makeup happens when your base products are applied too heavily, and leave an exaggerated powdery finish to the skin. When you spend time putting on your makeup and it all goes wrong that quickly, it's pretty frustrating. Who needs that? Makeup is all about emphasizing your favorite features, after all — not making you feel weighed down or sticky.
Sometimes, no matter what season it is — but especially during warmer months, it can be hard to tell if you're applying your makeup too heavily. Whether it's the tools you are using or the amount you're applying, there are a lot of ways that you can be messing up your makeup. That coupled with heat and humidity or rain and wind can lead to an ultimate makeup disaster. Avoid that this season by getting in the know. Cake face is out, and luminous, dewy skin is in. And you won't even need a whole new batch of products, either. You just need to know how to use what you already have correctly. Wondering if you're giving yourself cake face? Here are a few tips and trick to avoid caking on your makeup, no matter what season it is.
1. Use Primer
Maybelline Baby Skin Instant Pore Eraser, $7, Ulta
Primer is amazing at locking down foundation, and keeping makeup looking fresh. I prefer to use primers with a silicone base as they tend to glide onto the skin without a heavy feel. What's great about primers is that they fill in any lines or pores. This means that your foundation won't settle into your skin meaning that you skin will look fresher and younger looking.
2. Work In Thin Layers
Often times, the reason that makeup can look caked-on is that we only apply one heavy layer of our makeup. Instead, use thin layers of makeup all over the face in order to cover any imperfections. This allows your makeup to be thin all over your face, while allowing you the control to build up the product where you need it. Wondering what qualifies as a "thin layer"? Pump out a pea-size of liquid foundation onto your hand, and apply to an area of the face. This will be just enough product for that area without going overboard.
3. Use Your Fingers
Ditch the brushes! In order to have your makeup apply seamlessly across your face, use your fingers. The heat from your fingers will blend the makeup into all of your face's natural contours without any streaking from a brush.
4. Blend Away
One of my favorite tips is to use a sponge to blend your makeup in further after you apply your foundation. A dampened sponge will pick up any excess product on your face. This excess product is what tends to cause the dreaded cake-face.
5. Powder Is Key
No matter if you have oily or dry skin, you need a bit of powder in the summer. Powder really does set any liquid products that you apply to your face. I suggest a translucent loose powder for a natural looking finish.
6. Spray Away
Facial Spray With Aloe, $12, Mario Bedusco
Setting sprays are really the cherry-on-top of any makeup look. The spray locks in your foundation, while refreshing your face with the mist. This means that the setting spray will give your face a more natural, less powdery look.
See? Foundation is as easy as that.
Images: Pixabay (1); Courtesy Brands