7 YouTube Hauls To Get You Through Mid-Summer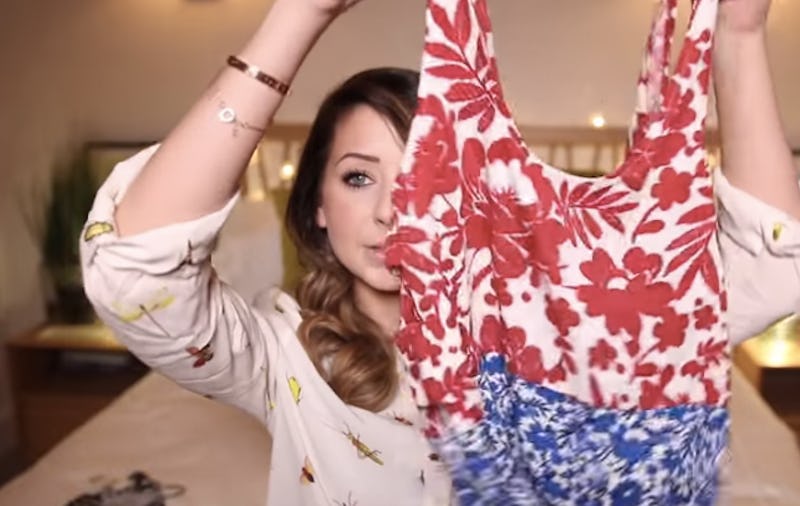 It's practically August and, if you're like me, there's a chance you're already tired of all your summer clothes by now and are desperately in need of some warm-weather style inspiration. Luckily, there are plenty of summer clothing hauls on YouTube. Vloggers have trolled our favorite stores to find the best pieces currently available, so you don't have to do any of the heavy lifting when you hit the mall in search of something new.
The problem with summer is that you can't keep layering like you can when in the fall. When it's fall, you can add layer upon layer of scarves and sweaters until you look chic, but in the summertime, you have to carefully select pieces because you only want to wear so much clothing at once given the heat. You can't just throw on a leather jacket and a scarf and look cute. You have to choose wisely.
In the need of some summer style inspiration? My favorite YouTubers have gone on plenty of shopping sprees, so here are some of the best (and most current) hauls so you can get inspired to look cute for the rest of the summer, without having to leave your bed. It's a win-win.
1. Zoella Talks Zara and Topshop
Looking for some European pieces to keep your wardrobe chic? Zoella has a few suggestions from Zara and Topshop that will inspire you.
2. Arden Rose Has Some London Shopping Tips
Looking for cute crop top sweaters? Arden Rose knows the secret.
3. Kathleen Lights Takes On Forever 21
Forever 21 turns around merchandise so quickly, but if you move fast, you might be able to score some of these trendy pieces.
4. Danielle Marie Hits All Of Your Favorites
Plan on hitting Target, Forever 21 or Urban Outfitters anytime soon? Danielle Marie has some suggestions for you.
5. Jeanine Amapola Takes On Victoria's Secret And Nordstrom
Jeanine went to California and got inspired. You'll want everything in this video. Trust me.
6. Miss Tiffany Ma Knows A Thing Or Two About Shopping
Thinking of hitting up Windsor or Brandy Melville anytime soon? Watch this video first.
7. SimplyNessa15 Shares Her Mall-Shopping Secrets
If Pac Sun and American Eagle are on your list, SimplyNessa15 has you covered.
Image: Zoella/YouTube