GarnerStyle Blogger Releases Size Inclusive Line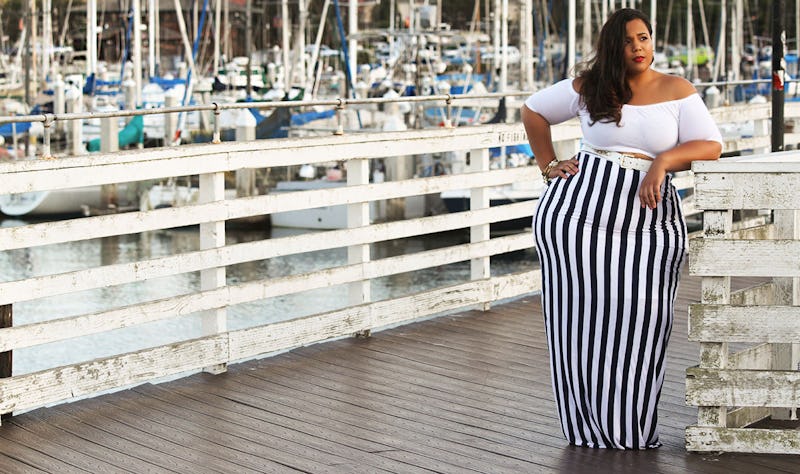 Plus size fashion blogger sensation Chastity Garner-Valentine of GarnerStyle has worked her sartorial design magic in a capsule collection for RebDolls with a surprisingly affordable price range (surprisingly when we compare the prices between straight sizes and plus sizes), with items starting as low as $26.50 and up to $58. The capsule collection is representative of Garner-Valentine's unique style and unabashed disregard for plus size "style rules." A nautical theme runs through the clothes and Garner-Valentine rocks the look through modeling the collection herself in a summery, sunny dock yard. The line isn't exclusively a plus size range, either: It begins at an S and goes up to 5XL.
Seeing as clothing lines are often a minefield of sizing discrepancies, with measurements and fit varying from brand to brand, designer to designer, and no two garments ever being made the same, size Garner-Valentine has handily provided her own and honest review of the sizing of her line with RebDolls:
"Styles Notes: I've already had a lot of questions about how the sizing runs. My top is a 16/18 and bottom is a 26, so I'm going to run through the pieces to give insight.
Off the Shoulder Crop — Got a 2X and I would normally wear a 2X — shirt has little give.
Straight Maxi Skirt — Got a 3X and would normally get a 3X — skirt has a small amount of give, but not much.
Khaki Dress — Got a 4X. This is structured, but the dress does have stretch. The fabric is considered a stretch twill.
Wrap Dress — Got a 3X (b/c I need enough room for my hips) — Dress has give, but in the tradition of wrap dress there you can wrap it to fit. I probably could have gotten a 2X but it would probably create a slit and a little thigh action. So size down if you want that.
Yellow Midi Flare — Got a 2X, True to size, waist band has stretch, hips are free.
Striped Maxi Flare — Got a 2X, True to size, waist band has stretch, hips are free (similar fit to the midi flare).
Boat Neck Striped Top — Got a 2X, True to size, Shirt has stretch.
Navy Midi Pencil — Got a 4X, my hips are wide, but skirt has stretch.
White Pants — 3X — The legs are wide and the fabric has a nice weight to it. There is give in the pants.
Personally, I'm in love with the white wide legged trousers and "The Captain" midi dress, but all the pieces in the collection are refreshing looks to test out this summer. Garner-Valentine is giving us the clothes that she inspires us with on a daily basis, and "divine" doesn't even begin to cut it.
Images: GarnerStyle/Michelle Alexandra