This Plus Size Bridal Collab Is Unbelievable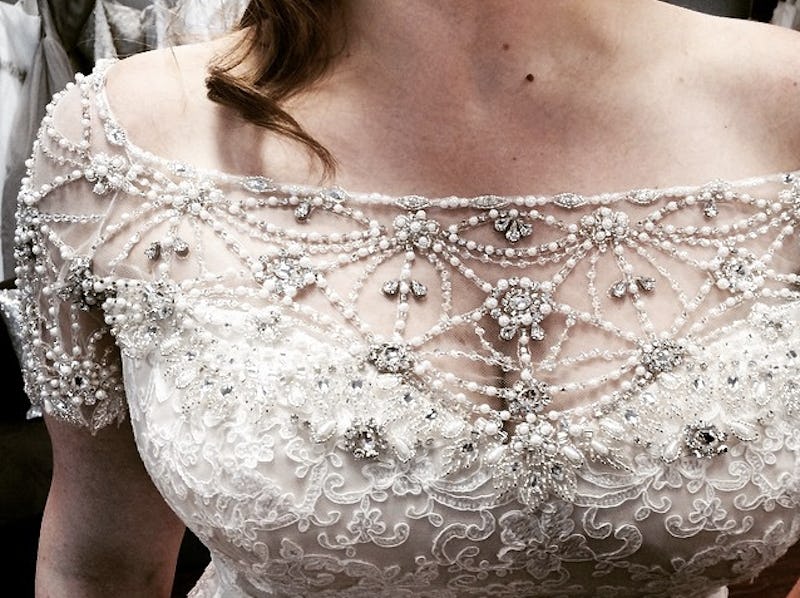 Avid reader of Marie Denee's lifestyle blog The Curvy Fashionista? Do you have plans in the pipeline for the perfect wedding day? Then on Saturday Aug. 8, I advise you to run, not walk, to The Curvy Fashionista's StyleExpo with Curvaceous Couture Bridal, where the sample sales for plus size wedding wear are sure to be extraordinary.
You may already be familiar with the blog's dynamic focus, offering plus size women fun and body positive fashion, beauty, and lifestyle news and advice that flies in the face of mainstream fashion publications. You may also have heard wind of The Curvy Fashionista's first ever StyleExpo, a bustling new shopping and style exhibit at Ambient Plus Studios in Atlanta, Georgia complete with a star-studded fashion show hosted by plus size model Ashley Graham. But as Denee lets us know on her blog, TCF StyleExpo has now teamed up with Yukia and Yunesia of Curvaceous Couture Bridal and TLC's Curvy Brides to make your wallet's dreams come true, with a comprehensive plus size bridal sample sale at purse friendly prices.
According to the creative pair's website, Curvaceous Couture "believes that every woman's wedding dress selection experience should be as joyful and fulfilling as possible, but the more shapely bride is forced to face disheartening challenges." The proliferation of these bridal fashion industry pitfalls is exactly what makes the pair's business model so refreshing. As the first designer bridal boutique of bespoke, full figured wedding dresses, the gowns are designed to fit women ranging from a U.S. 12 to 44, with professional bridal stylists committed to helping every customer feel like a million dollars on their wedding day.
With doors due to open at 12 p.m., each bride will be allocated a 45 minute shopping slot, and may be accompanied by two guests — so choose your shopping partners carefully! Each shopper will also be able to select up to four dresses at a time, for optimal wedding dress "wear and compare." However, the sample sale's premises will not include dressing rooms, so opt for comfortable clothing that your dress can easily be tried over the top of if required.
Worried the meager time slot isn't enough to ensure your new dress fits like a dream? Curvaceous Couture will also be partnering with a local bridal boutique in Georgia to offer bespoke plus size bridal alterations, details of which will be disclosed on the day of the sample sale, enabling you to nip, tuck, and alter your gown until it fits like a glove.
Images: curvaceouscouturebridal, mariedenee/Instagram