Does This New Korean Skincare Trend Actually Work?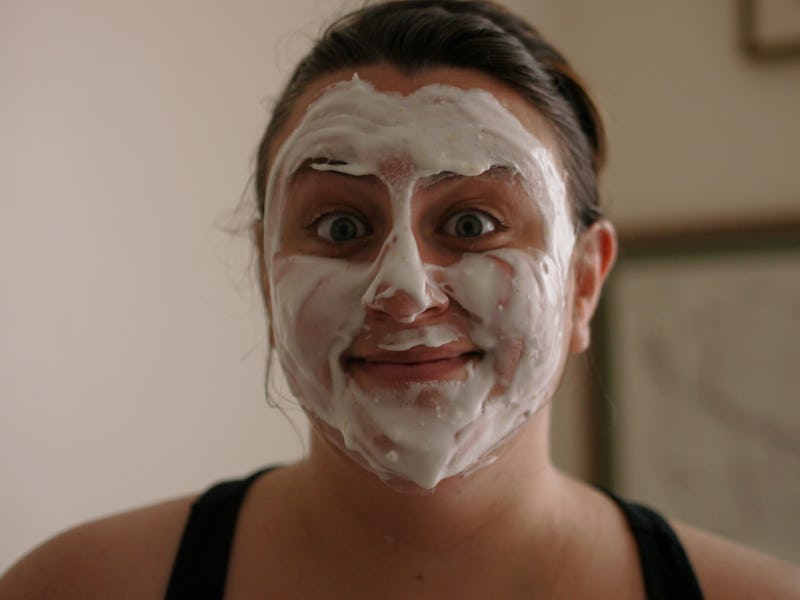 This year, I moved back to New York City after six years in Seoul, thinking that I knew all the amazing Korean beauty trends and secrets out there. Then I learned about rubber masking. Suddenly (cue Drake voice) nothing was the same.
Rubber masking has been a luxury Korean spa secret for some time now, but its presence in the Korean beauty market totally escaped me while I was living there. Perhaps it was because I never received a full Korean facial. I stuck to the everyday spas, where I stripped naked and middle-aged women in black lingerie scrubbed my body with exfoliating gloves and thoughtfully, in their best English, told me to lose some weight in my midsection. The 찜질방, or jjimjilbang, is the most typical Korean spa, but it's not exactly luxurious, and most of the treatments focus on the body instead of the face. (Now I'm fantasizing about going back to catch up on all the facial treatments I missed.)
Click Here To Shop Glow Recipe
Luckily, there are websites like Glow Recipe, where I can indulge my love for Korean skincare stateside while staying mired in vanity-focused fantasies about intercontinental travel. Glow Recipe is an e-commerce site that specializes in Korean products, and it has a variety of rubber masks to choose from. The trend I missed out on while I was in the Land of the Morning Calm is one of the weirdest, WTF-beauty-moments from Korea yet... but it also might be one of the greatest.
WTF Is A Rubber Mask?
It's exactly what it sounds like: A facial mask that starts off as powder and water, and becomes a rubber coating when it solidifies onto your face. The masks are mineral-rich and are meant to cling to every possible contour. You keep the mask on for 15 minutes, then peel it off. If you're lucky, it comes off in one sheet and is the most satisfying experience ever.
Glow Recipe is the only site I can find that sell the masks internationally, and it carries the Calendula, Collagen, Tea Tree, Lavender, Vitamin, and Pearl varieties of the modeling mask. The masks are only $6 each (or $11 for a set of two), so trying these out is a fun dive into beauty weirdness that won't break your budget.
Though I would normally prefer the anti-acne benefits of a tea tree situation, I chose the Calendula mask for this experiment because my skin has been mighty fine these days. Calendula is a simple, natural ingredient that's meant to soothe and brighten.
WTF Should I Do With It?
The masks come in a sealed a cup, containing the powder and a little mixing spatula. After adding water until the mixture reaches a line around the cup, you use the spatula to blend it until the consistency is even. At this point, I realized that my childhood fantasy of covering my face with Elmer's Glue and peeling it off was about to come true.
I think I added a touch too much water to the powder, because the mixture was loose enough to start dripping off of my face as I applied it. I didn't mind that I had to spend a little bit of extra time spreading it around, because it feels so good to apply. It's cool and soothing — the type of thing that would feel really good if you were hungover or sunburnt.
Once the mask is all over your face, you have to wait 15 minutes for it to solidify. During that time, it will feel like it's not going to set. Trust me: It will. It will also inspire you to reenact your favorite horror films, which may make your significant other or roommates uncomfortable. Trust me: Do it anyway. The Michael Myers realness is too good to ignore.
When your time is up and your mask is dry, it's time to get your peel on. Since my rubber mask was a little bit thin, I couldn't peel it off in one piece. It was still incredibly gratifying to peel, and it didn't tug at my skin the way that drugstore brand masks tend to do.
When all of it was off, my skin felt smooth and moisturized and really, really fresh. I don't think it warrants a before-and-after photo, because the mask didn't really change how my skin looked. However, it did change how it felt, and that alone was enough for me to take a Korean-style selfie in celebration.
Images: Amanda Richards