21 Outer Space Clothing Options To Delight Your Inner Astronaut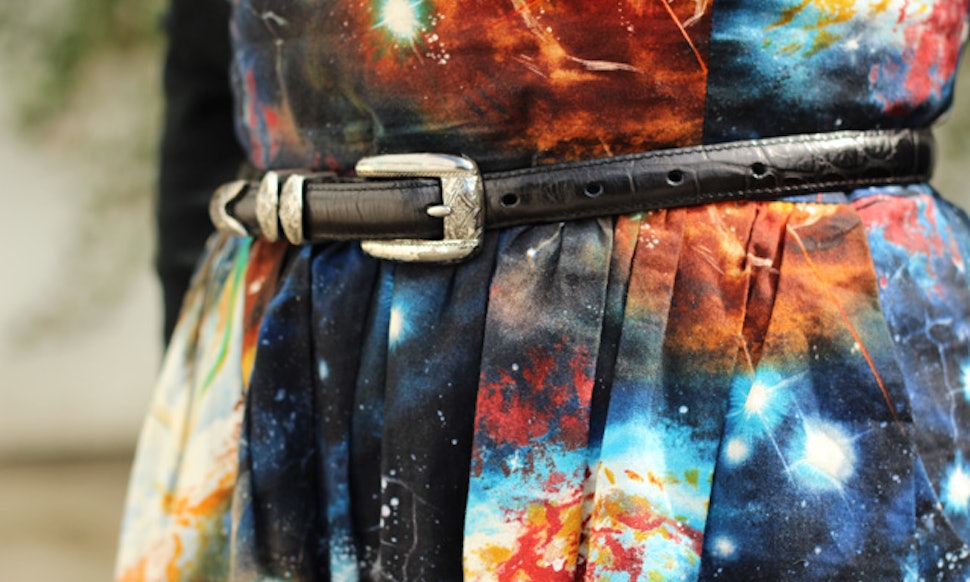 If the buzz around the New Horizons mission and the new, detailed images of Pluto are any indication, it's clear that outer space is still really cool. It seems that fascination with all things extraterrestrial has seeped into our culture in a big way, including with outer space fashion.
To be fair, interstellar fashion isn't anything new. (Just look at how many space-themed music videos there were in the early 2000s.) What's new is that wearing space-inspired fashion doesn't just mean rocking Britney Spears' red latex catsuit from the "Oops!... I Did It Again" music video or a silver dress that looks like it belongs on The Jetsons. There are lots of ways to show your love for all things space-related without looking like you're wearing a costume, and though outer space might be the final frontier, many designers and brands have already passed over this boundary and have done some fashion forward exploring of their own.
Whether you've always dreamed of being an astronaut or you're just mesmerized by pictures of nebulae and planets, there are plenty of ways to show your love of outer space with your wardrobe. Here are 21 pieces to get you started.
Images: Jamie/Flickr; Courtesy Brands
Low-Top Sneakers
These Vans are classic in every way, except for the out of this world print. According to the website, each pair is slightly different because of variations in the space-inspired pattern.
Vans Comic Galaxy Authentic Lo Pro in Galaxy Black/True White, $55, Vans
Bikini
This convertible bandeau bikini top and matching bottoms are a relatively subtle nod to solar flashes and celestial bodies.
Marie Meili California Bandeau Bikini Top in Black Galaxy, $15, ASOS | Marie Meili California Bikini Bottoms in Black Galaxy, $13, ASOS
Sweatpants
Images of black holes and stars and moons and planets dress up these otherwise simple jogger-style sweatpants.
Blend She Galaxy Print Sweat Pants, $33, ASOS
Hipsters
If you're a little more private about your love of all things celestial, you could also get these hipsters with different constellations from the Big Dipper to Orion's Belt printed on them.
Sleveless Dress
Space isn't all just black and white, as this ModCloth dress proves. Plus, this dress has pockets, and every good astronaut knows practical clothing is mission critical when it comes to space exploration.
Modcloth Heart and Solar System Dress, $75, ModCloth
Backpack
You can wear your love of space on your back instead of your sleeves with this all-over patterned backpack.
Spiral Galaxy Backpack, $43, ASOS
Tea Dress
Designer brands aren't immune to the wonders of space, and the print on this otherwise classically cut tea dress from Marc Jacobs is playful and whimsical without being over-the-top.
Marc by Marc Jacobs Stargazer Voile Tea Dress, $428, Zappos
Leggings
This print of blue cosmos and white stars make for some bold leggings.
Bucket Hat
The red and black print on this '90s-style bucket hat looks like it's straight from a red giant.
Radisrad Infinity Bucket Hat in Galaxy, $25, Karmaloop
Flouncy Shorts
Just because these shorts are pretty trendy doesn't mean they can't also be scientifically accurate. They feature a real image from NASA of the Horse Head Nebula, which is part of the constellation of Orion.
Black Milk Galaxy Purple Shorties, $45, Black Milk
Trapeze Dress
This gray dress will help you figure out which of your friends knows the difference between astrology and astronomy.
Silence + Noise Through The Galaxy Dress, $59, Urban Outfitters
Crew Socks
These crew socks don't feature the most scientifically accurate images of space, because I don't think our moon is pink and blue, but they are pretty fun. (I would also love to see a bright pink space shuttle from NASA, for the record.)
Hot Sox Outer Space Crew Sock, $4, Renfro Socks
More Socks
These socks are also not that scientifically accurate, but they're another whimsical interpretation of outer space.
Infinity Scarf
The universe is constantly expanding and might just go on forever, so an infinity scarf is a pretty on-point way to represent that.
Empyre Intertwined Galaxy Print Infinity Scarf, $10, Zumiez
Shirt Dress
The pattern on this shirt dress is subtle enough that from a distance, it looks like dots. When you get close up, however, you can see that they're actually a whole collection of stars, and that's basically space exploration in a nutshell.
Star Print Shirt Dress, $59, Torrid
Playsuit
This one-piece playsuit is covered with images of nebulae, which are interstellar clouds. Who knew something so nerdy could look so hip?
Black Milk Galaxy Purple Playsuit, $68, Black Milk
T-Shirt
You could also go straight to the source with this gray T-shirt from NASA's Kennedy Center Gift Shop.
"Failure Is Not An Option" Women's T-Shirt in Gray, $40, The Space Shop
Bomber Jacket
Duster Jacket
You can dress up an otherwise simple outfit, be it a white T-shirt and jeans or a black shift dress, with this bold space-inspired duster jacket.
Galaxy Print Duster Jacket, $32, Simplybe
Matching PJ Set
Another piece for the low-key space fan, this matching PJ set from Topshop would be perfect when you're stargazing from your backyard.
Star Print Chambray Pyjama Shirt and Bottoms, $83, Topshop
Sunglasses
These glow in the dark sunglasses are totally reminiscent of those stick-on stars and planets that every '90s kid had plastered on their bedroom's ceilings and walls. They're definitely not for the faint of heart, but if you love space and wearing your sunglasses at night, they're rad.
Rad + Refined Galaxy Glow in the Dark Shades, $45, Nasty Gal