'SNL's Colin Jost Talks 'Staten Island Summer'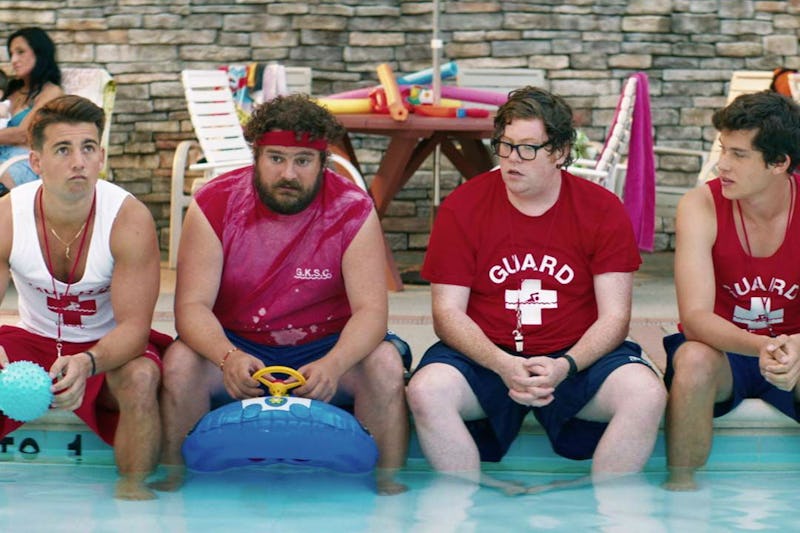 Being a Staten Island native, whenever I get wind of my hometown getting its every-few-years-allotted 15 minutes of fame, I am always apprehensive. My feelings attending the premiere of Staten Island Summer , written by Saturday Night Live's Colin Jost, were no different. Sure, we're all a bit protective of the places where we grew up. Like unappreciative, holier-than-thou older siblings, we tend to exact that contradictory attitude, like, "It's OK if I make fun of it, but you most certainly can not." It's a frame of mind not strictly reserved to Staten Island's former inhabitants and conflicted residents, but it's definitely a sentiment shared among many of us — even Jost himself, as he told me at the movie's premiere.
"The ability to film there and have real people from there, in it and around, reminding me of what Staten Island is, is great," says Jost, who also appears in the movie. "That kept us on track. Whenever I was in doubt I'd just talk to my brother or my parents or my grandparents and I'd be like, 'Do you remember this?' or, 'What was this like?' And, they have better memories than me so that helped."
Staten Island Summer is a a reflective and introspective piece on the bittersweet aspect of going away to college and leaving the familiar yet limiting comfort of home. But, beyond that, it's a twisted love letter from a native son to the unique, frustrating, and often misunderstood place where he came of age. So, how do you keep a movie genuine and warm, whilst outing some of its questionable idiosyncrasies and boisterous people, and confirming certain undeniable stereotypes? Well, it's easy when your heart has never really left it, even though you might have, as seems to be the case with Jost.
"I feel like I end up having to try and be an ambassador for Staten Island, and be like, you know, 'It's a great place!'" says the actor.
In the film, the disenchanted Mary Ellen (SNL's Cecily Strong), tells Harvard-bound Danny, played by The Good Wife's Graham Phillips, to hold off on telling his fellow classmates of his Staten Island roots. I ask Jost if he had any negative experiences that inspired the cheeky quip, and turns out, he did. He recounts that cab drivers who are forced to take him all the way home to the mythical isle are pleasantly surprised by it. He recalls them saying in surprise, "This is so nice! Can I drive around and live here?"
The combination of the unexpected "niceness" of the borough with its sometimes admittedly flawed decorum is what gives the movie its center. Jost's brother, Casey, who plays the hilariously obnoxious Officer Wankel in the film, credits their atypical Staten Island upbringing for the ability to have an insightful and comparative lens. Finally, a fair, objective voice has been given to the suburb within a city, and it's accomplished through the movie adding some larger-than-life characters, like Kate McKinnon's Mrs. Bandini and Gina Gershon's Ms. Greely, in contrast to the demure, well-adjusted, Danny. Staten Island Summer is both a critique and a defense of the borough, and, through Jost's knowing voice, it's an endearing, funny, and familiar take on what it's like to both love and loathe the place that bred you.
Staten Island Summer is available now on Digital and will debut on Netflix on July 30.
Image: Paramount Pictures (2)