These Sunnies Give The Feeling Of An LSD Trip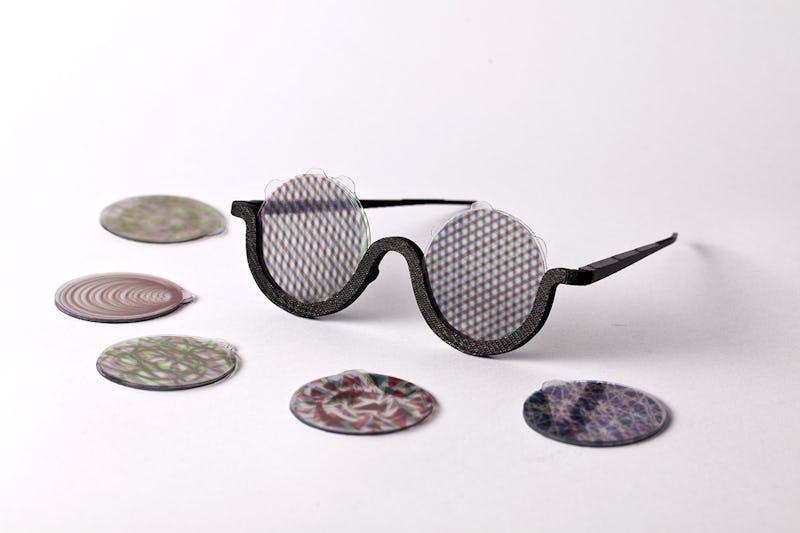 Ever wondered what John, Paul, George, and Ringo were all singing about in Lucy In The Sky With Diamonds? Well, you don't really have to anymore, thanks to a pair of 3D-printed glasses that simulate a visual LSD trip, courtesy of Hungarian artist Bence Agoston.
If you're not the type that's down with drugs, but are curious about the effects (at least the visual ones) of acid, these may be the experience for you. Basically, these frames, which are 3-D printed, are accompanied by six different patterned lenses that can be layered in different ways, according to Complex and Fastco Design. Each of these lenses has a different Moiré pattern that filters green, red, or blue light. By rotating these lenses, different visual effects are created.
"The ideal situation for use is during travel, when people listen to music, just looking out the window and watching the ever-changing sights, in perfect harmony with the music," Agoston told Fastco Design. Perhaps on your next international flight? Or a rainy Sunday? "Because each color filters the incoming lights differently, and the patterns can overlap each other or leave blank fields, the new view is completely random and twisted," said Agoston.
Aesthetically, aside from the LSD-like visual effects, they look pretty cool to rock as well. They've got thick, Lennon-inspired frames on the bottom, and the top is left open, to insert different types of lenses easily. If you're into the look and want to avoid the trippy visuals, you can even put clear lenses in the frame. Sometimes, you're just feeling your look, you know?
Named "Mood" sunglasses, the frame is made out of ABS, a highly moldable plastic, and the lenses are UV-filtered and transparent, so they're not only pretty flexible, but protect your eyes as well. I've definitely never seen anything like this before, but I'm very into the idea of an accessory that also doubles an experience. Check out more about this project on his Bēhance page.
Though there's only one unique pair that is staring off as a concept, the artist hopes to put them out for sale eventually. For now, browse five pairs of sunnies that are just as trippy looking for purchase, below.
1. Miu Miu
Miu Miu MU 12QS 50, $415, sunglasshut.com
Love the half frame, half open look of the Mood sunglasses, and these beautiful Miu Miu ones have just that same style.
2. Andy Warhol
Super Andy Warhol, $565, openingceremony.us
A funky shape but in a classic wire frame? These eclectic sunglasses are a timeless beauty that take us back to the '70s in the best way.
3. Maison Martin Margiela
Mykita, $440, farfetch.com
The completely flat lens and wire frame is so minimal and modern — these are to die for.
4. Fendi
49mm Cat Eye Sunglasses, $470, nordstrom.com
Leave it to Fendi to make the most colorful eyepiece. You'll be making a statement with these all summer long.
5. Cast Eyewear
Round Frame Sunglasses, $275, farfetch.com
I love me a thick frame! These cherry red babies are the perfect accessory to step up any outfit.
Images: Courtesy Bēhance; Courtesy Brands