The Internet's Favorite Lash Serum Brand Just Launched Collagen Gummies — So Say Hello To Healthier Hair, Skin, & Nails
Taking care of your skin has never been yummier.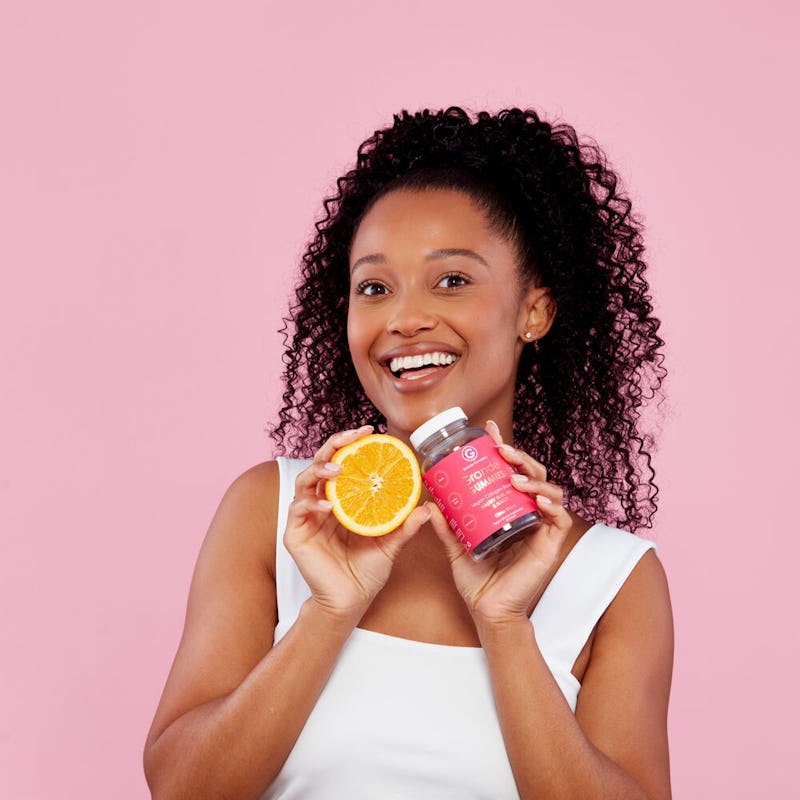 Grande Cosmetics
We may receive a portion of sales if you purchase a product through a link in this article.
Topical skin care products that promote collagen production have long been prized in the beauty world. And in more recent years, oral forms of collagen have become a buzzy topic, even earning a place in the beauty routines of celebrities like Jennifer Aniston, Kate Hudson, and Victoria Beckham. But adding a collagen supplement into your own routine typically means mixing a chalky powder into a smoothie or your morning coffee, and it's almost always going to be animal-derived. However, Grande Cosmetics just introduced an easier way to try out a collagen supplement with their GrandeGUMMIES Vegan Collagen Booster. The heart-shaped gummies can be taken on their own, any time of day (with or without food), and they support natural collagen production using a blend of amino acids that make up collagen. Because they're vegan, they also do this without the animal bone broth most commonly included to serve as a source of collagen-essential amino acids. Currently available at Sephora for $30 (for a 30-day supply), the GrandeGUMMIES have also been formulated with other vitamins and minerals that are known to benefit hair and nails, too. Learn more about exactly how the gummies work, ahead.
The Benefits Of Oral Collagen Supplements
Before getting into any specifics, it's important to note that the scientific evidence supporting the efficacy of collagen supplements is still mixed. It should also go without saying that you should always consult your doctor before adding any kind of dietary supplement (collagen or otherwise) into your routine, as the U.S. Food and Drug Administration (FDA) doesn't regulate or review supplements.
That said, the reason that topical products and supplements claiming to increase collagen production have become so popular is because collagen is a structural protein that helps with maintaining things like skin elasticity and moisture, as well as cushioning joints and strengthening muscles and bones. The good news is that the human body naturally produces collagen, but the bad news is that its production begins to slow down as you age. Lifestyle factors, like nutrient deficiencies and exposure to pollution and the sun, can play a role in the decline of collagen production, but it's also thought that you can help increase the collagen your body creates with a collagen supplement.
Here's where things get a little tricky. The amino acids that come together to make up collagen (collectively forming what is called a triple helix) can't be absorbed in its whole form. Instead, your digestive system will break this triple helix down into individual amino acids that your body then needs to reassemble. Because it isn't known if these new proteins target the skin in the way supplement manufacturers intend, their efficacy is still uncertain. But there have been some promising studies where participants who have used collagen supplements have seen an improvement in their skin's firmness, suppleness, and moisture content.
What Exactly Are In The GrandeGUMMIES?
If you're ready to try a collagen supplement for yourself, Grande Cosmetics developed its GrandeGUMMIES Vegan Collagen Booster to contain a blend of amino acids that help make up collagen, as well as several key vitamins and minerals that are more commonly known to improve skin, hair, and nail health. To potentially help increase your body's collagen production, Grande Cosmetics uses a mix of botanical extracts and amino acids for a vegan complex that includes l-lysine and l-proline (lysine, proline, glycine, and hydroxyproline make up that collagen-forming triple helix mentioned earlier). For more skin benefits, the gummies include vitamins C and E, which both contain antioxidant properties. And vitamin A, biotin, folic acid, and the mineral zinc found in the gummies help to support hair and nail health.
In addition to being vegan, the citrus-flavored GrandeGUMMIES are cruelty-free, gluten-free, and made without artificial dyes and artificial sweeteners.
How To Incorporate The Gummies Into Your Routine
The simplicity of these gummies is a major part of their appeal, and each bottle comes with a 30-day supply of your collagen-boosting supplement. To start seeing the benefits, you'll need to take two gummies each day for at least 45 days, with full results noticeable after three months of daily use. Because the supplement comes in a chewable gummy form, you don't need to take these with food or water.
Here's What Consumers Are Saying:
Because the GrandeGUMMIES are a recent launch, the brand performed its own study where it consulted with consumers following 12 weeks of daily supplement use. Of the 28 subjects who participated, 96% reported that they noticed "a more radiant skin complexion" and that "skin felt hydrated." Hair and nails saw similar improvements, with 96% of consumers reporting that they noticed "longer and shinier looking hair," and 100% of the participants noting "healthier looking nails" overall. This in turn helped to increase confidence levels among the study's participants, with 96% agreeing that "confidence is boosted after using these gummies."
This article was originally published on