Product Spotlight: A Foundation & Concealer Hybrid That's Actually *Good* For Your Skin
Makeup that's good for your skin? Sign us up.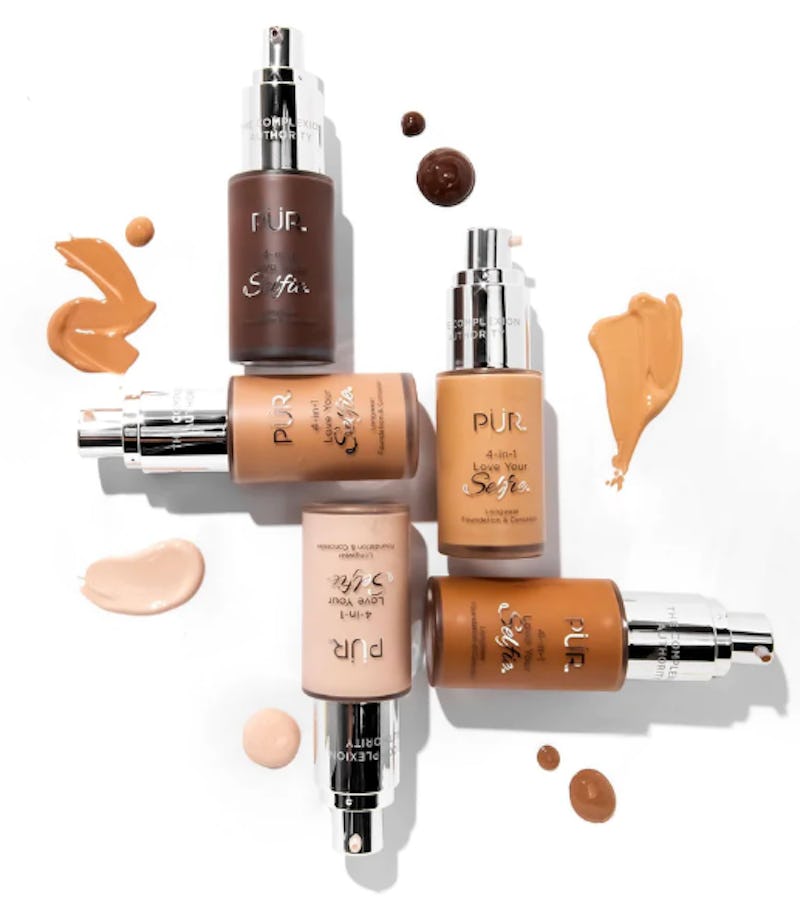 PÜR
We may receive a portion of sales if you purchase a product through a link in this article.
Given that a solid multi-purpose makeup product will save you money and time in your routine, it's no surprise that two-in-one formulas are so popular. But while you'll find plenty of options when it comes to blush sticks that double as lip tints or sheer coverage BB creams, the offerings start to thin out when you're looking for full-coverage base makeup that doesn't skimp on the skin care benefits. That's where PÜR's Love Your Selfie Longwear Foundation & Concealer comes in. The innovative formula actually provides four benefits in one bottle, serving as a full-coverage foundation and concealer that's also infused with skin care ingredients to improve the overall tone and texture of your complexion while providing protection against things like blue light exposure and environmental stressors at the same time.
Curious how one product can manage to do it all for less than $40? We're breaking down the key ingredients and components that make PÜR's Love Your Selfie Longwear Foundation & Concealer a multi-tasking beauty champion.
It's not entirely unusual to find a full-coverage, long-wearing foundation that includes moisturizers like glycerin and vitamin E on its ingredients list. But that's typically where the skin care benefits end. PÜR's Love Your Selfie formula really amps things up with the addition of two proprietary complexes aimed at improving the overall look and feel of your skin. First, there's the brand's energy complex, which helps to moisturize and soothe skin while also helping to even out redness and discoloration with its combination of antioxidant-rich and anti-inflammatory ingredients like green tea leaf extract, ginseng root extract, and panthenol.
The cruelty-free and vegan foundation also includes PÜR's ceretin complex, which focuses on exfoliating dead skin cells with lactic acid, stimulating collagen production with retinol, and smoothing the skin by strengthening its barrier with ceramides. Some of those antioxidant-rich ingredients previously mentioned offer additional skin protection from environmental stressors that you come across in your day-to-day life, like exposure to the sun and pollution. And finally, PÜR included lingonberry extract in the formula, which can purportedly help protect your skin against blue light.
Because of the lactic acid and retinol in the formula (the former works to exfoliate the skin while the latter helps increase skin cell turnover), you'll always want to put on sunscreen prior to applying the foundation/concealer hybrid. After that, how you apply it is really up to you. In keeping with its multi-tasking abilities, PÜR has packaged the product with both a pump for applying the foundation all over and a doe-foot applicator that lets you swipe the concealer onto more targeted areas. Also worth nothing, the Love Your Selfie Longwear Foundation & Concealer currently has 89 shades to choose from, categorized by undertone.
This article was originally published on