13 Books For When You Need An Internet Break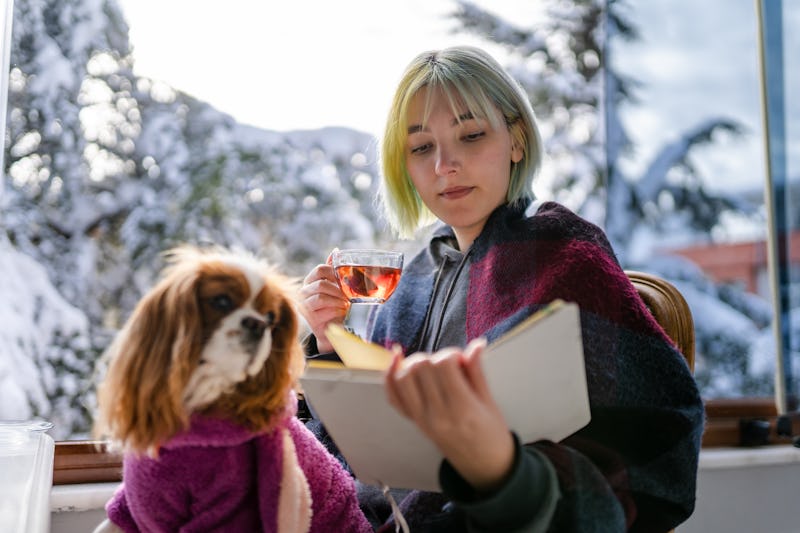 Su Arslanoglu/E+/Getty Images
Once upon a time, it took whole minutes and a bunch of weird err-wooo-rrrrrr noises to connect to get online. But these days it can be nearly impossible to stay OFF the Internet. I mean when you carry it around on your phone, and when it's just right there on your work computer begging you to blow off that spreadsheet for a few precious minutes of adorable cat videos… how are we supposed to resist?
Sometimes, you don't even necessarily have anything you want to do online. Like when you're on the subway or waiting for the crosswalk and you could totally just, you know, sit there or even bust out that book you have in your bag that you've been saying you're reading for the past eight months. Instead, you pull out your phone and start scrolling.
There's nothing wrong with being a social media queen, but maybe you've been feeling a little too connected lately. There is such a thing. Or maybe you noticed that you're spending more time stalking your friends on Facebook than you are actually hanging out with them.
Whether you're looking for a little solitude, more face-to-face time with friends and family, or just a little time away from the screen, books can be a great antidote to that irresistible urge to log on. Try logging off with these brilliant books.
1. The Book of Tea by Kakuzo Okakura
This tiny book on the philosophy of Teaism will immerse you in the idea of living an artful life and taking pleasure in small, everyday pleasures and beauties. It's a refreshing break from the hours you spend scrolling, liking, and listicle-ing, probably with bad posture to boot.
2. Segu by Maryse Conde
What better way to escape the busyness of today's technology and social media than to disappear into a whole other historical period, long before Facebook and email? All the better when you can transport yourself to one of the most fascinating eras in history, an era when the world was rapidly changing by forces like Islam and like the slave trade. Segu puts you right in the middle of this wild and often heartbreaking period, as it follows the lives of four different people from the kingdom of Segu whose lives are changed forever by different forces.
3. The Sweet Breathing of Plants: Women Writing on the Green World by Linda Hogan and Brenda Peterson
A collection of essays from big-name nature writers like Rachel Carson and more unlikely names like Isabel Allende all about the allure, politics, beauty, and curiosity of nature. On everything from the ocean floor to gardening in exile, these essays will have you fleeing the keyboard for a breath of fresh air in no time.
4. The Dirty Life by Kristin Kimball
Speaking of nature, Kristin Kimball's story of transition from fast-walking high-heeled New York writer to farmer in mud-caked boots might be just the thing you need for your social media fast. You might not be planning on trading in your city office for a country barn or anything, but a romantic glimpse of a more low-tech life might keep you enchanted enough to resist the urge to Facebook.
5. Invisible Man by Ralph Ellison
If you're itching to get away from all the noise and likes of Internet land, you might find some refuge inside the life of the nameless narrator of Invisible Man who has retreated from the world into a basement lit by stolen electricity. Of course, you don't have to go quite that far, but, when you want to disappear a little, there's something comforting in reading about it.
6. A Long Walk to Water by Linda Sue Park
Park was pretty darn literal with the title of this book. A Long Walk to Water tells the story of two young people who spend a great deal of time walking, each for different yet connected reasons. One is walking along with thousands of other young people who were displaced by the violence in Sudan. The other must walk a long way every day for just one essential resource of surviving — water. Their stories might make you reconsider, when you're thinking it's just going to be impossible to go a little while without knowing what everyone's saying about the latest Beyoncé hit or all those "crucial" e-mails.
7. The Narrow Road to the Deep North and Other Travel Sketches by Matsuo Basho
If you find yourself missing the 140-character wit of the Twitter-sphere, you can always turn to the much older and incredible art of the haiku. Matsuo Basho was one of the most famous master's of the 17-syllable poetry, and The Narrow Road is a collection of haiku that reflects his quest to free himself of earthly desires in favor of more spiritual connection.
8. Out of My Mind by Sharon M. Draper
About a young woman with cerebral palsy who cannot walk or talk but who is none the less for it and is, in fact, quite brilliant, this is a book that'll have you cherishing the simple things in life as well as awakening you to the struggles of people with disabilities.
9. The Left Hand of Darkness by Ursula K. LeGuin
Set on an icy alien planet where the binary construction of gender is completely undermined. The Left Hand of Darkness is best known for its gender-busting ideas, but it also features one of the most epic icy wasteland journeys in literary history. The deep friendship that the protagonists form during this limit-pushing journey is inspiring and beautiful. It's the perfect story to inspire you to maybe make that trip to Chicago to see your bestie face-to-face for the first time in years.
10. Mules and Men by Zora Neale Hurston
This book of tall tales will have you wishing you could sit cross-legged at your grandpa's feet while he tells his wild stories of "the good ol' days." An immersive study of the oral traditions of Black communities, Mules and Men is a hearty meal of folklore, family, and culture that'll remind you that you'd trade in your smart phone and Twitter account for family and community any day.
11. The Parable of the Sower by Octavia Butler
Nothing makes you appreciate a social media break better than a good apocalypse book. The Parable of the Sower's eerie imagined apocalypse will scare you out of hours spent on Facebook and into learning how to shoot a crossbow and start a fire with rocks instead.
12. Fahrenheit 451 by Ray Bradbury
It's kind of the quintessential story about stepping away from the screen and into a good book.
13. American Gods by Neil Gaiman
Because what better to battle your social media impulses than a story of the battle between the old American gods fighting for tradition and the new ones, bearing the heraldry of technology and media? Also, magic.
Image: Su Arslanoglu/E+/Getty Images