20 Book Quotes About Summer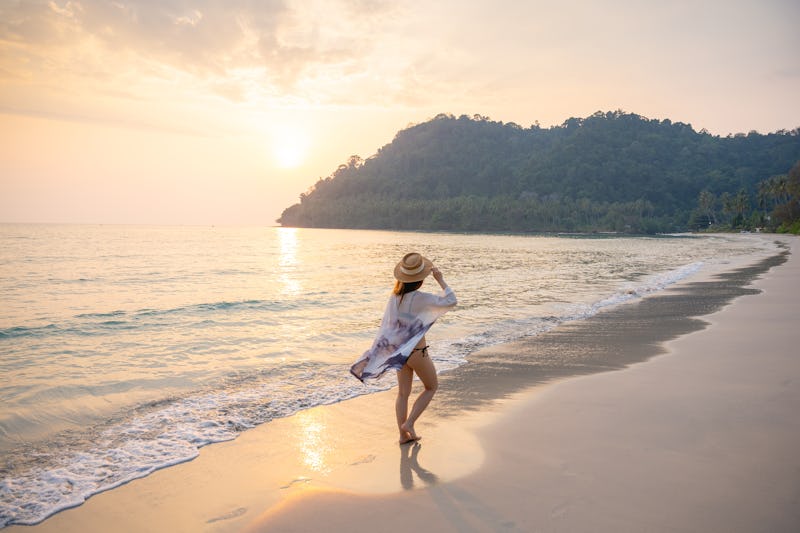 Twenty47studio/Moment/Getty Images
My hometown was hit by a snowstorm complete with freezing rain last night, so I'm in desperate need of summer hijinks movies, TV shows set in Southern California, and book quotes about summer to help me count down the calendar until beach days and barbecues. Serious question: Is it "normal" behavior to crank up the heat, blend some frozen piña coladas, and sit on the floor of your apartment with a beach towel until Memorial Day? Just asking for a friend.
Just like in real life, books about summertime have a special magic. Reading books centered on the beach, school vacation, summer flings, and family trips bring along that feeling of freedom, or even of nostalgia, thinking to the June, Julys, and Augusts of our childhood. Skip the tea, because you need a lemonade on ice, a margarita, or the summer seasonal of your favorite beer to enjoy these books and book quotes.
Even if you don't go to the extremes of making your apartment seem like a tropical retreat, you might want to hang a couple summer quotes from books up on your inspiration bulletin board to remind yourself that those long hot days will return again.
1. "Everything good, everything magical happens between the months of June and August."
— Jenny Han, The Summer I Turned Pretty
2. "Hot weather opens the skull of a city, exposing its white brain, and its heart of nerves, which sizzle like the wires inside a lightbulb. And there exudes a sour extra-human smell that makes the very stone seem flesh-alive, webbed and pulsing."
― Truman Capote, Summer Crossing
3. "The first week of August hangs at the very top of summer, the top of the live-long year, like the highest seat of a Ferris wheel when it pauses in its turning. The weeks that come before are only a climb from balmy spring, and those that follow a drop to the chill of autumn, but the first week of August is motionless, and hot. It is curiously silent, too, with blank white dawns and glaring noons, and sunsets smeared with too much color."
― Natalie Babbitt, Tuck Everlasting
4. "Last summer had meant lots of Sam Adams Summer Ale by herself on hot weekend days when it seemed like just her and the Dominican Day parade."
― Stephanie Clifford, Everybody Rise
5. "In the summer, the days were long, stretching into each other. Out of school, everything was on pause and yet happening at the same time, this collection of weeks when anything was possible."
― Sarah Dessen, Along for the Ride
6. "Summer was on the way; Jem and I awaited it with impatience. Summer was our best season: it was sleeping on the back screened porch in cots, or trying to sleep in the tree house; summer was everything good to eat; it was a thousand colors in a parched landscape; but most of all, summer was Dill."
― Harper Lee, To Kill a Mockingbird
7. "The only way I could describe what kissing him felt like was, like the last day of school, knowing that months of freedom and sunshine lay before you, the feeling that you could do anything you wanted and time stretched out in endless possibilities."
― Robin Benway, Emmy & Oliver
8. "It was rapture enough just to sit there beside him in silence, alone in the summer night in the white splendor of moonshine, with the wind blowing down on them out of the pine woods."
― L.M. Montgomery, The Blue Castle
9. "The island is ours. Here, in some way, we are young forever."
― E. Lockhart, We Were Liars
10. "Summer afternoon — summer afternoon; to me those have always been the two most beautiful words in the English language."
― Henry James, quoted in Edith Wharton's A Backward Glance
11. "And so with the sunshine and the great bursts of leaves growing on the trees, just as things grow in fast movies, I had that familiar conviction that life was beginning over again with the summer."
― F. Scott Fitzgerald, The Great Gatsby
12. "Summer was here again. Summer, summer, summer. I loved and hated summers. Summers had a logic all their own and they always brought something out in me. Summer was supposed to be about freedom and youth and no school and possibilities and adventure and exploration. Summer was a book of hope. That's why I loved and hated summers. Because they made me want to believe."
― Benjamin Alire Sáenz, Aristotle and Dante Discover the Secrets of the Universe
13. "One benefit of Summer was that each day we had more light to read by."
― Jeannette Walls, The Glass Castle
14. "I fell for her in summer, my lovely summer girl,From summer she is made, my lovely summer girl,I'd love to spend a winter with my lovely summer girl,But I'm never warm enough for my lovely summer girl,It's summer when she smiles, I'm laughing like a child,It's the summer of our lives; we'll contain it for a whileShe holds the heat, the breeze of summer in the circle of her handI'd be happy with this summer if it's all we ever had."
― Maggie Stiefvater, Shiver
15. "Summer, after all, is a time when wonderful things can happen to quiet people. For those few months, you're not required to be who everyone thinks you are, and that cut-grass smell in the air and the chance to dive into the deep end of a pool give you a courage you don't have the rest of the year. You can be grateful and easy, with no eyes on you, and no past. Summer just opens the door and lets you out."
― Deb Caletti, Honey, Baby, Sweetheart
16. "It is easy to forget now, how effervescent and free we all felt that summer."
― Anna Godbersen, Bright Young Things
17. "Even so, there were times I saw freshness and beauty. I could smell the air, and I really loved rock 'n' roll. Tears were warm, and girls were beautiful, like dreams. I liked movie theaters, the darkness and intimacy, and I liked the deep, sad summer nights."
― Haruki Murakami, Dance Dance Dance
18. "We thread our way through a moving forest of ice-cream cones and crimson thighs."
― Jean-Dominique Bauby, The Diving Bell and the Butterfly
19. "Summertime. It was a song. It was a season. I wondered if that season would ever live inside of me."
― Benjamin Alire Sáenz, Last Night I Sang to the Monster
20. "In the midst of winter, I found there was, within me, an invincible summer."
― Albert Camus, The Stranger
Images: Getty Images (5)