11 Best Nonfiction Books About New York City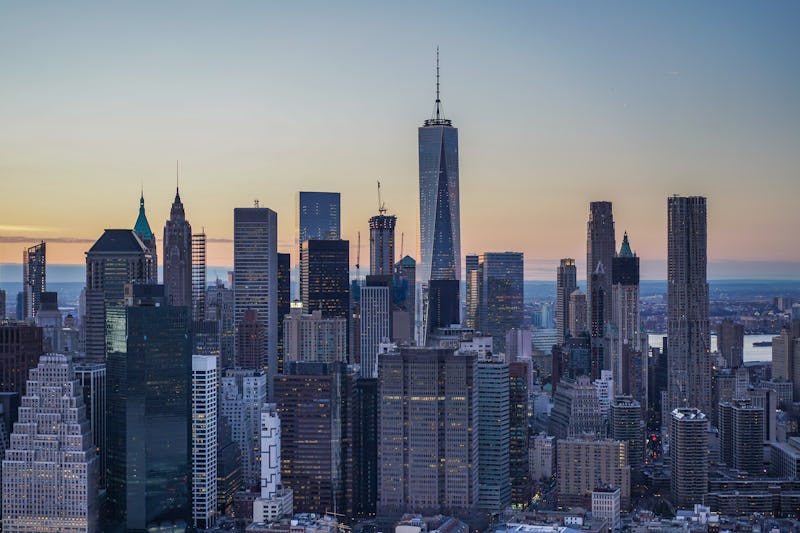 Michael Lee/Moment Open/Getty Images
I've heard that people go to New York for two reasons: to follow their heart, or to follow their dreams. At least, that's what I've learned from the steady stream of books about New York City that have graced my bookshelves over the course of my reading life. The first time I ever traveled to New York was, predictably, for the former reason — because of a boy. And yes, while — also predictably — that particular love didn't last, the allure of The City that Never Sleeps has never left me. After all, New York City is one of the most (maybe the most) iconic city in the world for a reason: the art and the history; the music and the architecture; the diversity; the noise; the never-ending lines of yellow checkered cabs punctuation every block; the thin, greasy pizza that — even as a Chicago native — is shamefully still my favorite pizza in the world.
And sure, while all the tangible attractions of The Big Apple are compelling enough, it's that intangible quality about NYC that keeps natives and travelers alike fascinated: the fact that in New York, anything can happen; that the city holds within its power the possibility to make all of the quietest and most private dreams of your heart come true. Maybe that's why writers have immortalized New York City in nonfiction and novels, poetry collections and memoirs — and why readers will never get enough.
Here are 11 of the best nonfiction books about New York City.
Any reader who has ever been obsessed with Greenwich Village lore (Charlie Parker! Edna St. Vincent Millay! Allen Ginsberg! The Oscar Wilde Bookshop! The Whitney!) has to pick up a copy of The Village: 400 Years of Beats and Bohemians, Radicals and Rogues, a History of Greenwich Village by John Strausbaugh, the most interesting, readable, and comprehensive history of all that went into making Greenwich Village the cultural icon it is today.
If you've ever fantasized about some one-on-one brain-picking time with Phillip Lopate (and seriously, who hasn't?) then his book, Waterfront: A Walk Around Manhattan is probably about as close as you'll ever get to the real thing. Taking readers on a sensory journey around Manhattan's waterfront — in a way that only Lopate could — this book covers the historical and the modern, the mythical and the neglected of the Manhattan shoreline, and depicts how essential the waterfront really is to the spirit and energy of New York City.
Words cannot describe how much I love Fran Lebowitz — every time I read her frank, no-screwing-around, hilariously droll writing it feels like she's speaking directly to me. Sure, Metropolitan Life , might read a tad dated now, but there's no doubt it's Lebowitz at her finest — and even if the references could use some updating, the spirit behind the sentiments Lebowitz expresses about everything from clock radios to New York dinner parties are timeless.This one's out of print, so you'll have to hunt for it... but it's totally worth it.
Another love song to Greenwich Village, this memoir by Anatole Broyard has been compared to Ernest Hemingway's A Moveable Feast, in terms of its ability to celebrate and mythologize a very specific city during a very specific moment in history. Art, literature, and sex reign supreme in Broyard's 1940s-era Greenwich Village, and Kafka Was the Rage: A Greenwich Village Memoir will make you wish you'd been alive during the decade when la vie bohème was lived at its finest.
If you're not already completely in love with New York City, this book will have you convinced. Not only a memoir of the friendship that defined Smith's 20s — that with the wildly, creatively bizarre photographer Robert Mapplethorpe — Just Kids also reads like a love letter to the New York of Smith's youth: where anything was possible, every day was an adventure, every late-night conversation life-changing, and that big creative break just around the corner. You'll want to immerse yourself in Smith's New York over and over again.
If you really want to understand a culture, you do it through the food — and through how meals are shared. 97 Orchard: An Edible History of Five Immigrant Families in One New York Tenement highlights one of the most celebrated aspects of New York City: the international cuisine, that is available at literally every corner. This book — complete with recipes — will tell you how that food got to the city in the first place, and will remind you why certain dishes have become staples of American cuisine, even though they originated an ocean away.
Of all the bridges that have become iconized in New York City, the Verrazano-Narrows bridge is perhaps not the most well-known. But, spanning more than two-and-a-half miles and linking the New York City boroughs of Brooklyn and Staten Island with New Jersey, it is the longest suspension bridge in the United States. So why do you care, you might ask? Because there's tons of cultural and political drama surrounding the history and construction of the bridge (including the fact that the name of man it was named after — Florentine explorer Giovanni da Verrazzano — is incorrectly spelled on the bridge.) Plus, if anyone could make a history of bridge building interesting, it's New Jersey native Gay Talese.
Right up there with New York fiction faves like Eloise at the Plaza and From the Mixed-Up Files of Mrs. Basil E. Frankweiler, Roger Rosenblatt's memoir The Boy Detective: A New York Childhood is right up there with the best child's-eye-view accounts of New York City. At nine years old Rosenblatt imagined he was a private detective, making the streets of Manhattan his playground. In his memoir, Rosenblatt revisits these streets as an adult, and reinvigorates that childlike wonder from his NYC youth.
In order to compile this fascinating and breathtaking project, Becky Cooper traversed the streets of Manhattan, passing out blank maps of the borough, upon which she asked New York-natives to "map their Manhattan." The result is this collection of stories and drawings, chronicling the complex and intimate lives of people who had lived their whole lives in the city — love stories and tragedies, dreams realized and broken, childhoods and old age and everything in between, and even a few secrets that only the streets of Manhattan truly know. You'll love this unique, intimate collection of illustrated narratives.
An up-close portrait of Ian Frazier's New York, Gone to New York: Adventures in the City is filled with classic NYC imagery both large and small (from plastic trash bags littering trees to the World Trade Center) and includes one of the more honest and vulnerable accounts of "The Morning After" (as the essay is titled) September 11th that I've ever read. Even if you're not a native New Yorker, this collection of essays will make you feel like one, if only for a moment.
If it's true that you can be anyone you want to be in New York, then this collection of essays and articles is a testament to that fact. Over the course of his reporting career Joseph Mitchell came face-to-face with some of New York City's more eccentric residents — street preachers and freak show performers, the myriad fishermen who make up their own subsection of the city and an almost-holy ticket taker at a Bowery movie theater, and countless others. Up in the Old Hotel features many of their stories. What is a city without it's people, after all?
Images: Michael Lee/Moment Open/Getty Images