9 Yoga Books For Every Yogini's Bookshelves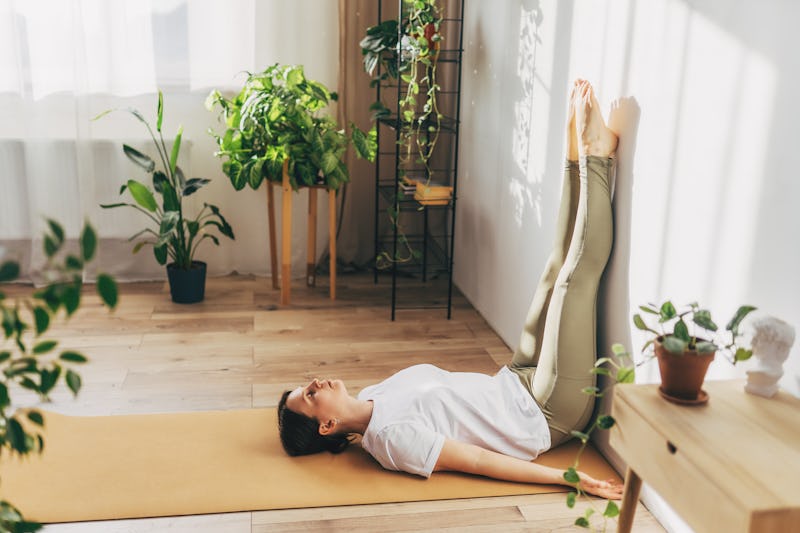 Kseniya Ovchinnikova/Moment/Getty Images
As an ever-evolving yogini myself (that's a female yogi, for any non-practitioners) and a complete book lover, I spend about as much time reading about yoga as I do practicing it myself — and admittedly, sometimes more. (Let's face it, a book about yoga is just so much easier to fit into your purse than an entire yoga mat.) At home my shelves are filled with everything from books about the history of the practice to totally inspirational memoirs about yoga — and my favorite yoga studios are definitely the ones with their own "take one, leave one" yoga libraries just inside the front door.
Books are essential to my own yoga practice — probably because books are essential to just about everything I do. But like any great spiritual journey, there is a ton of literature about yoga out there. The key is picking up the yoga books that will deepen your practice, expand your mind, and connect you more deeply to the history of the yoga tradition. The good news is, with yoga becoming the international movement that it is, those books are just an Amazon order away.
Here are 9 yoga books for every yogini's bookshelves. Namaste, my book loving goddesses.
This yoga memoir is so honest and relatable it'll make you want to roll out your own mat — even if you tend to be a more hesitant yogini. When Elizabeth Kadetsky finds herself a student of the B.K.S. lyengar yoga institute, she quickly learns there's more to yoga than putting together pretty poses. Dealing with an eating disorder, the divorce of her parents, and spiritual anxieties of her own, Kadetsky turns to her mat to answer the questions of her life. First There is a Mountain blends yoga history with personal memoir in a way that makes the practice seem totally accessible to anybody.
Anybody who has taken a yoga class knows that the poses have some interesting names — both in English, and in the original Sanskrit. If you've ever wondered where those names came from, Myths of the Asanas is the book for you. Because behind each pose is an ancient story — about gods and goddesses, sages and scholars, sacred animals, and more. Myths of the Asanas takes these ancient myths and organizes them alongside their corresponding poses — so next time you're in hanumanasana (monkey pose) you'll be able to tell the gal on the mat next to you a cool story.
If you're looking to deepen your yoga practice both on and off the mat, The Yoga Sutras of Patanjali is definitely a book you'll want to add to the yoga section of your bookshelves. Heralding all the way from third century India, the Sutras are the foundation of all yoga practice — defining yoga, the yogic lifestyle, and detailing the questions that yogis seek to answer on their mats. This book is essential reading for your own path to Enlightenment.
Far away from home and immersed in a life she might never have expected for herself growing up in 1970s Berkeley, California, Leza Lowitz turns to yoga in order to create not only a home-away-from-home for herself, but a space of peace and transformation for others as well. Opening a yoga studio in her adopted home of Japan is only the beginning of Lowitz's yoga journey — one that takes her to India and then back to California, before leading her to an adoption that will change her life and her understanding of love forever.
If you have even a semi-regular yoga practice, you probably already know that yoga is all about balance — and in part, the balance of feminine and masculine energy. Exploring yoga through the lens of all kinds of goddess goodness, Nischala Joy Devi's book The Secret Power of Yoga: A Woman's Guide to the Heart and Spirit of the Yoga Sutras looks at The Yoga Sutras of Patanjali — the collection of principles that form the foundation of all yoga practice — and retranslates those sutras in a way that celebrates the feminine as much as the masculine. Can you say "om"?
I'm obsessed with this book, which takes the stories of the Hindu deities, and applies the guidance and wisdom each have to offer to the experience of being a woman in the world today. Filled with meditations, mantras, and traditional teachings, Awakening Shakti celebrates the path to realizing your full potential by tapping into your independent, fearless, intelligent, feminine energy.
Anyone who has taken even a single yoga class knows that yoga transforms much more than your body — it forces you to dive deep into your mind and spirit as well. At least, that's what Kathryn Livingston learned when she met herself on the mat during two of the most difficult years of her life. Dealing with issues like the deaths of her parents, breast cancer, her children leaving home for the first time, and the simple fact of getting older herself, Livingston turned to yoga as a way to reconnect with her own inner strength, and to trust her journey.
A complete guide for yoga teachers and practitioners alike, The Heart of Yoga takes you not only through the significance and symbolism of every element of the yoga practice — from the breaths to the asanas to the mudras — it also tells the story of Sri Tirumalai Krishnamacharya, one of the greatest modern yogis, who lived to be over 100 years old. Author T.K.V. Desikachar is Krishnamacharya's son, and he blends the personal with the practical in this yogi must-read.
In The Goddess Pose , Michelle Goldberg traces Indra Devi's life (aka: the first modern yoga gal) from her birthplace in Russia in 1899 — where she was forced to flee the Russian Revolution as a teen, to Germany, and then on to India, where she discovered the secrets of a transforming yoga practice. Then, Devi went worldwide with the teachings, inspiring the west's newfound attraction to the practice. So you've got her to thank every time you flow through another Sun Salutation.
Images: Kseniya Ovchinnikova/Moment/Getty Images