11 Poetry Collections That Will Allow You To Heal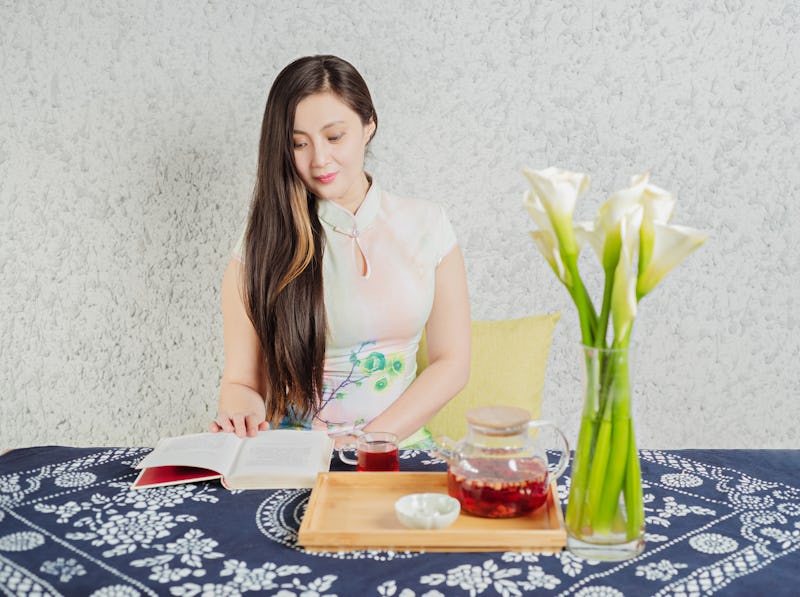 Xuanyu Han/Moment/Getty Images
If you think about it, poets are kind of like Yoda (don't pretend you don't love Yoda.) They're the custodians of deep knowledge, they have a profound understanding of the role words play in human history, they speak in brief and non-linear sentences, and they're the kind of people you want cheering you on when it seems like the world might actually be coming to an end. Like now, for example. And now, following a presidential election that seems to have done nothing but validate all that is wrong and closed-hearted about the world, poetry can help you heal.
One of the things I love most about poetry is that it leaves room for my own thoughts. Poems are like little paths for reflection, education, empathy, and growth — each line a guidepost along the way, surrounded by empty, unadorned space that leaves plenty of room for my own thoughts and feelings to accompany those on the page. There isn't such frenetic busyness in poetry like there is in so many of the other things we dedicate our time and minds to. The language is spare, precise, and essential, and the messages speak to a universal human community that we have all but forgotten about these past long months.
Is poetry going to single-handedly win the revolution? Probably not. But what poetry can do is act as a space for transcendence and transformation. Poetry can protest. Poetry can speak out against. Poetry can make its readers look at things differently, more closely, and with a greater understanding of the long and winding trajectory of human history — failures and successes, losses and leads. And poetry can heal.
Here are 11 poetry collections that will help you heal right now.
This collection will actually tear your heart apart even more than the election results did, before helping you put it back together again. Patrick Woodcock's You Can't Bury Them All is a collection that comes directly from the tumultuous landscapes of the Kurdish north of Iraq, Fort Good Hope in the Northwest Territories, and Azerbaijan. He writes of the twin experiences of hope and horror — how one so often leads to the other, in an endless cycle of destruction and rebuilding, devastation and transformation, disbelief and faith. He questions himself and his readers about the failings of humanity: how do we manage to maintain hope and find peace in ourselves when so many are suffering so deeply just outside our own front doors? What does it say about the human spirit that it continues to endure in the face of great despair?
The cover of this poetry collection is exactly how I've been feeling since about 9 o'clock in the morning on November 9. Assuming that girl is breathing fire, anyway. Robert M. Drake's Beautiful Chaos is a collection that describes precisely the experience of having too many thoughts in your head and too many feelings in your heart to process them all at once — ergo: chaos. It tackles one's own internal riot — the ways we lose ourselves and the things we spend our lives running away from, while also exploring the collapse of societies, political structures, and the environment. Through edgy and haunting language, Drake's overall message is that in spite of all of this chaos, life is still beautiful. Here's hoping.
In light of this resurgence of always-lingering misogyny, this poetry collection dedicated to the exploration and celebration of womanhood is exactly what your feminist heart needs to heal. Caroline Kennedy's She Walks in Beauty: A Woman's Journey Through Poems features writing by some of the greatest female poets of all time, and is wise, sensual, beautiful, sad, empowering, joyful, and about a hundred other feelings you'll probably need to process over and over again in the coming months.
For a debut poet, Ocean Vuong reads like he's been writing for several lifetimes beyond his own. Night Sky With Exit Wounds is a collection of poetry about war and cultural upheaval, written with language that conveys a visceral sense of loss, exposes violent undertones, and grapples with love, desire, grief, conflict, and disruption. It is a collection filled with imagery that will both disturb and heal.
Jack Gilbert is a poet I often turn to when life just seems totally unmanageable, when I'm unable to take the long view of both my own experiences and those throughout human history, and when quitting seems like the only response to failure. Written from the perspective of a man viewing his life from the latter years of it, The Dance Most of All is about finding stillness in imperfection, about the winding road of a long life purposefully lived, and about how the will to continue on in hope is the defining characteristic of the human spirit.
Pulitzer Prize-winning poet Philip Schultz has spent much of his career writing about the American immigrant experience, Jewish identity, life in urban America, and the loss and despair that just about everyone encounters at various points throughout their lifetime. The God of Loneliness is a collection of some of Schultz's finest work, featuring writing that is as fierce as it is gentle, and paints a portrait of not only immigrant life in America, but life for everyone living in America. He is a poet unafraid of diving deep into human imperfections, uncomfortable experiences, and profound sadness. But he writes his way through it all.
Ada Limón's poetry collection Bright Dead Things celebrates the ever-challenged, ever-evolving female self — exploring what it means to be a woman, what it means to construct an identity through changing and sometimes unfamiliar times and places, what its like to love and lose. Limón exercises great mindfulness of the present, maintaining an awareness that our time on this earth is only temporary, that all things — both good and bad — come to an eventual end, while also reminding readers that the places and times we experience inform our identities for a lifetime.
Following the 2016 election, so many of us have been asking ourselves: why? What did we miss? How did this happen? Exploring a subject that is both timely and necessary, H.L. Hix's American Anger: An Evidentiary answers each of those questions through poetry, as Hix seeks to get to the root of America's angst-as-identity, the function of anger as a staple in American politics and personal life, and the psychology and philosophy of anger as both a call to action and a debilitating force. Simultaneously beautiful and painful to read, Hix's takes a critical stance against American anger, and will make you think about what sorts of things might be better to build a national identity around. Assuming it's not too late.
It is essential to keep making spaces for diverse, marginalized, and underrepresented voices in our country and our world, and Of Poetry and Protest: From Emmett Till to Trayvon Martin does exactly that, featuring the poetry, personal essays, and images of 40 of the genre's most iconic African American writers. Throughout the collection, each poet is called to explore the modern history of racism and politics in America — from the Black Panther Party to the Black Lives Matter movement and more. Each poem features a photograph and first-person narrative about the inspirations and motivations of the poet, making this an essential collection for anyone interested in verse that moves off the page and into the world.
Author and activist Adrienne Rich spent her career writing what I consider to be some of the most beautiful and necessary feminist poetry of all time. Her collection, The Dream of Common Language, was written as an attempt to manifest the very dream Rich's title describes: the discovery of universal language, via art and poetry. If you're ready to reinvigorate all your girl-warrior energy, this collection explores everything from forgotten women in history, to same-sex romance, to the inherent relationship between women and nature.
Just about everything Jack Gilbert wrote throughout the course of his life could be considered healing poetry. His second title to appear on this list, Refusing Heaven, is the poet's memoir written through verse. Gilbert witnessed a lot of history throughout the course of his long life, but this collection, written towards the end of that journey, celebrates the desire to live, the desire to push forward, the importance of nurturing a sense of awe and curiosity in all things, and above all: being humbled by one's own unique existence. The point, Gilbert demonstrates, is that he'd rather refuse heaven and keep on living.
Image: Xuanyu Han/Moment/Getty Images