Why Prince Philip Renounced His Titles, Explained
It's all about integrating into British society.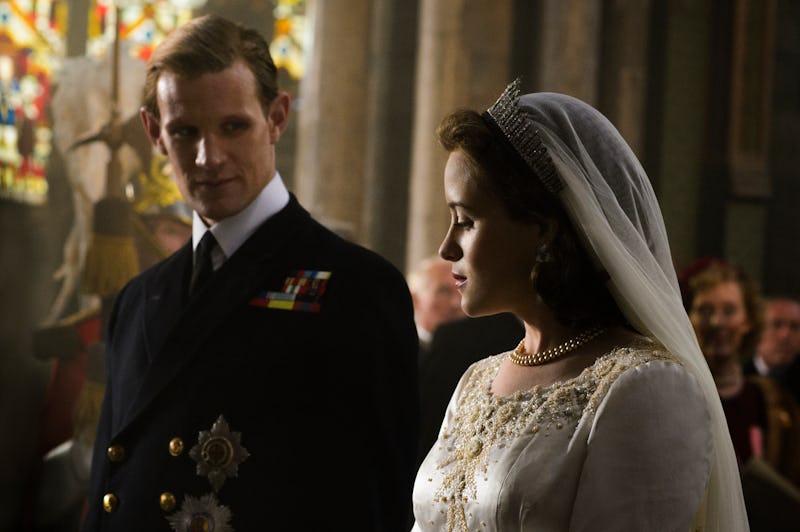 Netflic
There's no better way to get an entertaining history lesson about the royals than via Netflix's The Crown. Family dynamics have an added layer of complications when you're royalty — and one aspect of this is titles. Immediately before his wedding to Elizabeth Windsor in 1947, Philip Mountbatten was named Duke of Edinburgh and he's now most commonly known as Prince Philip. This wasn't his first royal title — according to Encyclopedia Britannica, he'd previously been the Prince of Greece and Denmark. None of these titles seem to conflict with each other (right?), so why did Prince Philip renounce his titles? Bustle reached out to the royal press office for further comment on the matter and the show, and a rep supplied this statement: "The Crown is a fictional drama. The Royal Household has had no involvement."
According to the biography Elizabeth: Her Life, Our Times by Alan Titchmarsh, Philip gave up his titles when became a naturalized British subject in 1947. This was also when he adopted the anglicized version of his mother's maiden name, Mountbatten. Although there's no indication that any sort of hard and fast rule or law applied, it appears that he was integrating himself into British society as much as possible in preparation for his life with Elizabeth.
Although his titles had previously been tied to Greece and Denmark, Philip had barely spent time in either country. He was born on the island of Corfu in Greece, but his family was exiled from the country before he turned one, according to Vanity Fair. He lived with his family in France until the age of eight, when he was sent to Cheam, a boarding school in England. Philip's parents separated while he was away at school and neither of them played a significant role in his life going forward. He spent one year at boarding school in Germany and eventually ended up at Gordonstoun School in Scotland, the outlet reports. Philip found stability in the United Kingdom with his relatives there — especially his grandmother, the Dowager Marchioness of Milford Haven, who resided in a "grace-and-favor" apartment in Kensington Palace.
Although certain members of the aristocracy considered him a "foreigner" due to his German ancestry, Philip's mother was born in Windsor Castle, he was educated in the United Kingdom, and he'd served in the British Navy — so he arguably had more ties to England than to Greece or Denmark. So, renouncing his previous titles and becoming a naturalized subject seems like a gesture to show his allegiance to England as he prepared to marry the country's future queen. When you're royalty, marriage involves more than just a change of the last name — you have to really prove your love of country, even if it means renouncing a few other royal titles.
This article was originally published on