17 Things In Every Fall Movie
From pumpkin spice latte to oversized sweaters.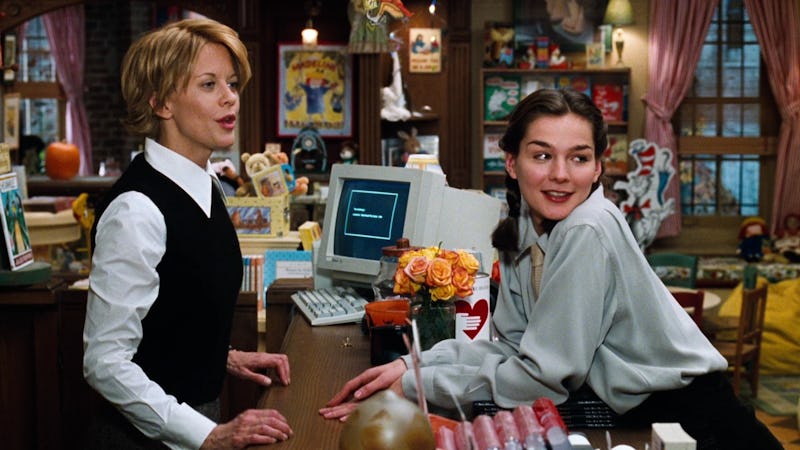 There is an intangible magic to the first day of fall. While the pending doom of first day of school hangovers and cold-weather encroaching should deter us, we are eagerly awaiting those first multi-colored falling leaves. We can't help but bite our thumbs in anticipation of the familiar smell of Pumpkin Spice Lattes, and we crave digging our hands into the icy guts of a pumpkin's innards. Fall is magic, pure and simple.
But what makes this season so undeniably romantic? Nothing has really changed that much, except our mindsets. And we have movies to thank for that. Just like films sensationalize high school politics or summer romances, the cinema also has a way of getting us pumped for fall. Films such as You've Got Mail, Rushmore, Dead Poets Society and Good Will Hunting and others ease the pain of hanging up your swimsuit for a pair of leather gloves. And while their plots vary, they share many key elements. And so, from cardigans to football, here are 17 elements you're bound to find in any fall flick.
Book Stores
Fall is when we go back to school, get our reading lists and program our brains out of the pool and into the classroom. So it's no surprise that this season is synonymous with book worms and book stores alike. You've Got Mail, the quintessential fall movie, is even centered around two rival bookstores.
Complicated Coffee Drink Orders
Outside of your standard Pumpkin Spice Latte, Starbucks also offers a bevy of equally sugary and expensive beverages so you can truly embrace the holiday spirit, one sugar-high at a time.
the pending doom/excitement of the holiday season
The holidays of fall, mainly Halloween and Thanksgiving, are like the foreplay to Christmas and Chanukah. They are the warm-up, the test-runs of cooking that turkey to perfection, and the reintroducing yourself to unrecognizable relatives before the big Christmas Eve dinner. Good luck!
oversized sweaters
So big you can swim in 'em!
pumpkins
The tell-tale sign of fall, seeing pumpkins in shop windows, doorsteps and grocery stores.
nostalgia
There are so many terrible fall analogies to be made — the leaves are changing, turning over a new leaf, etc. — but these corny sayings have a bit of truth to them. Fall means shedding the old and embracing the new, and these sentiments are often laced with emotional nostalgia.
cardigans
The big sweater's younger sister, made possible and popular by every Gap ad ever.
Park Benches
I'm looking at you, Good Will Hunting
Central Park
If you've ever been to New York City in the fall, you know there is absolutely nothing more magical than a stroll through Central Park. As someone who's tolerance to seasons is pretty pathetic (thanks, LA) — I pine for the perfectly crisp, not-yet-too-cold, not-yet-too-muggy wonderland that is Central Park in the fall. Drinking up every color imaginable with a single glance, a leisurely walk through the park will have you reconsidering your life outside of NYC.
School Supplies
In You've Got Mail, Tom Hanks (by way of the brilliant Nora Ephron) said it best: "Don't you love New York in the fall? It makes me wanna buy school supplies. I would send you a bouquet of newly sharpened pencils if I knew your name and address."
Backpacks
... To carry said school supplies.
Tears
Autumn means embracing the new and giving up the old, and for fall movies this often means relationships or family members. And as we all know, breaking up is hard to do.
Brick Buildings
Particularly in films set on the east coast. Something sexy about a weathered-brick building, or some exposed engine-red brick walls in a city apartment.
Tweed and/or Wool accessories
Meg Ryan's getup in When Harry Met Sally is pure perfection. Those gloves? That bowler hat? Swoon.
Football
'Tis the season! I'd suggest Rudy and Remember the Titans — two classic, set-in-fall football movies that never get old.
Playing hooky
From class, from work, from an appointment or even from your problems, ditching the plans you've made in fall is a natural course of action, especially after the freedom of summer still has its lingering claws stuck in your bikini bottoms. The best iteration of this theme can be found in the John Hughes classic, Ferris Bueller's Day Off.
Family dinner/Dinner parties
Fall brings with it a lot of holidays surrounding eating: Thanksgiving, Halloween, and more. It's also the perfect time to stay indoors, throw on some tights and a little black dress and scrape off the caviar garnish from the buffet table before anyone notices.
Happy fall, cinephiles!
Images: Warner Bros.; Giphy; Tumblr; gif soup