8 Bridgerton Easter Eggs You May Have Missed While Marathoning The Show
No, all those bees weren't a coincidence.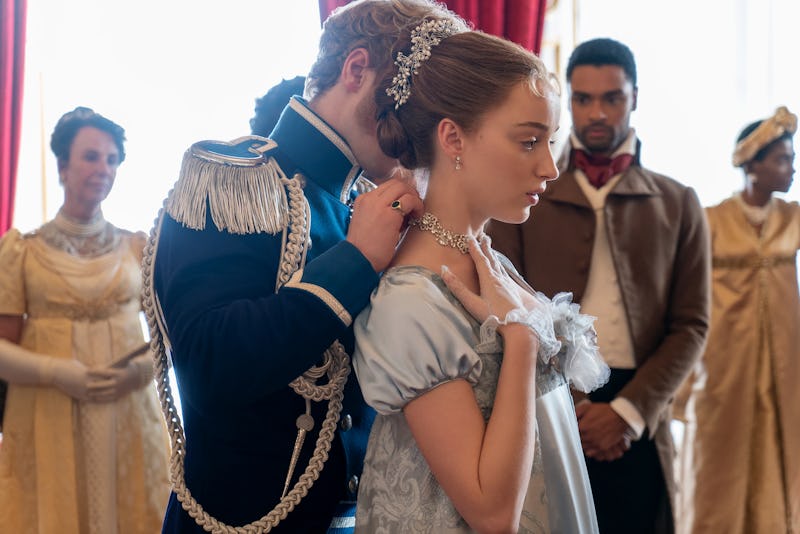 Netflix
Bridgerton is quite unlike any other series from Shonda Rhimes. For one, the show's period setting of Regency England is a far cry from the modern-day hospitals and political backrooms we're used to seeing in other Shondaland productions like Grey's Anatomy and Scandal. The show is also the raunchiest fans have seen from the producer, owing in large part to it being the first Shondaland scripted series to air on Netflix, which doesn't have to abide by the same strict rules regarding content as networks like ABC. And one other aspect that sets the series apart is the number of Bridgerton Easter eggs that proliferate Season 1.
Hunting for Bridgerton Easter eggs has quickly become a favorite past time of Shondaland stans, as they've been combing the show for references to modern pop culture, actual English history, and the Julia Quinn novels on which Bridgerton is based. That last category has proved especially fruitful for online sleuths, as people are hunting for clues about what's in store for future seasons. That's by design, as creator and showrunner Chris Van Dusen told Decider in a December interview. "I think fans of the book are going to see all the elements they love on screen too — and that is elements like the bees, and that is the way that the siblings banter with each other and the love amongst the Bridgerton family," Van Dusen said.
Take a look below to see some of the most notable Bridgerton Easter Eggs fans have spotted so far.