A Guide to the Characters in The Amazon Original Series, 'The Wilds'
These young women are real AF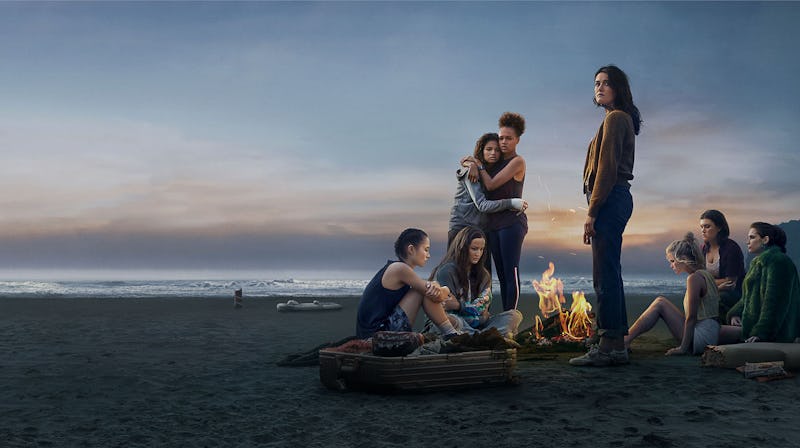 When you think of the characters in a teen drama, they often break down into "high school cafeteria clique" conventions. There's the queen bee, the bookworm, the fast girl, the brooding artsy girl, the list goes on. But as we all know from living in the real world, there's so much more going on inside a teen girl's world than meets the eye. Add in some desert island life-and-death stakes, and these characters are likely to let go of all pretense real fast.
Amazon OriginalThe Wilds is a different kind of teen drama. Oh, and those aforementioned life-or-death stakes? This series shows us how they affect people who are already dealing with the harrowing journey of "coming of age" as young women in America. Eight girls of different backgrounds, points of view, and socioeconomic statuses board a plane bound for a women's retreat, as they all happen to be going through totally different life transitions. When they crash on a desert island, they clash, bond, and come to rely on each other for survival in a seemingly hopeless situation. There's one thrilling twist, though... they didn't end up there by accident.
In addition to the gripping drama, this unique show gives us female characters who are flawed, three-dimensional, diverse, and totally authentic. Here is everything you need to know about the eight teen castaways in the Amazon Original Series, The Wilds, now streaming only on Prime Video.
LEAH RILKE
At first glance, Leah is the girl in your school you knew was moving to New York after graduation. Though somewhat of a loner, Leah is keenly observant, with a quick wit, a buzzing mind, and strong literary talents. At a high school alumni event, she strikes up a friendship with a famous author 20 years her senior, and their relationship evolves into something a little more intimate than "mentor-mentee." You might say that falling in love with the wrong guy got her to the island, but she'll need to find unexpected strength within herself to get out.
SHELBY GOODKIND
With her unapologetic love of Jesus, her thick blonde coif of hair, and her pageant smile, Shelby Goodkind screams "Texas Homecoming Queen." You might take her for granted as some frivolous teeny bopper, but Shelby has a hidden grit that makes her somewhat of a dark horse on the island. Her seemingly "perfect" facade hides plenty of struggle and betrayal, all of which she defies with fierce optimism.
NORA REID
Nora may seem like the meek, quiet girl, but she's the secret strength in her relationship with fraternal twin and fellow castaway Rachel. Everything intellectual has always come easy to her, which has made her a foil to her athletic sister. What hasn't come easy is fitting in with her peers. Though she and her sister have tension at times, it's clear that she loves nobody more than her. But Nora may be hiding a secret that even her sister doesn't know.
RACHEL REID
Rachel is a diving champion and a total perfectionist. She's dedicated most of her life to her sport, and she's reached the elite level in part by pushing her body and mind to dangerous lengths. Though a motivated self-starter and somewhat of a boss on the island, she has a secret inferiority complex when it comes to her sister Nora. But what she lacks in "natural ability" she makes up for in motivation and hard work.
DOT CAMPBELL
Dot is basically the embodiment of "Don't mess with Texas." She's a tough, salt-of-the-Earth young woman who's had to shoulder a lot of responsibilities in her young life. Caring for her dying father has become a full-time job for her and taken away all chances at a typical, carefree teenage-hood. This pragmatism gives her an air of dependability on the island. Whether it's looking for shelter or finding food, she's who the others look to when something needs to get done.
FATIN JADMANI
Fatin laughs in the face of your slut-shaming. She loves boys unapologetically, and isn't afraid to try on as many as she pleases. Incidentally, her luggage is the first to wash up on the island and is predictably filled with plenty of flamboyant and colorful clothes that match her audacious personality. The other girls may write her off as a slacker princess when she doesn't pull her weight, but when they find out her story, they realize that they were sorely mistaken.
MARTHA BLACKBURN
An animal-lover with a gigantic heart, Martha is one of the sweet souls of the castaways. She has a deep connection to her Native American heritage, and this gives her a sense of faith in their circumstances. But her sunny nature belies a difficult past. Though she takes a bit of time to come out of her shell, she really goes through it on the island. Though seemingly vulnerable, we're gonna see that she can weather a lot of struggle.
TONI SHALIFOE
Hot-headed tomboy Toni Shalifoe crashes on the island with a gigantic chip on her shoulder. She assumes everyone is out to screw her over because that's been the pattern in her life thus far. Best friend Martha brings out Toni's softer side, as well as her secretly big heart. But that doesn't mean that she doesn't get jealous when her bestie makes other friends.
This article is sponsored by Amazon Original 'The Wilds' only on Prime Video. Watch the first episode FREE, on Prime Video.