Addison Rae Explained How Mariah Carey Is Connected To Her Song & We're Obsessed
The TikTok star's first foray into music is a full-circle moment.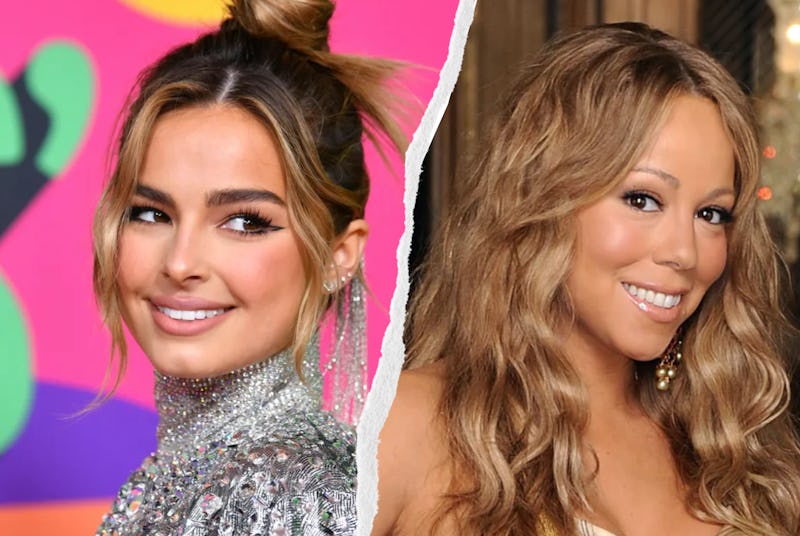 Amy Sussman/KCA2021/James Devaney/WireImage/Getty Images
When Addison Rae decided to parlay her TikTok stardom into the music world, she had a very fitting inspiration for her first outing. Rae's new single pays tribute to Mariah Carey, she revealed in a new video interview for Bustle, marking a full-circle moment for the TikTok sensation. In the video, Rae reflects on her biggest TikTok moments, including a dance video that she did with her mother Sheri Nicole set to Carey's 2009 hit "Obsessed," a track that went viral on TikTok thanks to the #ObsessedChallenge.
When Carey herself liked the TikTok, it was a huge turning point in Rae's career. "I was in Louisiana where I was going to college, and I just did a video with my mom to 'Obsessed' by Mariah Carey, and she liked it," Rae recalls. "I actually found that she liked it from comments that were like, 'Oh my God, Mariah Carey liked this,' and I ... did not believe it. Then I went on her profile and clicked on her heart, and it had my video on it." Soon after, she had dropped out of college and moved to Los Angeles, motivated by her surging online popularity.
Rae's latest big moment is her debut single, which just so happens to be called "Obsessed." And yes, it was completely intentional. "It kind of ties back into Mariah Carey's 'Obsessed' and [her liking] my video," she says. "Um, what a small world."
However, while Carey's "Obsessed" fiercely aims at a former suitor (long-rumored to be rapper Eminem) who won't leave her alone, thinking they had more than just a little fling, Rae's single turns the concept on its head, becoming an anthem of self-love and undefeatable confidence. "I think it was just a big message to people to be in love with themselves as much as they want someone else to love them too," she says.
Now, Rae's stardom has resulted in a dream come true. In a March interview on The Tonight Show Starring Jimmy Fallon, Rae revealed that she's not only spoken to Carey, but the record-breaking artist actually sang one of her most legendary hits just for her. "I FaceTimed her one time over Christmas, and she sang 'All I Want For Christmas Is You,' which is kind of funny," she revealed. "It was amazing. I've always been such a huge fans of hers, so it was kind of crazy." It's often said to never meet your idols, but for Rae, it clearly worked out great.