Alec Baldwin Expresses "Shock & Sadness" Over On-Set Gun Accident
The Santa Fe sheriff said 500 rounds of ammunition were recovered.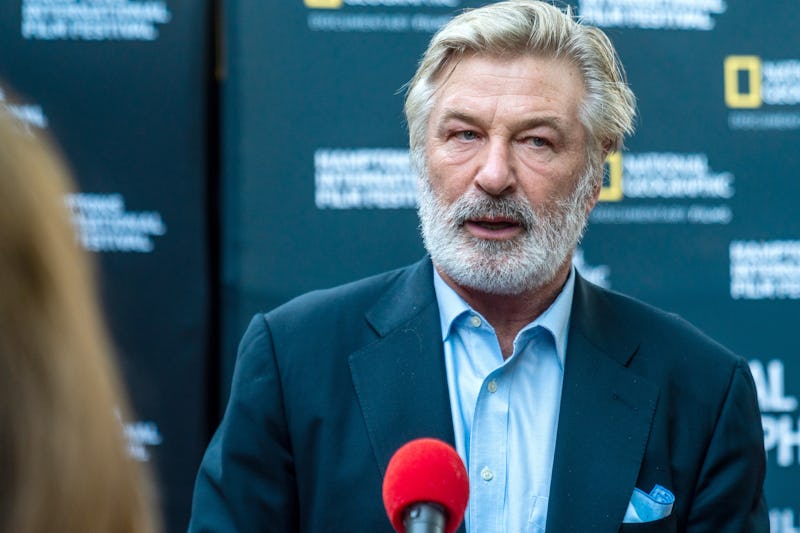 Mark Sagliocco/Getty Images Entertainment/Getty Images
A woman has died and a man has been injured after actor Alec Baldwin discharged a prop firearm on a movie set in Santa Fe, New Mexico.
Haylna Hutchins was working as director of photography when she was fatally shot. She was transported to University of New Mexico hospital, where she was later pronounced dead. The film's director, Joel Souza, was injured and has been taken to Christus St. Vincent Regional Medical Center for treatment.
Hutchins, Souza, and Baldwin were on the set of a new Western movie, Rust, when the incident took place on Thursday (Oct. 21, 2021). Sheriff's deputies went to respond to an emergency call at Bonanza Creek Ranch at 1.50 p.m. local time.
Baldwin, best known for his role in 30 Rock, was co-producer on set and playing the lead role. Juan Rios from the sheriff's office has said in a statement, "Mr Baldwin came in voluntarily to speak with investigators and after speaking with them he left." He went on to say, "This investigation remains open and active. No charges have been filed in regard to this incident. Witnesses continue to be interviewed by detectives."
The entertainment union IATSE sent an email to its members on Oct. 22 where it claimed the gun had contained a "single live round" which had been "accidentally fired" by the "principal actor," reports the Guardian.
On Oct. 27, The Hollywood Reporter relayed more specifics from the Santa Fe sheriff. "Three guns and 500 rounds of ammunition," as well as the "suspected shell casing," were recovered from the filming location. "Possible live rounds from the set were also recovered," the report continued, though the investigation is ongoing.
Though the events are still unfolding, here's everything we know so far.
What Has Alec Baldwin Said?
Various reports, including Deadline, say that Baldwin was seen crying outside the police station, clearly distraught. Showbiz 411 quotes a witness on the scene who said the actor himself asked why he had been given a firearm loaded with real ammunition. "In all my years, I've never been handed a hot gun," he exclaimed, according to the site.
Baldwin spoke of his "shock and sadness" via Twitter saying: "There are no words to convey my shock and sadness regarding the tragic accident that took the life of Halyna Hutchins, a wife, mother and deeply admired colleague of ours."
He added that he is "fully cooperating" with the ongoing police investigation and that he is "in touch" with Hutchins' husband. "My heart is broken for her husband, their son, and all who knew and loved Halyna," he concluded.
Who Is Haylna Hutchins?
Hutchins, a Los Angeles-based cinematographer, was born in Ukraine in 1979 and grew up in a Soviet camp in the Arctic Circle. After graduating from Kyiv National University with a degree in international journalism, she worked on a number of documentaries across Europe.
In 2019, Hutchins was named one of the "rising stars" in the American Cinematography list and worked on a range of projects from The Walking Dead to Pollyanna McIntosh's horror film Darlin'.
A number of tributes have been posted online from those worked with and admired Hutchin. Adam Egypt Mortimer, director of the 2020 film Archenemy, on which Hutchins also worked, wrote a tweet remembering Hutchins and shared a thread of her work.
Shannon Lee, sister of actor Brandon Lee who infamously died on set of The Crow in 1993 after being shot by a prop gun that was improperly loaded, also tweeted her sadness at the news. This was through the remembrance twitter, set up in Brandon Lee's memory.
How Can Prop Guns Cause Real Fatalities?
Although the incident is still under investigation, discussions have already begun about how a prop gun would be able to fatally injure someone.
At the moment, it's unclear what kind of prop gun Baldwin was using at the time of Hutchins' death.
Real guns are often used on film sets to ensure authenticity but they are loaded with blank cartridges. The casing of a blank cartridge contains the gunpowder and firing pin needed to propel a bullet forward – they just don't have the bullet. When you fire a blank, the gunpowder ignites and propels the casing out of the gun. This will cause a loud bang, a recoil, and a muzzle flash, which can be enough to cause serious injury or death to someone who is standing too close by.
Fatalities can also occur when a prop gun is improperly loaded. As mentioned, this was what happened in the case of Brandon Lee. The gun pointed at Lee had a cartridge with a bullet inside that had become stuck without anybody realising. So, when the blank was fired, it pushed the bullet out.
What Will Happen Next?
Per a statement from Santa Fe Sheriff's Department (via the Independent), "no charges have been filed" at present.
Filming for Rust has been suspended "for an undetermined period of time", the company managing the film said.
The statement from Rust Movies Productions LLC read: "We have halted production on the film for an undetermined period of time and are fully cooperating with the Santa Fe Police Department's investigation. We will be providing counseling services to everyone connected to the film as we work to process this awful event.
"The entire cast and crew has been absolutely devastated by today's tragedy, and we send our deepest condolences to Halyna's family and loved ones."
This article was originally published on