At 28, Amanda de Cadenet Was Motorbiking With Keanu Reeves
As the host of Victoria's Secret's new podcast, the multihyphenate is leaning on a lifetime of prep work.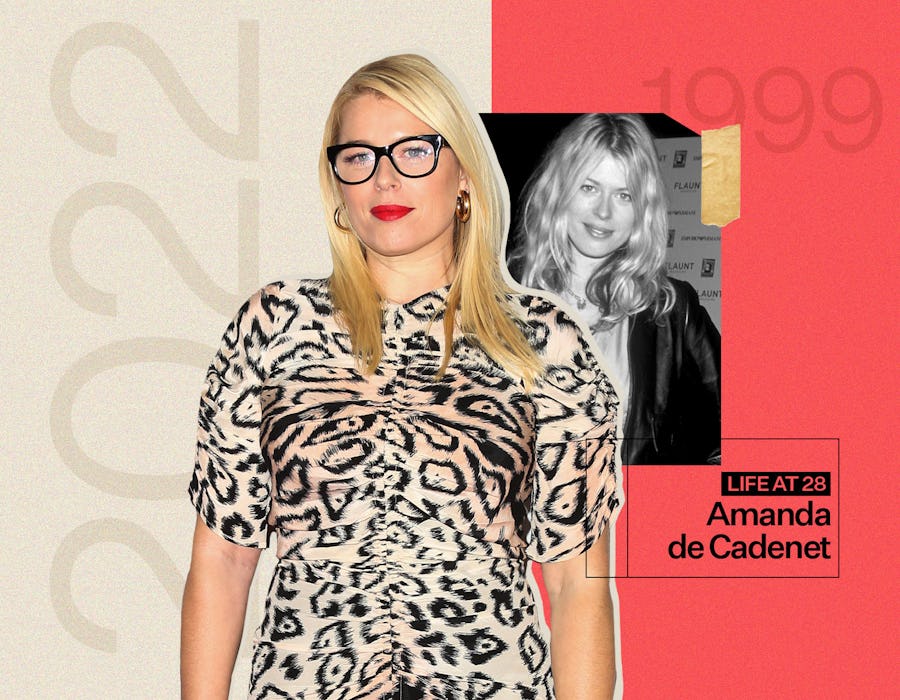 Paul Archuleta/FilmMagic; Ron Galella, Ltd/Ron Galella Collection via Getty Images
Amanda de Cadenet had her first identity crisis at age 22 when she decided to get sober. Fast-forward to 28, and she'd already lived several public lives: as a tabloid subject, teenage runaway, television host, actor, young mother, wife to Duran Duran bassist John Taylor, and six years later, divorcée. She was ready for another change.
"I never would've had the courage to risk failing if I hadn't been through the many, many crises in my teen years and early 20s," the London native tells Bustle. "You go through these big growth phases, and that was 28 for me." The new adventure? Photography.
In 1999, she was a single mother living in Los Angeles "with, like, three friends," she says — one of whom was Keanu Reeves. ("We met when I was two months pregnant, 19 years old, and married to another man," she writes in her 2018 essay collection, It's Messy: On Boys, Boobs, and Badass Women. "Within minutes of first laying eyes on him, I remember thinking, I wonder how many pregnant women have affairs?") On the weekends, she forwent L.A. nightlife in lieu of the farmers market with her 9-year-old daughter, Atlanta. For "adult time," she'd seek out fellow creatives and visit photography exhibitions as she made moves to join their ranks.
"It was a brave year for me. I had the courage to live a life that fitted me more."
"I've always been fascinated by what makes humans tick," says de Cadenet, who's since photographed celebrities like Drew Barrymore, Orlando Bloom, and Tobey Maguire. "You think, 'Oh, I was this person for a while, and then I was her.' Who was she? Who am I today, and what do I care about? What means something to me? Who means something to me?"
She's been asking these same questions since she was a teenager, when she landed a job co-presenting the British late-night show The Word. Today, she interviews feminist icons in her series The Conversation, which launched on Lifetime in 2012 and now exists in audio, video, and online community formats. She's also the host of Victoria's Secret's new podcast, VS Voices. Seasons 1 and 2 premiere June 2, featuring guests like Naomi Osaka, Megan Rapinoe, Hailey Bieber, Priyanka Chopra Jonas, and Bella Hadid, who talks with de Cadenet about her mental health struggles and time away from the spotlight.
Below, the multihyphenate reflects on single motherhood, riding motorcycles with Keanu, and finding photography.
Take me back to 1999 and 2000. What was age 28 like for you?
It's such a pivotal year, especially for women. I'd been working since I was 15, but around 28, I started to realize I'd fallen in love with photography. Before I'd been forward-facing, hosting live late-night television, so I was making the choice to stop being a public person in the same way. It took a lot of courage for me to go behind the camera, especially because there weren't many examples of women who'd succeeded as photographers. It was a brave year for me. I had the courage to live a life that fitted me more.
Walk me through a typical weekend at that age.
Most of my weekends were spent with friends and other sober women who had kids. I was a single mom, and your girlfriends are so important. They're your lifeline. I would have other moms over to cook, the kids would hang out.
How was it in L.A. as a single, divorced mom?
I didn't have any friends when I moved from London. It was really difficult. I'd interviewed Keanu Reeves on my TV show in the U.K. when I was 18. He was one of the people that became a support system and is still my dear friend to this day. We used to go motorbike riding together.
What CDs were on repeat?
At 29, I met my husband, [Nick Valensi], and The Strokes had just put their first album out.
I've listened to so much music, but I'm still listening to The Strokes 20 years later. Thank God my husband makes music that I love because otherwise I'd be truly screwed. But you know, my first husband was in Duran Duran, so I've been around a lot of music. I have very eclectic tastes. Nirvana probably? Indie rock.
I mean, better than *NSYNC. That's probably what I was listening to in 2000.
Hey, it takes all kinds!
What made you feel you were ready to make such a big career change?
I've never had a traditional career trajectory. When people were graduating from high school, I was in juvie. I don't have a traditional education, but I continue to learn and teach myself. I realized I was a storyteller and I'll use whatever medium I can. No one understood at the time; they were like, "Why would you quit being famous to be a photographer that isn't going to earn much money?"
And then I remember British Vogue hired me, and I did, like, a 24-page portfolio for them. I asked myself, "Am I any more talented yesterday than I am today?" No, it's just that I got this opportunity. I had a lot of anxiety about it. I loved it, but I didn't know how it would turn out. It was very, very scary.
How were you thinking about money back then?
I earned a lot of money young, and I didn't know how to do taxes or save or even how to make a budget. When I changed careers, I suddenly had to become very literate with money because I had way less of it. I wish women were taught financial literacy in school. We're doing young women such a disservice by not teaching them financial autonomy.
Now, your career involves talking to so many icons. Who were your main role models back then?
Historical figures, authors, or poets. I was reading a lot of Anne Sexton, whose work is so dark, but phenomenal. And I was obsessed with Diane Arbus. She photographed people who weren't accepted into mainstream culture, niche communities, just different kinds of people.
What advice would you give your 28-year-old self?
"You have not been carried this far to get dropped now." I would reassure myself that you can feel terrified and still leap, still have faith. That fear isn't an indication that things aren't going to work out. You can feel scared and make the move anyway.
This interview has been edited and condensed for clarity.