Limbo's Amir El-Masry On Overcoming Shyness & Watching Love Island
"I would always hide behind my mum when picking up my older brother from school."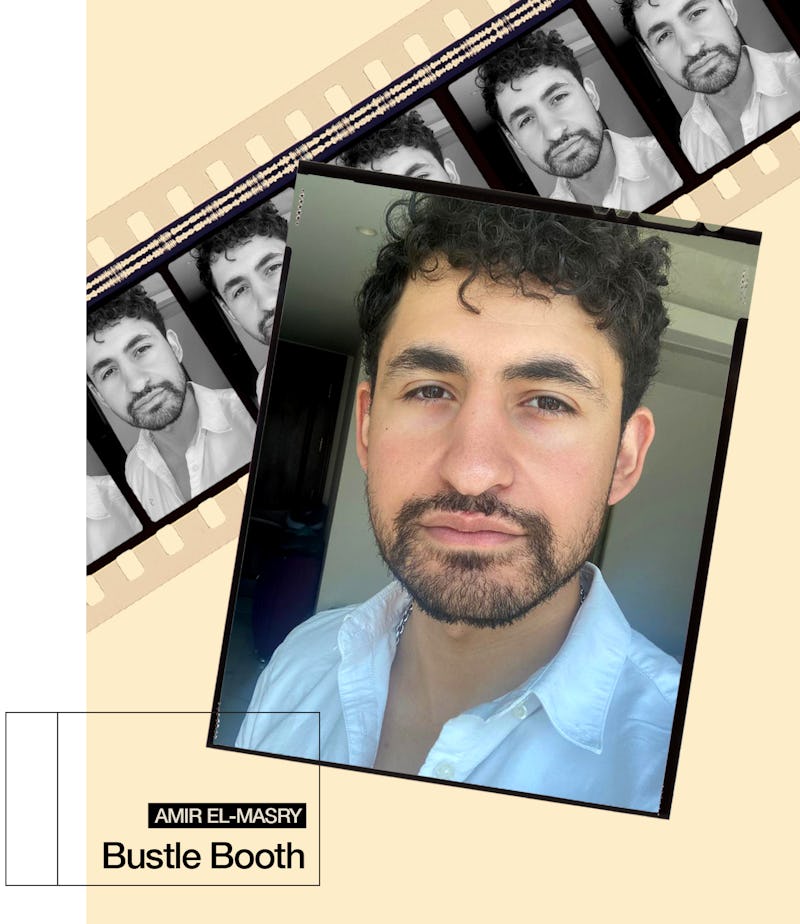 Amir El-Masry was a very shy child. "I would always hide behind my mum when picking up my older brother from school," Amir tells me via zoom from his native country Egypt, where he's currently filming. After noticing a boost in confidence whenever he donned a costume, El-Masry's mother eventually enrolled him in acting workshops. It was in those after-school classes that his passion for the art form was born.
Today, the London-based actor is known for his performances in 2014's Rosewater, Tom Clancy's Jack Ryan, Star Wars: The Rise of Skywalker, and, more recently, in the BAFTA-nominated film Limbo, which tells the story of a young Syrian musician who becomes stuck a remote Scottish island and separated from his family after applying for asylum. In the film, Amir portrays the central character of Omar. "He's someone who's been stripped of his identity having left his country, and we can all relate to that feeling of wanting to find a sense of home," he tells me.
Preparing for the role, Amir wanted the character to do away with any negative stereotypes of refugees, particularly those often perpetuated in the tabloid media. "I didn't want to make Omar someone that we feel sorry for or vilified... I wanted him to be someone who has his own agency and his own purpose."
Commenting on the decisively positive response to the film — including BAFTA nominations for Outstanding British Film and Outstanding British Writer, Director or Producer — Amir reveals he was flattered but not surprised by the reaction, as he was confident Limbo "was going to be special."
"Just from reading the script, even before my involvement, I always felt like it was going to be something very important to tell." He continues, "the fact that we got the top awards and nominations around the world just shows how universal the message in this film really is."
Outside of his own projects, he names Martin Scorsese's Taxi Driver and Goodfellas as two of his all-time favourite films and has aspirations of one day working with the man himself. "Martin Scorsese, if you're reading this, I'm around [Laughs]."
Get to know more about Amir El-Masry in the Bustle Booth below.
Limbo is in US cinemas now and coming to the UK in July.
In The Bustle Booth
What's your coffee order?
Black Americano. Yep No sugar, milk. I like to torture myself.
What are the saved weather locations on your phone?
Cairo, Madrid, Milan, Brecon, Bath, Budapest, Marrakech, Vienna, Venice, Copenhagen, Montreal, St Ives, Almeria, Donostia, North Uist.
Just looking at them has reminded me how much I miss travelling...and how I should probably delete some of these.
What's your sign?
Leo. I recently discovered my rising is Sagittarius. All you astrologists out there — let me know what that combo means
Favourite overused movie quote?
I overuse A LOT with my friends but the top ones I'd say are:
"Look at me. I'm the captain now" from Captain Phillips.
"Are you talking to me?" from Robert De Niro in Taxi Driver
" You had me at 'hello'" from Jerry Maguire ("Hello" is often interchanged with anything food related)
And last but certainly not least...
"Oh Hi Mark" from the Tommy Wiseau classic, The Room.
What was your favourite cartoon as a kid?
The Simpsons tops them all but I have some honourable mentions: Dexter's Lab, Rugrats, Johnny Bravo and Street Sharks.
What's one movie or TV show you're currently obsessed with?
I loved The Father. Anthony Hopkin's performance was chipping away at my heart. Christopher Hampton's screenplay deserves all the awards. I think I broke down about three times and hugged my dad afterwards in the cinema.
Who is your celeb idol?
Omar Sharif. Ive probably mentioned him in every single interview I've ever done. He was one if the biggest inspirations for wanting to become an actor.
If you had to be on a reality TV show, what would it be?
Does SAS: Who Dares Wins count? If so, where do I sign up?! Love Island was a guilty pleasure of mine but no way would you see me there.
Go-to karaoke song?
Everybody — Backstreet Boys. Admit it, its yours too.
What's something that's inspiring you lately?
What I've loved seeing is the collective power we have when we band together on social media on important social issues. We are stronger in numbers.
What is something you would want people to say about you?
Boy was he good at karaoke.