Julian Might Propose To Kristen On Temptation Island
But don't expect her to say yes.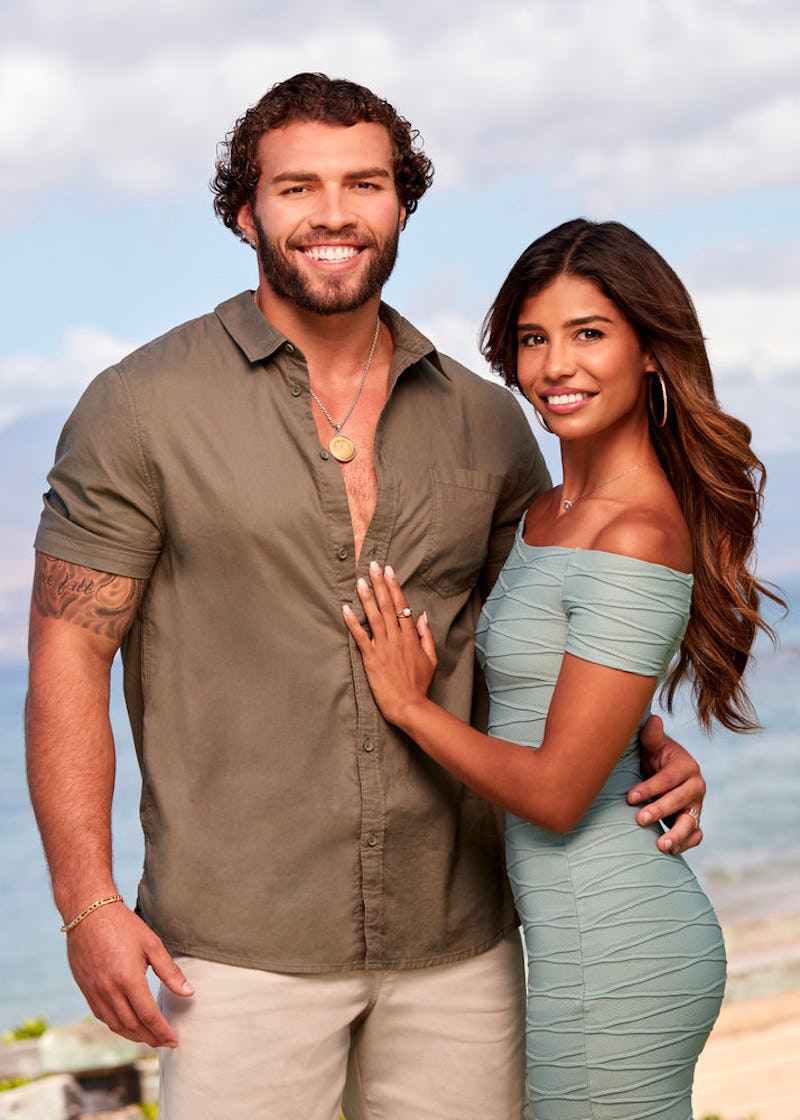 Patrick Ecclesine/USA Network
Of all the Temptation Island couples, Kristen and Julian have been together the longest. The high school sweethearts arrived on the show with 11 years worth of ups and downs, during which time Julian cheated on Kristen twice. The two came to the show hoping that the experience would allow them to rebuild their trust, and their time on the island has certainly been eye-opening for Julian.
During a recent episode's bonfire, for example, he explained to host Mark Walberg that he "didn't value" what he had in Kristen, owning up to being an "ignorant, arrogant asshole" when he cheated. "It was something missing within me. It wasn't her," the New Jersey-based personal trainer said. "My girlfriend gave me everything, and for some reason, I put that to the side. . . . I was missing something at that time that I don't feel that I'm missing now."
Though a Temptation Island Season 3 sneak peek hints at more tearful moments ahead, it seems like Julian intends to propose to Kristen in the end. In one scene, viewers even see him down on one knee slipping a ring onto someone's hand. The woman in the clip is noticeably not Kristen, but it sounds more like he's practicing how he wants to propose to her. USA would never spoil whether or not she accepts the proposal before it airs, but the edit did cast doubt about the couple's future, previewing a tearful Kristen saying she's "done" during a bonfire scene.
Julian has also admitted that he's worried that if he pops the question, Kristen will say no. And she's done little to lead viewers to believe otherwise, regardless of how he grows during their time on the show. "My fear is, like, that he's going to pass this test and I'm still gonna be in the exact same spot I was in before," she said.
Kristen also stressed the importance of trust in taking her relationship with Julian to the next level, telling Walberg in another preview: "I don't want to just get married just because we've been together for 11 years. I want to make sure that, you know, we trust each other wholeheartedly and that it's the right choice for both us. Right now it's just try and see, you know, if this challenge can make or break us."
Unfortunately, neither of their social media accounts have offered any hints about their relationship status now. Kristen hasn't posted a photo of Julian on Instagram since January 2018, and Julian hasn't posted one of her since May 2019. The good news? They do both still follow each other. Should Kristen turn down Julian's possible proposal, however, he already told Temptation Island single Lauren "Tula" Poindexter what he'd do: "Because I love her, I would have to let her go."
It seems the ball will be in Kristen's court by the end of the show, but given other couples' poor track records in past seasons, anything could happen between now and then.