Yes, You Really Can Charter The Northern Sun Yacht From Below Deck Down Under
It will cost you, though.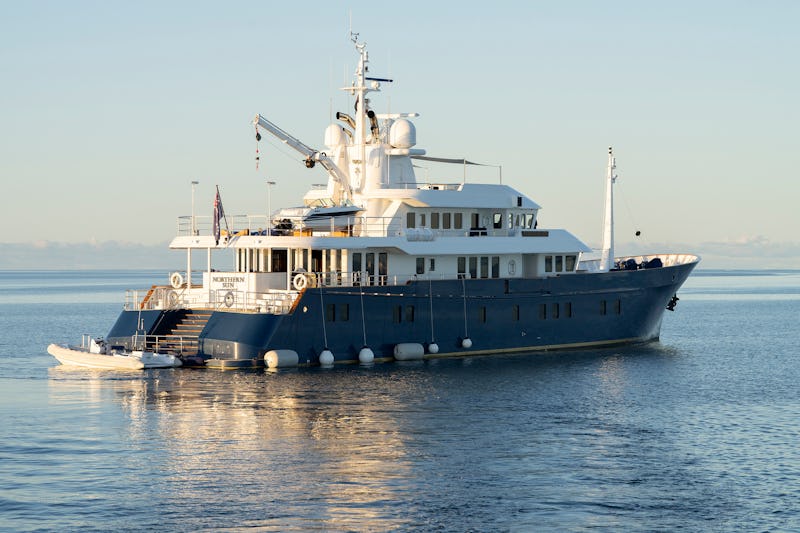 Bravo/NBCUniversal/Getty Images
When Captain Jason Chambers set sail for Peacock's Below Deck Down Under Season 2, he was in somewhat unchartered territory. Filmed at the gateway to the Great Barrier Reef in the stunning waters of Cairns, Australia, the latest season welcomed guests aboard the M/Y Northern Sun, a Japanese superyacht that was unlike any vessel he'd ever captained in the past. "Northern Sun is a 1977 Japanese fishing vessel that's been converted to a luxury superyacht," Captain Jason explains in the Season 2 premiere. "It's the perfect vessel because, this season, we're in Cairns, right at the foothills of the most spectacular underwater scenery you'll ever see. It's adventure yachting, and it's perfect for exploration."
You don't have to sign up for a reality TV show to visit the 50.8-meter-long Northern Sun, though. The yacht, which began as an ice-class research vessel that analyzed marine life and ocean currents in the North Japan Sea, is currently listed with a weekly charter starting cost of $161,700 and an asking price of $15 million. Able to accommodate 12 guests in 6 staterooms, Northern Sun includes such luxury amenities as al fresco dining, an outdoor jacuzzi, and a two-deck-high inflatable water slide, as well as a range of water-sport toys, allowing guests the opportunity to go scuba diving, snorkeling, kayaking, water skiing, and more, while exploring Thailand and surrounding areas.
In a July interview with Bravo's The Daily Dish, Chief Stew Aesha Scott explained why Northern Sun made Season 2 "completely different" in allowing guests to have one-of-a-kind experiences. "The boat was smaller, it was more manageable," she said, comparing the vessel to M/Y Thalassa BDDU's inaugural season. "The boat this year was a converted fishing vessel, and for me it was just so much better because Thalassa was outrageous how big it was. That was part of the stress was that it was just so big ... We're still offering the guests a really nice five-star experience."
Northern Sun's laid-back feel also played a key role in Season 2. "I think altogether that it's just kind of created a more tropical, casual kind of vibe, which I actually think was a real positive thing because the guests were just so relaxed," Aesha added. "And [they] just got up to such mischief — which was funny most of the time. Sometimes it was annoying, but most of the time it was funny."
Captain Jason, for his part, shared in a separate interview with the outlet that the latest installment of the original Bravo franchise flew by, either way. "I walked onto the boat, said 'What the hell is going on?'" he joked. "And then the season ended."