Ben Affleck Can't Stop Gushing About J.Lo Almost 20 Years After Their Split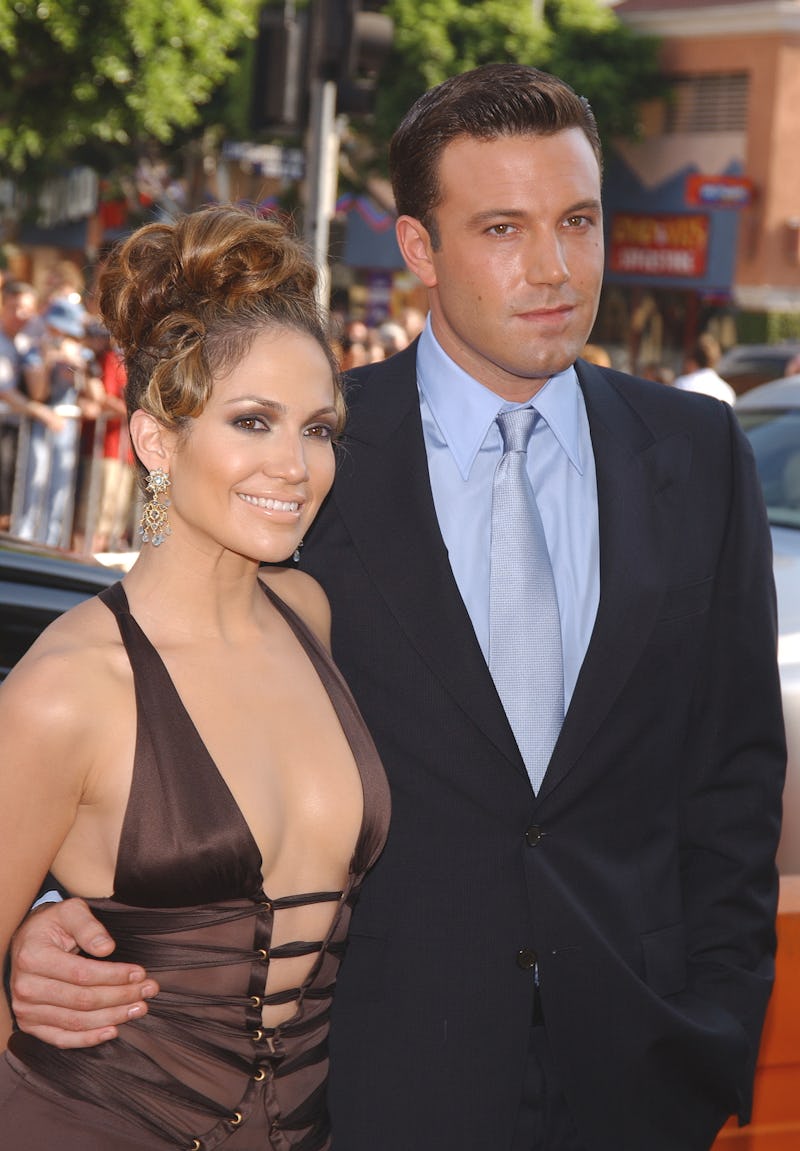 Frank Trapper/Corbis Entertainment/Getty Images
Bennifer is still alive... kind of. Nearly 20 years after their famous breakup, Ben Affleck gushed about his ex-fiancé Jennifer Lopez in her new cover story for InStyle, published on Monday, April 5, making everyone remember the glory days of Bennifer (or your worst nightmare, if you saw Gigli).
In the interview, Affleck spoke about J.Lo's much-lauded work ethic, calling her "the hardest-working person I've come across" in the entertainment industry. Between her many jobs as actor, musician, producer, talent show judge, beauty maven, clothing designer, performer, and of course, mother, his claim is not off-base. He continued, saying:
"I thought I had a good work ethic, but I was completely humbled and blown away by what she was committed to doing day in and day out, the seriousness in which she took her work, the quiet and dedicated way she went about accomplishing her goals, and then how she would go back and redouble her efforts. She has great talent, but she has also worked very hard for her success, and I'm so happy for her that she seems, at long last, to be getting the credit she deserves."
Aside from her commitment to work, Affleck was also attracted to her ageless beauty, something he still marvels at today. "Where are you keeping the fountain of youth?" he joked. "Why do you look the same as you did in 2003 and it kind of looks like I'm in my 40s… at best?" J.Lo was flattered by Affleck's remarks, and lifted his spirits in return. "Ben is funny!" she responded. "He still looks pretty good too."
Lopez and Affleck started dating in 2002 after filming Gigli (infamously known as one of the worst movies of all time) before getting engaged that November. Their planned wedding in September 2003 was cancelled just hours before it began, reportedly due to the intense media attention. The former couple officially called it quits in January 2004, and have rarely spoken about each other since. But despite the drama, they are apparently still on good terms.
In February 2020, Affleck revealed that he still talked to Lopez and said she "should have been nominated" at the Oscars for her widely praised performance in Hustlers, agreeing with literally everyone. "She's the real thing," he told New York Times reporter Brooks Barnes. "I keep in touch periodically with her and have a lot of respect for her. How awesome is it that she had her biggest hit movie at 50? That's f*cking baller."
In a recent interview with The Hollywood Reporter, Affleck defended Lopez against tabloids who went after her while they were engaged. "People were so f*cking mean about her... racist, sexist," he said. "Vicious sh*t was written about her in ways that, if you wrote it now, you would literally be fired. Now it's like she's lionized and respected for the work she did, where she came from, what she accomplished — as well she f*cking should be."