Bethenny Frankel Met Her New Fiancé On A Dating App & Avoided Being Catfished
"He came as advertised — better than advertised."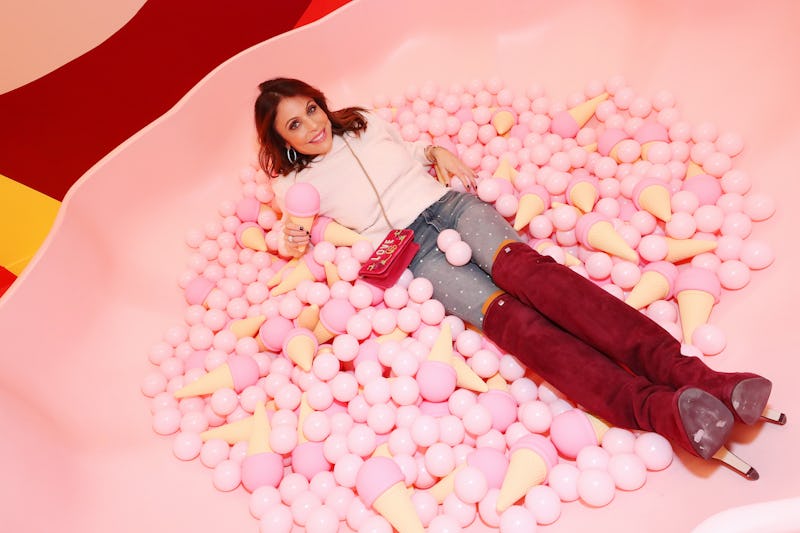 Cindy Ord/Getty Images Entertainment/Getty Images
Usually, it would be a risk for Bethenny Frankel, a self-made businessperson and former Real Housewives of New York City star, to use a dating app — but she was far from catfished when gave it shot. Frankel just revealed that she met her new fiancé Paul Bernon on a dating app, and all fears about his identity vanished as she walked in for their first date in 2018, she told PEOPLE in an interview published on Thursday, April 29.
"I was pretty lucky when I walked in and saw him," she said. "He had a twinkle. He came as advertised — better than advertised. He overshot the mark." Evidently, they hit it off right away, and dated on-and-off for nearly three years before announcing their engagement in March 2021. Frankel said that Bernon's proposal was intimate and focused solely on themselves. "Just the two of us, on an island off of Florida," she said. "No makeup, no manicure, no ring photos. It was very simple and beautiful."
Frankel's engagement was announced on the same day that it was revealed she had finalized her divorce from Jason Hoppy, which she told PEOPLE was "the hardest experience of my life." The reality star separated from Hoppy in 2012, but they didn't land on a financial settlement until 2016, and only agreed on custody of their daughter Bryn in December 2020, meaning they were embroiled in a contentious court battle for eight years.
Now, she's learned from the ordeal to keep her love life private. "In the past I've been in a fishbowl, but that hasn't always worked out so great," she said. Frankel has done a good job of keeping her love life relatively private now, given how Bernon never appeared on RHONY before she left the show in 2019. She even felt weird confirming her engagement to the world, revealing that the proposal took place a month before anyone ever knew. "It felt like a strange thing to announce, that just felt counter-intuitive," she said.
Despite her hesitancy, she seems very happy with the businessman, who has two children of his own. After the engagement went public, Frankel told Extra she was "very excited," saying "it's really wonderful." Back in 2019, she gushed about him to PEOPLE before she even decided he was the one. "He's a good person who I love," she said. "I don't know if it's a yin to my yang, but he's really relaxed, he's mellow and he's very, very funny."
However, don't expect her to rush when it comes to wedding plans. "I'm not going to be the old lady about to hit menopause going to the newsstand to buy bridal magazines," she quipped. "I'm like, 'What are you doing?'"