Blake Lively & Ryan Reynolds' Vaccine Photos Will Make You Believe In Love Again
"Find you someone who looks at you like I look at the heroic nurse vaccinating me."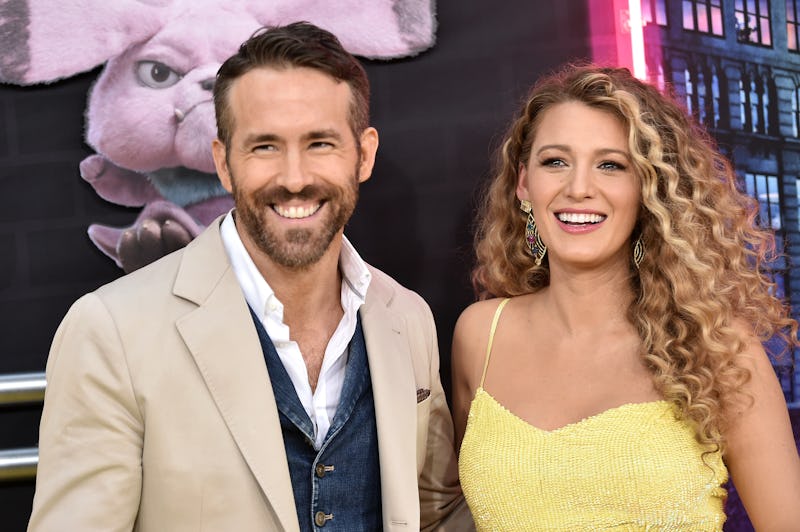 Steven Ferdman/Getty Images Entertainment/Getty Images
As COVID-19 vaccines are rapidly rolling out across the United States, with more people becoming eligible for it every day, celebrities are also getting in on the action and finally seeing a light at the end of the tunnel (or, well, pandemic). Blake Lively and Ryan Reynolds received the COVID-19 vaccine, and they have the adorable photos to prove it. Surprisingly enough, the couple didn't even immediately troll each other in their captions, as they often love to do.
On Wednesday, March 31, the Gossip Girl alum shared a photo of her gazing at the nurse who administered her vaccine. "Find you someone who looks at you like I look at the heroic nurse vaccinating me," she captioned her post. And given how much she's smiling, even with a mask on, it would be smart to take her advice to heart.
The Deadpool actor also posted his own vaccine photo but went much more sarcastic in the caption, as per usual. "Finally got 5G," he wrote, poking fun at the debunked conspiracy theory that COVID-19 derived from cellular 5G towers. He also shared the same photo on his Instagram story, using the "let's get vaccinated" sticker and poking fun at the pink beanie he chose to wear. "Science is sexy," he wrote. "The hat? Perhaps not."
Lively and Reynolds publicly celebrating their COVID-19 vaccine should come as no surprise, given how outspoken they've been about following the CDC's guidelines throughout the pandemic. In December, Reynolds explained how his family's Christmas plans changed due to the pandemic and praised those making similar sacrifices. "My kids won't see their grandparents this year for Christmas. Or friends or aunts and uncles," he wrote. "It sucks. My hat's off to so many others doing the same."
The couple also made sure to do some good while stuck at home, donating $1 million to Feeding America and Food Banks Canada twice in 2020 — first at the beginning of the COVID-19 pandemic and once more in February 2021. In a statement shared by Feeding America, Lively and Reynolds said they were grateful to be able to support those in need due to COVID-19. "We know the struggles so many of our neighbors faced last year are not over, and we are grateful for the opportunity to help facilitate the important work of food banks across the US and Canada to be able to provide nourishing meals to people in need," they said.
The struggles are still not over, but with people like Lively and Reynolds getting vaccinated when they can, the situation will continue to improve.