Goliath's Identity Is Still A Bit Of A Mystery At The End Of Bloodlands S1
But here's what we know so far.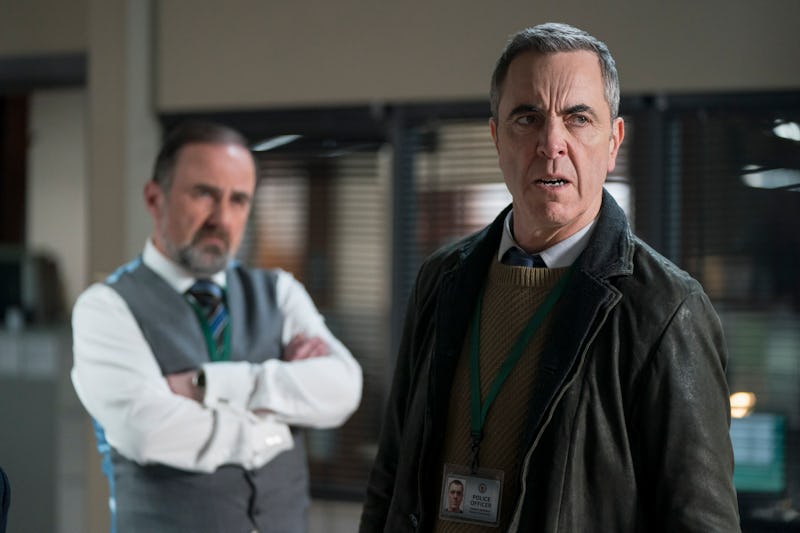 BBC / HTM Televison /Steffan Hill
Spoilers ahead for the Bloodlands season one finale. Over the past four weeks, Bloodlands has become our new Sunday night obsession. Set 20 years after the Northern Ireland Good Friday Agreements, it stars James Nesbit as Tom Brannick, a Belfast detective who is attempting to catch a mysterious assassin named 'Goliath' (well, supposedly). The Bloodlands' villain is said to be responsible for four disappearances and deaths since 1998, including Brannick's wife, but who is Goliath? Well, the answer is slightly more complicated than we first thought...
What We Know About Goliath
Right from the off, it's made clear that Goliath had access to "insider" police intelligence and was able to make the disappearances of their victims look like runaways
Brannick has supposedly been chasing Goliath since the end of The Troubles back in the 1990s when his wife Emma was kidnapped along with three other people mixed up in the conflict (or so we've been led to believe, anyway).
Up until the end of episode two, one theory floating around was that DCS Jackie Twomey, Brannick's boss, was Goliath. He was on the force since the '90s, meaning he was around at the time of the crimes and was aware of everything going on, plus it's revealed that the DCS did a few dodgy dealings back during The Troubles.
However, everything changed in episode two when we discovered that Brannick himself had some deep, dark secrets that may connect him directly to the Goliath murders. Leading us to…
Is Tom Brannick Goliath?
Now this one I definitely didn't see coming. In classic Jed Mercurio style, it turns out that Goliath may have been staring us in the face all this time.
Episode Two
At the end of episode two, it becomes clear that Emma Brannick and David Corry (one of Goliath's victims whose body was discovered on Strangford Lough) were having an affair before both of them disappeared.
When David's brother Adam (who's been searching for David Corry for the past 20 years) confronts Brannick about this and asks him if he is in fact Goliath and the person behind the murders in the 1990s, Brannick shoots him.
Episode Three
In episode three, Brannick does all he can to hide his connection to Adam Corry's murder. He starts a campaign to get Twomey arrested for the shooting and also tries to pin the Goliath identity on him. He also befriends Tori Matthews, the daughter of one of Goliath's victims (Faith Quinlan) who has gathered a lot of intel on the assassin's identity.
Episode Four
During the final episode, Brannick's reveals to Matthews that he was indeed behind the Goliath killings. However, he says he only murdered Joe Harkin and Faith Quinlan because he believed he was being blackmailed by David Corry, who was holding his wife captive. Later he found out that David and Emma were actually working together. He killed David and told his wife to disappear, which she did.
However, in a final twist, Brannick has Matthews killed and once again manages to escape unscathed.
So does this mean Brannick is Goliath?
Well, yes and no. If we believe Brannick's story, then we know he was forced to murder Goliath's victims, and then killed David Corry out of revenge. It would seem he became an assassin without really meaning to.
But then, the question is, do we believe Brannick's story? The DCI has been lying throughout the whole season, and we know he's very good at it. Could his confession to Matthews be just another false story to cover his tracks?
Where Is Emma Brannick?
At the end of episode four, we're still in the dark about where Brannick's wife disappeared to. She supposedly hasn't been heard from since the end of The Troubles but she may hold the key to the truth about her husband's past and the real story about Goliath's identity.
All I can say is, bring on season two.
This article was originally published on