19 Books To Read This Asian American & Pacific Islander Heritage Month
Make some space on your shelf for these new must-reads by AAPI authors.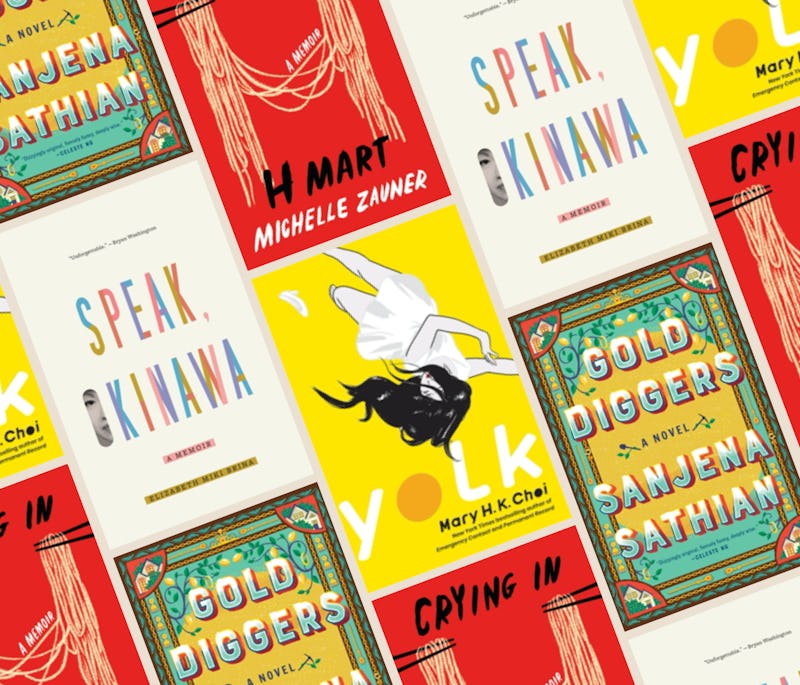 Observed each year since the late 1970s, Asian American and Pacific Islander (AAPI) Heritage Month draws attention to the contributions of — and challenges faced by — a diverse group of people: those who trace their heritage to Bangladesh, Bhutan, Cambodia, China, Fiji, Guam, Hong Kong, India, Indonesia, Japan, Korea, Laos, Malaysia, Nepal, Pakistan, Palau, the Philippines, Samoa, Singapore, Sri Lanka, Taiwan, Thailand, Tonga, Vanuatu, Vietnam, and elsewhere in Southeast Asia and the Pacific.
To honor AAPI Heritage Month, Bustle has compiled a list of 19 recent books from AAPI authors. From journalists like Angela Chen and Mary H.K. Choi, to fan-favorite YA authors like Malinda Lo and Emiko Jean, to literary powerhouses like Jhumpa Lahiri, the featured writers have created a wide range of incredible works — more than enough to keep you reading long after May is over.
Read on for more about these 19 must-read titles.
No, the A in LGBTQIA+ doesn't stand for "Ally." Far from a one-size-fits-all orientation asexuality is more openly claimed and celebrated today than ever before. In Ace, Angela Chen examines the contemporary asexual experience in all its myriad forms, and zooms out to analyze our collective understanding of sexual attraction.
The award-winning former Poet Laureate of Queens, New York, Ishle Yi Park takes readers on a nostalgia trip to the 1990s in Angel & Hannah, her lyrical retelling of Romeo and Juliet. Sparks fly when Hannah, a Korean American girl from Queens, meets Angel, a Brooklynite with Puerto Rican roots — but the young lovers' relationship soon begins to crack under the weight of financial problems and substance abuse.
When Lila returns to her hometown following a nasty breakup, her life goals seem pretty simple: bounce back from the bad relationship, help save her Tita Rosie's restaurant, and take in all the love her well-meaning aunts have to offer. But when her food critic ex shows up to review the restaurant and doesn't live to see dessert, Lila finds herself at the center of a murder mystery in which she's the prime suspect. She'll need her aunties' help to make it out of this snafu, in Arsenic and Adobo.
From the creative force behind Japanese Breakfast comes this heartfelt collection of essays. Zauner writes about growing up as one the one of the only Asian American kids in her Oregon hometown, living on the East Coast and in Seoul, and losing her mother in her twenties.
In this joint memoir, Monkey Bridge novelist Lan Cao, a Vietnamese immigrant, and her American-born teenage daughter, Harlan, recount their disparate experiences growing up in the United States, exploring how they relate to one another as two different generations of Americans.
In this new take on Cinderella, I Love You So Mochi author Sarah Kuhn introduces readers to Rika: an orphaned teenager who desperately wants to believe that she's the daughter of rom-com star Grace Kimura. As Rika chases down her dream mother, she's accompanied by another actor, Hank Chen. But is Hank the One, or has Rika's head drifted too far into the clouds?
Sanjena Sathian's debut centers on two Indian American teenagers who use a magical recipe to siphon ambition from stolen gold. Years later, they meet again, and soon find themselves going all-in for one last heist, in Gold Diggers.
Thien-Kim Lam makes a splash this month with her debut novel, Happy Endings. Years ago, Andre dumped Trixie by leaving her a Dear Jane letter on a Post-It. But when the two wind up living in the same city again, Trixie finds her way to Andre's restaurant. The eatery has seen better days, but Trixie knows just how to keep it afloat: by installing a pop-up shop for sex toys inside.
From editors R.O. Kwon and Garth Greenwell comes this collection of literotica. Containing stories written by Roxane Gay, Carmen Maria Machado, Brandon Taylor, and more, Kink is not to be missed.
Set in Chinatown during the Red Scare, Malinda Lo's Last Night at the Telegraph Club follows 17-year-old Lily, a Chinese American girl whose position in midcentury America is complicated not only by her race, but also by her sexual orientation. But possibilities begin to open up when she and her BFF, Kath, find a lesbian bar one fateful night.
When she's prevented from boarding the Titanic due to U.S. immigration laws, Valora Luck stows away in the hopes of reaching her brother, Jaime, on the other side of the Atlantic. She intends to reunite with her brother and join the circus as an acrobat, but fate may have other plans.
If you're searching for real-life love stories about trans people, everyone knows you go to "Meet Cute Diary," Noah's blog devoted to happily-ever-afters. Noah's the only one who knows that the stories he publishes are fiction... for a time. When he's exposed as a fraud online, Noah rushes to find a way to regain his readers' trust. His new friend Drew agrees to fake-date him, but when Noah begins to catch real feelings, he learns that true love might be stranger than fiction.
Living in a hovering "eco-city" above a world destroyed by climate disasters, sisters Celia and Kasey have very different outlooks on their existence. STEM nerd Kay is fine with the sacrifices she must make to secure humanity's carbon-footprint reductions, but Cee would rather spend her time in the wild world below. When Cee does the unthinkable and sails out to sea alone, she washes up on a deserted island with no memory of anyone or anything... except the sister she left behind.
From filmmaker Geling Yan comes this No. 1 Amazon Best Seller in Asian American Literature. The Secret Talker follows Hongmei, a former officer in the Chinese military, as she grapples with her humdrum marriage to her American husband, Glen. When an online stranger shows interest in Hongmei, she seizes the opportunity for connection, but soon finds herself spilling secrets she was never meant to share.
In 1978, 10-year-old Sitara lost everything in a bloody coup that claimed the lives of Afghan President Sardar Daoud and his officials, including Sitara's father. Smuggled to safety with an American diplomat, she grows up and becomes a well-known surgeon under a new name: Aryana. But 30 years later, when the palace guard who helped her survive that awful night turns up in her hospital, Aryana throws herself into a search for answers — a quest that will require her to return to Kabul.
A memoir of growing up mixed-race in upstate New York, Elizabeth Miki Brina's Speak, Okinawa tells Brina's story, as well as those of her Japanese mother and American G.I. father — all the while probing questions of race, identity, power, and belonging.
Growing up in a majority-white hometown with her white single mom, Izumi's never found her place to belong. But when she learns her long-lost father is actually the Crown Prince of Japan, she races across the Pacific to meet him. Izumi was too Japanese for America — but can a Japanese American princess truly call Tokyo home?
Pulitzer Prize-winning author Jhumpa Lahiri makes a long-awaited return with Whereabouts: a novel that centers on an unnamed, middle-aged woman longing for connection. As her protagonist goes in search of an anchor, Lahiri follows, retracing her footsteps in exacting prose.
A pair of estranged, Korean American sisters reunite under grim circumstances in this novel from Emergency Contact and Permanent Record author Mary H.K. Choi. June and Jayne Baek don't have much in common, yet they managed to move — separately — from their Texas hometown to the bright lights of New York City. But when overachiever June inexplicably steals her sister's identity, the two are brought together once more — setting the stage for a poignant reckoning years in the making.