Bree Runway Isn't Interested In What's "Popular"
The "Hot Hot" singer on teaming up with the Tate, owning her success, and being an absolute rockstar.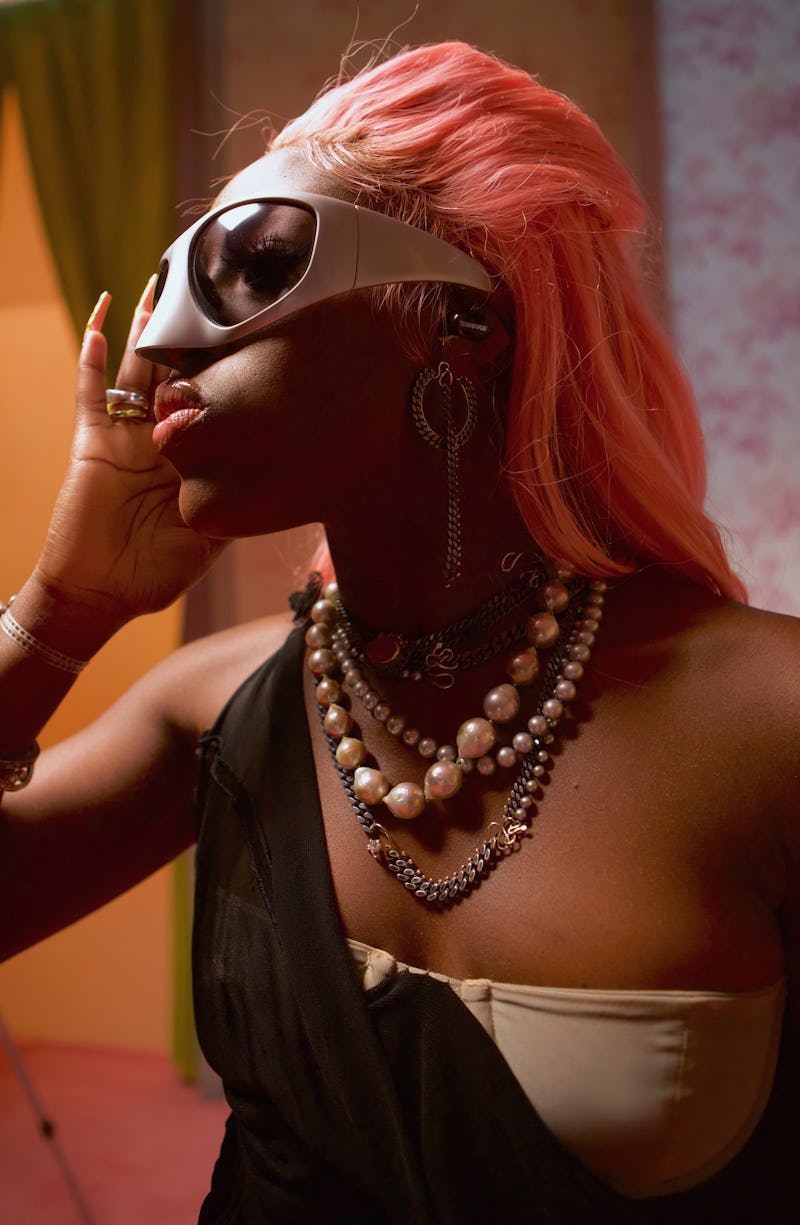 Courtesy of Tate Collective
Bree Runway had two requests for her collaboration with Tate Collective: a spinning podium and a room full of cameras. "There's cameras all around me, so I wanted to spin so they all could get a piece of Bree!" she tells me over Zoom, laughing. For the London-made singer, rapper and entertainer, the "fashion", "hot" and "chic" one-off performance of her single "Hot Hot" with the famous art gallery is also "middle finger" to harsh scrutiny women – and female musicians, in particular – receive regularly.
Along with Celeste and Steam Down, Bree Runway — also known as Brenda Wireko Mensah — was challenged by Tate Collective's Reframed series to bring one of their world-class artworks to life through a unique performance. The result is utterly mesmerising, and you can watch it below.
Bree's artistic source of inspiration for the performance? Untitled by radical feminist and icon Linder Sterling, naturally. The abstract artwork sees the half-dressed body of a woman with a vacuum cleaner for a head, surrounded by cut-out cameras. It's unusual, for sure. Almost comical, in some ways. But it resonated deeply with Bree.
"I love it when art has a sense of quirkiness to it," she explains. "The body [in the collage] looks sexy, but there's also a weird item on her head, and that's me in my life and my art. I'll never be the kind of sexy that Instagram wants me to be, or that men want me to be. Bree has her own idea of sexy."
The idea of constant scrutiny – represented by the prying cameras around her – was also deeply relatable for the artist, who has basically been under the spotlight since she sang for Michelle Obama during a high school visit. Since then, she's gone from strength to strength – earning a nomination for BBC's Sound Of 2021 and collaborating with Missy Elliot – but it hasn't been without hard work and serious dedication.
Here, she reflects on teaming up with the Tate, how she keeps herself motivated, and refusing to be modest about her hard-won success.
On defining her own approach to "sexy"
"I feel uncomfortable giving into certain kinds of beauty ideals or body shapes, or whatever's 'popular'. I came to a place where I felt comfortable in my sexuality through fashion. By shaving my hair and wearing more punky styles, I realised my 'sexy' is being a rockstar."
On becoming confident in her style
"Every couple of months, I have a meeting with myself about how I'm going to kick the old Brenda's arse - because I only see myself as competition. It's time to meet the new Brenda now. What does she sound like? What does she look like? That's the phase I'm in now: the level up."
"People will always try to box in, but I like being something people don't understand. I like being something people haven't heard or seen before, and I like being hard to catch. It makes things fun for me. It keeps people on their toes. I'm always new."
On bringing it all day, every day
"I feel like with art and with fashion, to stand out, you have to understand your position and what you bring to the table. And that could be anything. Your thing could be wearing all black, all the time, but are you wearing it confidently? Even on a day you don't feel confident, you have to fake it, because if you don't look like you believe in what you're selling, nobody's going to buy it."
On why she refuses to be modest
"I feel that what I'm doing is special and It's OK to know that. And I don't feel like I should wait for people's validation and play modest. Rappers are always telling us how great they are and sometimes doing the bare minimum. I'm actually putting my foot into my work and I'm so proud of it."