9 Times Britney Spears Proved She Can Sing, Just Like Her Mom Reminded Her
The pop star can sing when she wants and remains Queen of Lip-syncing when she can't bother.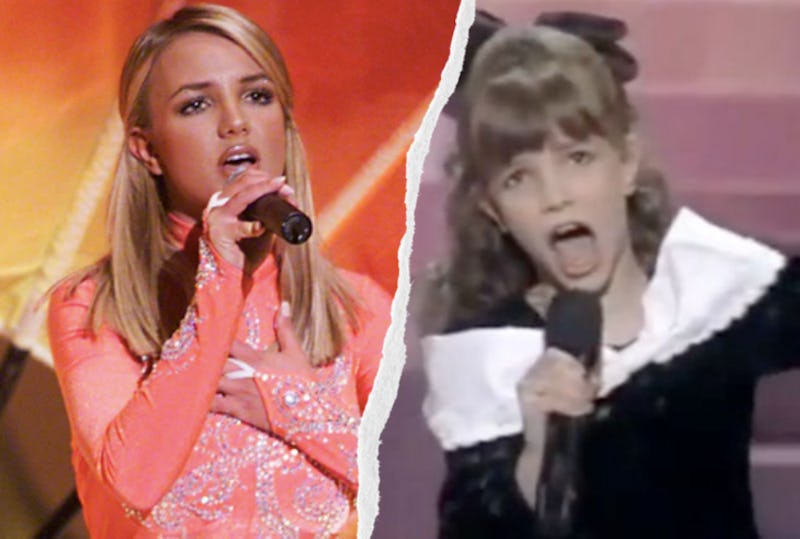 Frank Micelotta Archive/Hulton Archive/Getty Images
Here's a public service announcement for anyone who thinks the Princess of Pop only lip-syncs: Britney Spears can definitely sing. But you're not the only one who has forgotten about her vocal chops. Spears recently shared a vintage video that her mom sent her, which served as a great reminder to her daughter that she can sing pretty damn well. "She said 'You never sing anymore… you need to again,'" Spears wrote in the Instagram caption of the video, echoing a sentiment that all of her fans can agree with.
In the video, Spears belts out a cover of "You Got It All" by The Jets, which went on to become a bonus track on certain editions of her sophomore album Oops... I Did It Again. The performance comes from a mysterious showcase that Spears did in Asia in 1998, as she was pitching her soon-to-be pop hits to record labels around the world. The full video from this showcase also features early renditions of her breakout hits "...Baby One More Time" and "Sometimes," giving an intriguing portrait of a superstar in the making right before her life changed forever.
Spears reminisced about the performance, admitting she had never watched it before her mom sent it and was primarily concerned with something other than singing at the time. "It's from one of the first trips I took alone," she explained. "Mostly I just remember saying 'WOW Singapore'!!!!" Now, it serves as a reminder of her raw talent in a time where the singer says she'll no longer perform until her father is removed from her conservatorship. In case Spears needs more motivation to get back out there, or anyone else needs to brush up on their history, here are nine times that Spears has proven herself to be a soulful and bright live vocalist.
1. Star Search
Before she became a Mouseketeer, went to Mars in a red catsuit, or coined "It's Britney, b*tch," Spears was a contestant on Star Search when she was just 10 years old. Her voice was still developing, but her rendition of The Judds' "Love Can Build A Bridge" proved she was already someone to watch out for. Well, the judges didn't think so, as they gave her a measly 3.75 while her opponent Marty Thomas scored a perfect four stars. No word on where he is today.
2. The Mickey Mouse Club
Hannah Montana and Lizzie McGuire may come to mind when you argue who's the Queen of Disney, but Spears was the true OG Disney Channel star. During her time on The Mickey Mouse Club, Spears would dazzle viewers every week with her on-point moves and vocals that were wise beyond her teenage years, as proven by this rendition of "I'll Take You There." Future boyfriend Justin Timberlake also shows up to rap, but Spears outshines them all.
3. Her First (And Only) Grammys
Spears is as prolific as a pop star can get, yet she only has one Grammy performance to her name, which is truly criminal. But she made it count. Spears belted out her ballad "From the Bottom Of My Broken Heart," giving it all the soul she could muster dressed as a literal pop princess, before going into a sci-fi version the iconic "...Baby One More Time." It wasn't enough to get her a Grammy that night (she wouldn't win until 2004, when she took home Best Dance Recording for "Toxic"), but her performance solidified her as a superstar regardless.
4. "I'm Not A Girl, Not Yet A Woman"
The early 2000s marked a crossroads for Spears (pun intended), who was cultivating a more adult image with "I'm A Slave 4 U" but hesitant to let her child-like side go. Her performance of coming-of-age anthem "I'm Not A Girl, Not Yet A Woman" at the 2002 American Music Awards saw her stake a claim for independence while asking for room to grow and learn.
5. "Everytime" On SNL
Spears' biggest ballad to date, the haunting and lullaby-esque "Everytime," is perhaps the best showcase of her vocals at their most raw and vulnerable. Her 2003 performance on Saturday Night Live proved that perfectly. Backed by only a pianist and string quartet, Spears bared her soul at Studio 8H, one of the most prestigious places to prove your chops.
6. You Oughta Know (That I Can Sing)
When Spears does covers, she goes hard. During a few shows on her 2009 Circus Tour, Spears threw in a cover of Alanis Morissette's "You Oughta Know," giving it the sass and defiance the game-changing '90s anthem requires. Take it from Morissette herself: She crushed it, as if her heart was broken by Dave Coulier.
7. "Happy Birthday"
There's nothing more iconic for a Spears stan than when she decides to bless us with a surprise rendition of "Happy Birthday," which she has done on several occasions, most notably during her 2012 stint as a judge on The X Factor.
8. "Something To Talk About" — Literally
One day, Spears randomly got tired of the lip-syncing accusations and decided to give haters "Something to Talk About" — literally — by performing the Bonnie Raitt classic at one of her Piece of Me shows in 2017. She would never play the song again during her Las Vegas residency, making this performance a holy, near-mythical moment in time for fans.
9. The Singapore Showcase
Simply put: a legend in the making.