Julie Adenuga & Oobah Butler On The Evolution Of Catfish
The UK co-hosts share behind-the-scenes stories and their own catfish experiences.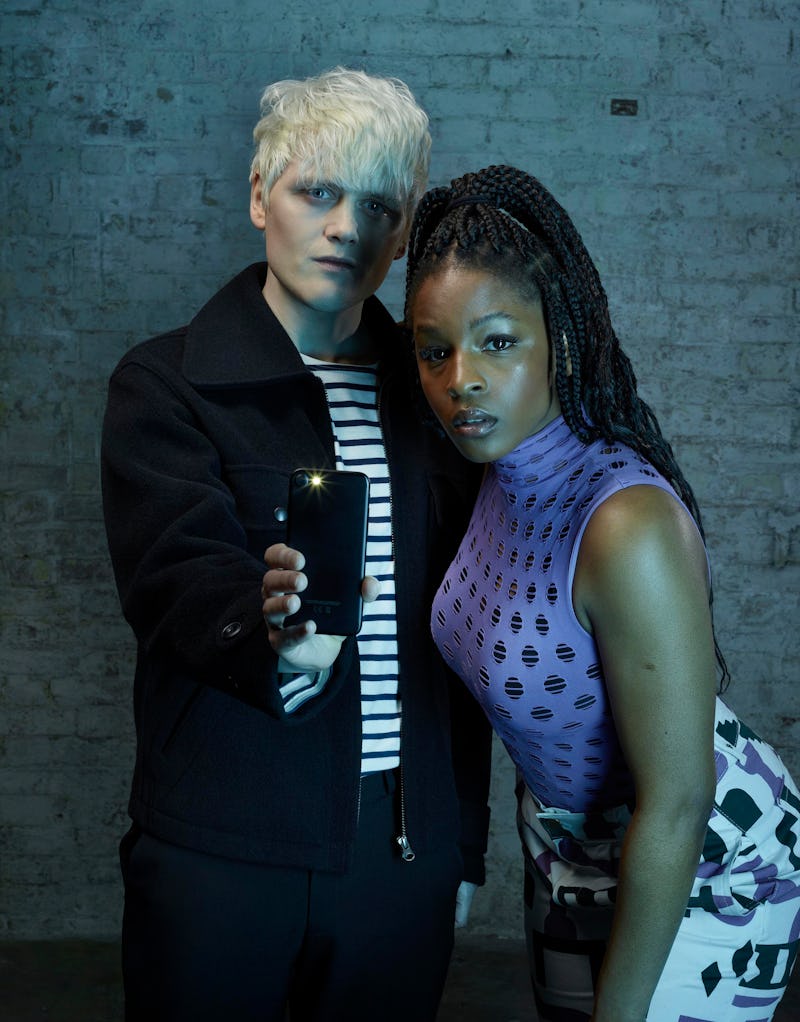 Catfish UK
In 2010, Henry Joost and Ariel Schulman's Catfish premiered at the Sundance Film Festival. The documentary charted the deceptive digital romance between the budding NYC photographer Yaniv "Nev" Schulman, and a mysterious young Michigan-native named Meghan. By the end of the film, Nev had unearthed the truth about the woman behind the Facebook account, and it was revealed Meghan was not the person she had claimed to be. The term "catfish" immediately entered common parlance.
Two years later, in 2012, the film inspired the investigative MTV reality series Catfish: The TV Show, in which Nev assists others in their quest to discover who they're really speaking to online. Now, more than a decade after the original documentary, the Catfish phenomenon has washed up on UK shores.
The brand new series is fronted by radio and TV presenter, and host of Julie's Top 5 Youtube series, Julie Adenuga, and journalist and author, Oobah Butler, who penned the 2019 bestseller How to Bullsh*t Your Way To Number 1. Together, the Catfish UK co-hosts will delve deep into the deceptions of online dating, and follow the real-life relationships of those who have never actually met their digital partners in the flesh.
Having grown up watching the original U.S. series, the dynamic duo are well equipped for the job. Back in 2017, Butler also proved himself to be somewhat of an expert in this particular field, having catfished the world's largest travel platform TripAdvisor with his infamous spoof restaurant The Shed at Dulwich.
Although the format remains largely the same, the UK version arrives amidst an ever-expanding social media and online dating landscape – one that has far surpassed the Facebook-centric origins of the original documentary.
I sat down (virtually) with Adenuga and Butler to discuss their experience creating the MTV series, and their take on the evolution of catfish online.
What can viewers expect from the first ever UK Catfish, and how does it compare to the original U.S. series?
Oobah Butler: People can expect a modern take on something that you're already familiar with. The stuff catfish can do these days is way more sophisticated than it's ever been. And, hopefully, we help people navigate these situations. I read the other day that a quarter of people have experienced catfishing in online dating, so, it's obviously prevalent.
Julie Adenuga: It's a similar format, but you've got two British kids at the front this time, who come from a completely different generation. Making the show, I realised there's so many things we do automatically, like reverse Google image search, and checking to see if a location is actually where they've said it is. That second-nature inquisitive approach has really come in handy.
What was your experience like working on the show?
JA: I'm a bit of a perfectionist, so I found it quite frustrating at first, because I didn't feel like I was getting it. We record a lot – the show isn't just us sitting in a shiny studio, talking to a camera. It's me and Oobah literally standing in St Paul's Cathedral, saying 'We need to get to Greenwich, lets run, and get on a boat.'
OB: We go on really intimate journeys with very vulnerable people, so it's an amazing privilege to have them invite you into their lives. There's also a lot of responsibility to get these people closure. You want to help them, even if it means all of a sudden shifting everyone halfway across the country.
JA: We also became like amateur therapists. We had to find find ways of talking people down, sometimes letting them know they aren't the worst person in the world. I think our CV's have definitely grown.
Did Nev Schulman influence your investigations or offer any tips?
OB: Definitely, Nev has provided a framework, but I feel like we both add our own inquisitiveness. I've spent the past five years making documentaries about the internet, and deception. But, Nev will always be a part of Catfish. He's the first person we spoke to before we started the whole thing, and he did give us tips. At one point during filming, he said: "I've been doing this for 10 years, and I've never seen this before." So, he's on the journey with us in a mentor type of way.
How did you find working together?
JA: I think we are a really good partnership. Oobah and I had never met before we started doing this show, but I feel like we're a match made in heaven when it comes to catching catfish.
OB: We both come from very big families – I'm the youngest of six, and Julie's the middle child of four – and we are very much conform to our roles within that structure. Julie is a mediator, and she's very good at dealing with confrontations and emotion, she's the calm in the eye of the storm. Whereas I flounder [laughs], and I'm good at breaking the tension.
JA: We also joke about being detectives – we call each other Batman.
The stereotype of a catfish is usually quite a lonely, and intentionally deceptive person. Did you find that to be true?
OB: I'm quite an optimistic person, and I don't think people are inherently bad. People do complicated things, and people lie. We all do it. We lie to ourselves. When filming, we met people who'd been pretending to be someone else, and we completely sympathised with them.
On the flip side, there are people who are catfishing because it's their business, for example those that professionally prey on people to extort money. In 2019, roughly £68 million was handed over in these 'romantic' catfish fraud situations. These stories are massively under reported, because a lot of people feel so embarrassed when it happens to them. So, I feel like we also play a small part in dispelling the myths around what a catfish actually is.
What were some of the most challenging moments during filming?
JA: There was a moment where I cried like a baby, which I never thought I'd ever do on camera.
OB: Yeah, it's definitely been very difficult to leave your work at work. It stays with you.
JA: Also, Oobah doesn't have a driving licence, so that was a big challenge. I was the official driver all the time. But, on a lighter note, I got to try a battered Mars bar, which was one of the most delicious things I've ever tasted in my life.
What are some of your favourite moments in Catfish history?
OB: I love the episode where Nev just picked up a guy's phone, and chucked it into the sea. I don't know whether I'd ever be capable of doing that. I look at myself in the mirror and say: "Are you Nev enough?"
JA: One of my favourites is Kelly Price. When she's outside in the snow, and she says: "You'll never find Tony... because I'm Tony."
And, finally, have either of you ever been catfished yourselves?
OB: When I moved to London from the Midlands six years ago, I hadn't properly seen the flat we were moving into, but it looked amazing in pictures. I showed up with all my bags, opened the door, and it was literally a box. I thought, "Oh, great, I've been catfished by a landlord."
JA: I once ended up on a date with this guy, we were on a bus in Palmers Green, and he started lying. He said that he knew Skepta and Jme, not knowing that I was their younger sister. He was who he said he was, but lied about who he knew. So that's my catfish story.
Catfish UK airs Wednesdays at 9 p.m. on MTV