Gabrielle Union, Missy Elliott, Eve & More Celebrities Pay Tribute To DMX
"The world has lost a REAL ONE but the heavens have gained an ANGEL."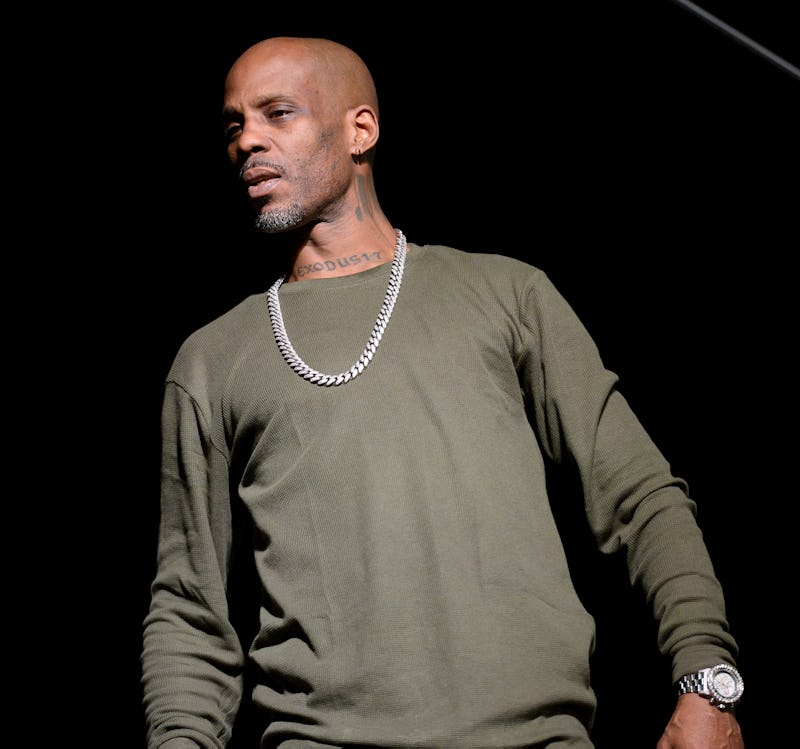 Scott Dudelson/Getty Images Entertainment/Getty Images
After suffering "a catastrophic cardiac arrest" on April 2, 2021, and being placed on life support in White Plains, New York, rapper DMX (né Earl Simmons) has died at 50. As reported by The New York Times, his family conveyed, "Earl was a warrior who fought till the very end. He loved his family with all of his heart, and we cherish the times we spent with him." Following news of his health complications earlier this month, DMX's family, friends, fans, and hospital employees came together outside of White Plains Hospital to pray for the rapper, who would pass a week later. Now, on social media, fans and celebrities have taken to posting tributes for the legendary rapper and remember the joy he brought others as well as the many challenges he faced in his lifetime.
Upon the news of his passing, DMX's record label Def Jam Recordings issued a statement about the late rapper. "Def Jam Recordings and the extended family of artists, executives, and employees are deeply and profoundly saddened by the loss of our brother Earl 'DMX' Simmons. DMX was a brilliant artist and an inspiration to millions around the world," read the post. "His message of triumph over struggle, his search for the light out of darkness, his pursuit of truth and grace brought us closer to our own humanity. Our thoughts and prayers are with his family and all those who loved him and were touched by him." The message concluded, "DMX was nothing less than a giant. His legend will live on forever."
Around the same time the news of his death was confirmed, the late R&B singer Aaliyah began trending on Twitter. The two co-starred in the 2000 film Romeo Must Die and collaborated on a song titled "Come Back In One Piece" for its soundtrack, and they were rumored to have dated; DMX even named his first-born daughter after the singer. On April 9, fans spread a clip from her posthumously-released "Miss You" video of DMX speaking in tribute to the singer, who unexpectedly passed away at age 22. "I have trouble accepting the fact that you're gone, so I won't. It'll be like we went for a while without seeing each other. But I could understand why God would've wanted you close to him," said the rapper in the video. "Cause you truly were an angel on earth... I love you, I miss you."
Throughout his life, DMX battled with drug addiction, and his fans asked on social media that he be mourned with care towards his struggles. "Mourning DMX should mean acknowledging the ways we as a society have criminalized addiction," wrote one supporter on Twitter, noting that people should reflect on the way they speak about and support those dealing with addiction.
In light of his passing, many of DMX's close friends and collaborators took to social media to celebrate his life. Rapper Eve, who belonged to DMX's Ruff Ryders Entertainment label for the release of her first three albums, posted a tribute to the rapper on Instagram. "I will be forever grateful to have known you," wrote Eve, who shares numerous collaborations with DMX. "The world has lost a REAL ONE but the heavens have gained an ANGEL."
Ruff Ryders' co-founder Joaquin "Waah" Dean also took to Instagram to post a message in remembrance of the late rapper. "May god bless you and take you into his paradise," Dean wrote. "You will always be my brother for life."
DMX's frequent collaborator Busta Rhymes posted a throwback video of the two hugging and praising each other in what appears to be the backstage area of a concert venue. "I hate this but I'm at peace with it because you are finally at peace King," he wrote in the video's caption. "I love you Eternally X. For infinity lifetimes I will forever love you Big bro."
Missy Elliott, who worked with the rapper on a remix of Rhymes' "Touch It," remembered DMX through a message posted to Twitter, writing, "Even though you had battled you TOUCHED so many through your MUSIC and when you would PRAY so many people FELT THAT!"
Many other celebrities, including LeBron James, Viola Davis, The Roots' Questlove, Gabrielle Union, and more, posted heartfelt tributes to DMX on social media.
Additionally, prominent figures in media, including radio host Ebro and journalist Jeff Weiss, posted messages celebrating DMX's life.