A Brief Layover With Chris Appleton
The man behind Hollywood's most sought-after hair — Kim's shine, Ariana's ponytail — is going places. He's bringing his husband, actor Lukas Gage, and kids with him.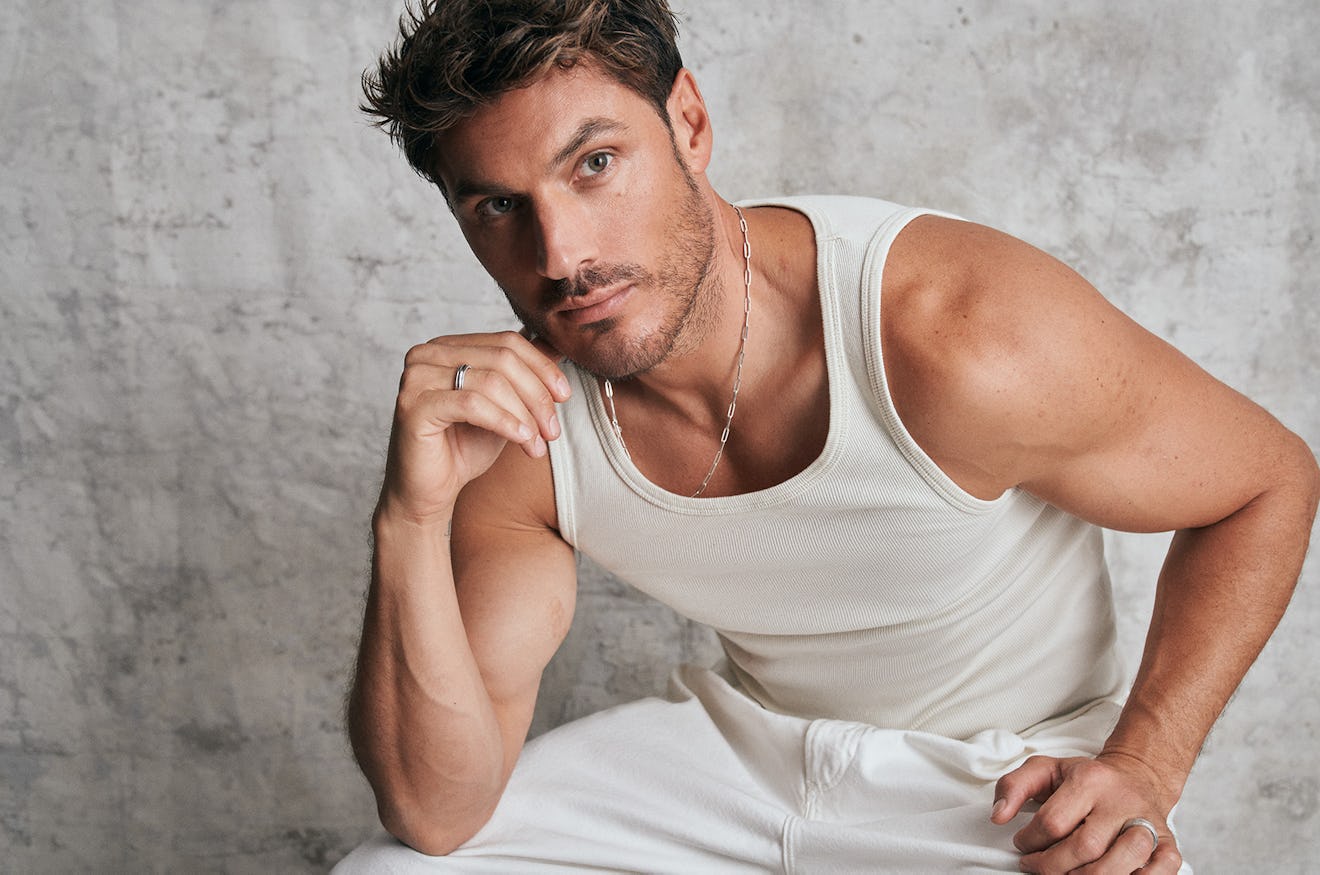 It takes approximately 17 hours to fly to Bahrain from Los Angeles, but when a princess needs a blowout, Chris Appleton gets on the plane. "I flew [there] for her blow dry, got back on a plane, flew to LA, to Paris, then from Paris to New York," Appleton tells me. His position as one of Hollywood's top hair stylists creates travel itineraries that rival The Amazing Race. After New York, Appleton ping-ponged from LA to Italy, back to LA, then Ibiza, to New York, to LA, to Miami, and finally back to LA. Why all the trips back to LA? "Even if I go back to LA just for the day, I just need to change my stuff," he says.
We're meeting in New York — a different New York trip — and, after our lunch, Appleton and his husband, the actor Lukas Gage, will get back on a plane home to Los Angeles, before Appleton gets on another plane to Australia. The trick, Appleton says, is to learn to sleep on planes. "Last night I got three hours sleep, but I know on the flight from New York to LA [this afternoon], I could probably get four hours."
Gage thinks Appleton simply doesn't get jet lag. "He has his own time clock in him," Gage tells me a few weeks later. He's calling from the Milan airport. "I'm watching Chris running around right now, literally dancing at the baggage claim, while I'm dying on the floor. He's literally dancing with people and a little dog right now."
Appleton only recently hired a personal assistant to help coordinate his travel with that of the no-last-names-necessary megastars he calls clients: Kim, J. Lo, Ariana, Dua. "Sometimes it might be like, Kim has a red carpet, [so] if it's just, like, a do-and-go for the other client, they usually understand," he says. "[Clients] text me like, 'Hey, are you available? This is really important to me.' So I'll just try and figure it out."
Though the 40-year-old tries to implement a "first come, first serve" rule with these women, it's Kardashian who appears to have the biggest monopoly on his time. He was with her in Puglia, tousling her waves for the Dolce and Gabbana Alta Moda show, and on the Dominican Republic set of Kardashian's 2022 Sports Illustrated cover, primping her fresh out of the water mane. The days are long, and the travel is no doubt grueling, but there are many benefits to keeping up with Kardashian. Namely, that the people who work for her become moguls in their own right, like her publicist-turned-chief brand officer Tracy Romulus, and her former makeup artist Mario Dedivanovic, now CEO of Makeup by Mario.
Between Appleton's new role as a contributor on The Drew Barrymore Show, his viral TikTok tutorials for volume bun hacks and easy curly hair updos, and a buzzy wedding to Gage (which Kardashian officiated), Appleton seems poised to become the next big Kardashianland breakout.
But over a lunch of french fries, tuna tartrate, and poached shrimp salads — during which he juggles calls from his 20-year-old son, Billy, and Gage, who are both back at Appleton's hotel packing up for their next flight — he is more concerned with being present in his personal life than hypothesizing about the next phase of his professional. "Last night we were at an event — the brand actually wanted them to come along, because they see they're such a part of my life — and we all went out after. It's so fun to have them be a part of the journey," he says.
Growing up in Leicester, England, Appleton's ambitions didn't square with his surroundings. The middle child of five siblings, he struggled in school as a result of dyslexia and was also frequently bullied for seeming "gay." The local hair salon, where he started working at around 13 years old, became his refuge. There, he met Katie Katon, his former partner, with whom he had his two children: Billy, who was born when Appleton was 19, and Kitty-blu, who followed two years later. (Appleton didn't come out as gay until he was 26.) Appleton says he immersed himself first in being a young, hands-on dad, and then, when his kids were a little older, he started venturing into London for work.
"I'd get on the train for two hours just to assist people and learn. I used to have to hide from the conductor, because I couldn't afford a ticket," says Appleton, who jokes that his blowouts now cost $2 million. "I traveled to Paris for Fashion Week. I had to [stay] in the outskirts of Paris, in [what I think] was actually a brothel. There was dirt in the bed and there wasn't a shower or anything. But I'd do it just to pass pins at the Chanel show and absorb how the head stylist would [work]. I was like, 'How does he approach hair? How does he talk to other people?'"
Eventually, in 2013, Appleton moved to London full-time, where he began working with up-and-comer Rita Ora. A few years later, after learning that Jennifer Lopez had been impressed with his wig work, Appleton set his sights on Los Angeles. Work with J. Lo would soon come — including her 2020 Super Bowl performance, where a video of Appleton brushing Lopez's hair before she took the stage went viral — but his first major job stateside was doing Christina Aguilera's hair for The Voice.
Everyone was like '[Kim's] cut her hair!' No one understood the power of a wig.
"I remember we had three hours for glam. The makeup artist went in, an hour went by and I was like, 'I can still do something really good in two hours.' Then two [more] hours went by, and I'm like, 'Her hair will probably be beautiful, and I'll just brush it,'" he says. But when he finally met Aguilera, with only 20 minutes until showtime, he says, "I was like, 'Well, have you ever tried a wig?' And she's like, 'Oh yeah, I've tried wigs. I don't like them.' I very much felt like an impostor. I was like, 'She's going to see that I'm just this boy from northern England, and laugh at me.'"
Appleton adopted a "fake it till you make it" attitude — "You know what? You've never tried one of my wigs," he recalls saying — and persuaded her to try out an ashy blonde wig with an Old Hollywood wave. "I remember she walked over [during] halftime and just went, 'Everyone likes your wig,'" he says, in a perfect imitation of Aguilera's winky smirk.
Appleton remembers his first encounter with each of his clients. Ariana Grande was trying out him and another hairdresser; he clinched the job by suggesting she make her ponytail longer, fuller, and far more dramatic. (Later he created the braided, hoop-adorned part she sported around the time of her engagement to Pete Davidson.) When finally connecting with J. Lo, she made him a cup of tea to make the expat feel at home. And upon meeting Kardashian, he was instantly impressed by her willingness to take risks. "She was going to have a blonde wig, and I said, 'Oh, what about doing this short blunt thing, or something different?' She was going out with Kanye somewhere and I remember the picture was on the cover of all the magazines [because] it was very different for her to have short hair," he says. "Everyone was like 'She's cut her hair!' No one understood the power of a wig."
Appleton's wig work got him noticed by big-name clients, but "glass hair" became his calling card. He first gave the frizz-free, Keratin-on-steroids, so-shiny-it's-reflective, straight hairstyle to Kardashian. "I was in Paris with Kim, and we'd been in Miami when she did the very long, mermaid-y hair, and then we said for Paris we'd do a straight, blunt look. Then I realized [that style] looks better longer, thinner, and very straight," Appleton says. "Then I was like, 'How do I get it like glass?' I was just adding lots of shine spray, and using the flattening iron [so] when it was photographed, it just looked like glass hair. That's how it became a trend." He's since designed a product line with Color Wow, where he also serves as global creator director, to help people achieve the look themselves.
Even though super smooth, shiny hair is everywhere now, the trained eye can still spot the Appleton touch. "Kim said to me once, 'I know when you've done other people's hair.' I said, 'How?' She said, 'It's the finish you get. It doesn't matter what [style] it is, [there's] a quality to the hair you get,'" he recalls.
Still, success in the business of hair is more psychological than pure trend-setting. Gage believes Appleton's strength lies in how he makes people feel. Gage saw his husband work this magic on his mom. "He put a weave on her and made her feel so hot and cool, and my mom suddenly loves going out," he says. "To make a 67-year-old woman feel hot and want to just go out and do stuff, that's a pretty special ability. That doesn't just come with just doing someone's hair. It's the other stuff underneath."
For nearly two decades, Appleton tells me, he has been in his "grafting" era. That's "grafting" in the British sense, which, as fans of Love Island know, means something like "hustling." So when he first slid into Gage's DMs this past winter, it was merely in pursuit of some fun during his infrequent off-time. "I met him at a party five years before. I had a partner at the time, and he said something to me drunk. I remember thinking like, Oh, f*ck off," Appleton says, suddenly giddy. "But anyway, I didn't forget him. Then five years later I saw him on my Explorer page and I DMed him. I just said, 'Boo!' Like the ghost emoji."
The pair got serious fast, because, as Appleton puts it, "It's almost like that kind of childlike kind of innocence to our relationship, and I think that's really special and rare." And when it came time for their whirlwind April wedding, Appleton found himself dishing to one client in particular. "I don't really talk about relationship stuff with Kim normally, so the fact that I was talking about it, she knew [it was serious]. Then I said, 'You could be the flower girl,'" Appleton says. "Then I rang her back and I was like, 'Oh my God, you should marry us. How f*cking hilarious would that be?'" Kardashian went ahead and took a wedding officiant's test, and when the big day came, she wed the grooms, who wore matching leather pants. (Kardashian also flew their friends and family there on her private plane, dubbed Kim Air, and surprised the newlyweds with a private Shania Twain performance.) "[Then] we went to Cabo, we all got tattoos at the end of the night. Everyone was smiling and happy. It just was a celebration."
Since then, their beach days have been written up in People alongside headlines about their "impressive abs." Paparazzi follow them on date nights, especially when stepping out with friends like Selling Sunset's Chrishell Stause. Gage, who is 28, is a hit with the family, too. "He's a great stepdad. He's the cool one," Appleton says. Both of his kids now live in Los Angeles, with Billy attending Loyola Marymount University and Kitty-blu working for Kardashian's SKKN. "When we go out, everyone's like, 'Oh, is this your brother?' And I'm like, 'Yeah, I'm their brother.' It must be strange for them having a younger dad, but I think they've just kind of got used to it." To add to the mayhem, Appleton and Gage have adopted an energetic Husky puppy, Dash, that Appleton takes to the park by 6 a.m. "I'll go, go, go, and then I'll just have this thing where I'll go, 'Oh my God, I can't do all of this.' I'll have an hour [of being overwhelmed] and then I'm fine. I just kind of recharge myself," he says.
With all he has going on, surely Appleton must be thinking about stepping back from the grind of client work?
Not at all, he says. "I still love doing it. ... I'm just grateful for what I do. If I ever have a down day, I wake up and I'm like, 'I live in Hollywood. The sun's shining. I have my family.'"
For a moment I almost don't believe Appleton, until he starts doing my hair. In under two minutes — with just two thin, limp elastics, and no comb or brush — he transforms my poorly self-blown hair into a perfectly messy topknot. He compliments my hair and urges me to wear it up more often. He offers to take a selfie of us, and his enthusiasm is infectious. "I get to make people look and feel good," he says. "It's like a superpower."
Photographs by Dean Isidro
Photo Director: Alex Pollack
Editor in Chief: Charlotte Owen
SVP Fashion: Tiffany Reid
SVP Creative: Karen Hibbert