Chris Hemsworth Says One Thing Stops People From Calling Him A "Serious Actor"
"Bodybuilding is seen as vanity."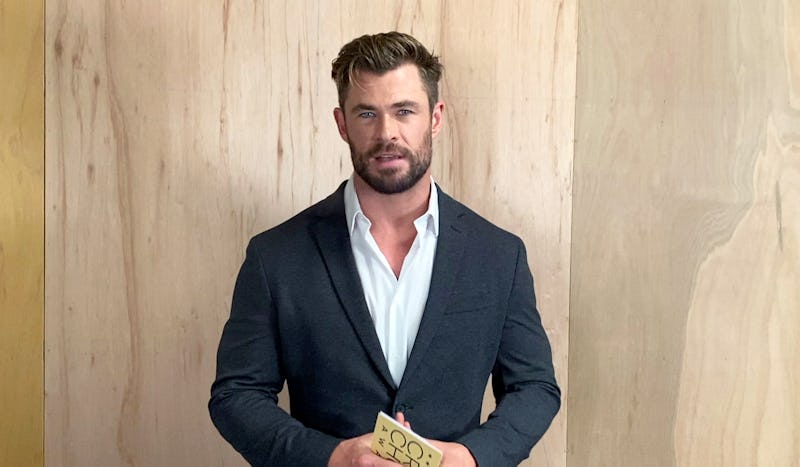 Getty Images/Getty Images Entertainment/Getty Images
Apparently playing Thor in some of the highest-grossing films of all time just isn't enough for some people. Chris Hemsworth thinks his physique prevents people from taking him seriously as an actor, as he told The Telegraph in an interview published on Monday, April 5. The actor opened up about the workout routine he follows to maintain the ripped physique required for his famous role MCU character and how he feels it makes people see him.
According to the star, many see his build as "vanity" for his own purposes. "There's an aesthetic that the role requires," Hemsworth said of portraying the God of Thunder. "Bodybuilding is seen as vanity, whereas if I put on a bunch of unhealthy weight, or got unhealthily skinny for a role, I'd probably be called a serious actor." (He's still one of the highest-paid actors in Hollywood thanks to the Avengers franchise, and if that's not serious, then what is?)
He does have a point, though: Many actors who have gained or lost a dramatic amount of weight for film roles have been praised for their dedication. Matthew McConaughey and Jared Leto lost a combined 80 pounds for Dallas Buyers Club, and both won Oscars for their performances. Even Hemsworth himself has done it before, undergoing an extreme diet of only 500 calories per day for his 2015 film In the Heart of the Sea.
However, many stars have also called out the dangerous methods required to both gain and lose weight quickly, recommending that fans don't try it themselves. Christian Bale, who has done both for films like The Fighter and Vice, called the process "horrible" in a 2011 interview with Empire magazine. Meanwhile, after Tom Hanks revealed his Type 2 diabetes diagnosis during a 2013 Late Show with David Letterman interview, Dr. Holly Phillips, a CBS medical contributor, said that the dramatic weight fluctuations in his career could have predisposed him to develop the condition, per Vanity Fair.
Needless to say, Hemsworth is likely taking a healthier route, even if it's not translating to an Oscar just yet. The actor went on to call his regimen "a full-time job," but has no regrets about training as hard as many Olympians, despite not being one himself. "It's incredibly rewarding, too," he said. "You have to look at it like a professional athlete."