Chrissy Teigen & Michael Costello At Odds Over The Designer's Bullying Claims
Teigen mentioned taking legal action.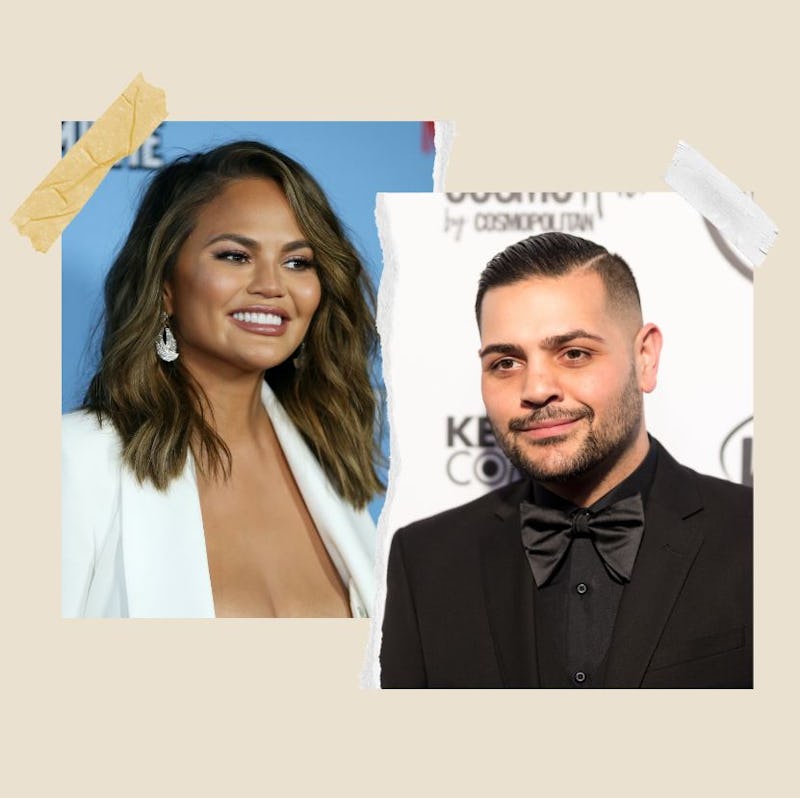 Phillip Faraone/FilmMagic/Getty Images; Greg Doherty/Getty Images Entertainment/Getty Images
There's been a back and forth going on between Chrissy Teigen and Michael Costello. In recent days, the Project Runway alum came forward to accuse Teigen of viciously bullying him in 2014, claiming her words led him to have "thoughts of suicide." As purported proof, he released screenshots that he said were of Instagram messages from the Cravings author. However, Teigen fired back in a Friday, June 18 Instagram statement, claiming Costello fabricated the DMs.
Costello's initial Instagram post — which has since been deleted — said that there was a doctored comment "floating around the internet" that Teigen messaged him about in 2014. Though he said he told her he was "the victim of a vindictive cyber slander," he alleged that Teigen told him that his "career was over" and "all [his] doors would be shut from there on." He described their exchange as leaving him with "deep, unhealed trauma."
Teigen and her camp, however, were adamant that the DMs were faked, per Business Insider. "No idea what the f*ck michael costello is doing," Teigen wrote in her June 18 Instagram post. "He just released a statement where he didn't at ALL acknowledge how fake the dm's were, & now claims to have emails that don't exist. So while he conjures those up (hopefully with someone more talented in fakes this time), here." The model — who wrote she'd consider legal action in an "actual court of law" if he took his painful accusations any further — also shared her own Instagram DM screenshots, which appeared to show Costello having sent her friendly, complimentary messages as recently as April 2020.
In the official statement on Teigen's behalf, her representatives noted she'd "clearly and contritely apologized for insensitive public tweets," but had not acknowledged or apologized for the private messages Costello shared. "Chrissy is completely surprised and disappointed by Michael Costello's recent attack, which includes fictional 'screenshots' from 2014 of supposed private messages that Chrissy did not send," the lengthy statement read. Teigen's team further pointed to such errors in the images as Teigen's handle being misspelled, an incorrect profile photo, and the inclusion of features and design elements that weren't part of the social media platform at the time.
Then, John Legend entered the chat. "Chrissy apologized for her public tweets, but after her apology, Mr Costello fabricated a DM exchange between them. This exchange was made up, completely fake, never happened," the EGOT winner tweeted in his wife's defense the same day. "Honestly I don't know why anyone would fake DMs to insert themselves in this narrative, but that's what happened. I encourage everyone who breathlessly spread this lie to keep that same energy when they correct the record."
Costello's team denied the accusations in a June 18 statement to Entertainment Weekly. "The fact that Chrissy Teigen's team is desperately trying to prove the DMs are fake and attempting to discredit Michael Costello, a victim of trauma and bullying by Chrissy Teigen both online and offline, confirms that she remains the same bully, despite her public apology," a rep said. "John has been complicit by observing Chrissy bullying many other people on- and offline for years. We are not at all surprised by his biased support of his wife."
Meanwhile, Costello personally responded in a since-deleted June 18 Instagram post accusing Teigen of being "the same bully she always has been, despite her fake apology to the public." The fashion designer, who added he'd soon be taking a social media break, further claimed to have "receipts of emails and confirmations" to prove that Teigen went out of her way to harm his career. He also apologized for "all the stress and trauma" the "messy situation" had caused for everyone involved.
The public feud follows reality TV star Courtney Stodden, who uses they/them pronouns, accusing Teigen of tweeting hateful messages to them, including ones that urged them to commit suicide, in a May 10 Daily Beast interview. Since then, Teigen has issued multiple apologies, most recently penning a contrite Medium post on June 14. "The truth is, I'm no longer the person who wrote those horrible things. I grew up, got therapy, got married, had kids, got more therapy, experienced loss and pain, got more therapy, and experienced more life," she wrote. "AND GOT MORE THERAPY."
Perhaps she and Costello can call a truce moving forward.