Yep, That's Selena's Real Voice In Selena: The Series
Star Christian Serratos is lip-syncing.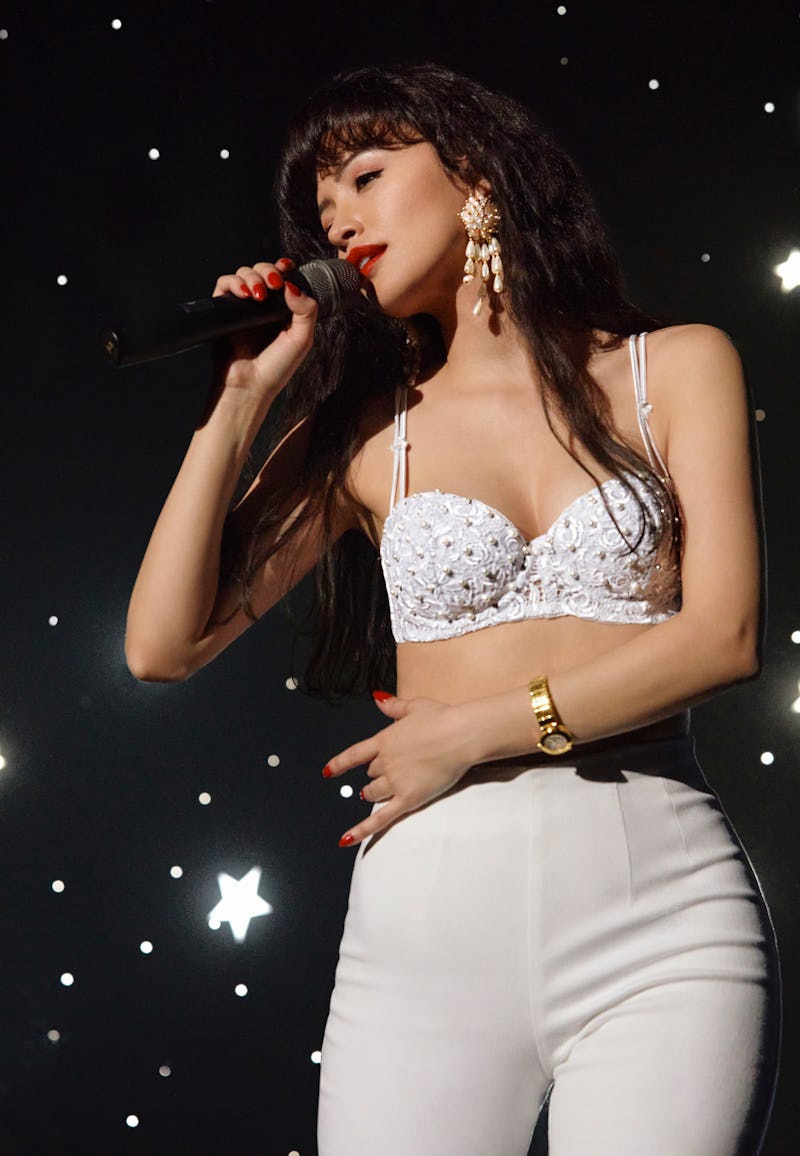 Michael Lavine/Netflix
Selena Quintanilla's voice is iconic, so when it came time to make a Netflix series about her life, it made sense to showcase her own vocals. As a result, star Christian Serratos isn't really singing in Selena: The Series. But that wasn't the original plan.
"It was always supposed to be the actress who sang," Serratos told Variety in November, adding that she recorded "quite a few songs'' for the soundtrack before production switched gears. Serratos was fine with the change: she said it didn't feel right to not show off Selena's actual talent, even if recording the songs herself could have provided a breakout career moment. "I always wanted it to be Selena, 'cause I was such a fan," Serratos said. She added that while she enjoys singing and wants to land acting roles in the future that allow her to highlight her voice, this just wasn't the right project for that. "It's not about me; it's never been about me," she told Variety. "I just want the fans to see their girl … And me, as a Selena fan, I was like, 'I don't want to hear me. I'm a great singer. I don't want to hear me. I want to hear Selena.'"
In the end, Serratos got her wish: the series secured the rights to Selena's vocals and got input from her family members like her dad Abraham Quintanilla Jr. and sister Suzette Quintanilla, who served as an executive producer. Suzette has been vocal about how much she loves how the show turned out. "To have a platform like Netflix and for two seasons to be able to tell our story, it's just, it's without words," she told Entertainment Tonight. "I don't think that a lot of people realize that this type of platform is not given to everyone, especially us as Mexican-Americans ... Latinos, we're knocking on the door and I'm happy that we're a part of that."
There are also a couple of times throughout the series that Serratos does get to showcase her voice. "If there's singing in an acting scene or if you see us on the bus, that's me," Serratos told the Wall Street Journal. For instance, when her character first practices a couple of lyrics from "Dame Un Beso" and "My Love," that's Serratos. "We were very excited about that — that we could feature both of these talents," co-showrunner Moisés Zamora told Decider.
The same creative decision to use Selena's real voice was made for the 1997 Selena biopic that starred Jennifer Lopez. At the time, J. Lo didn't consider herself a singer as much as she did a dancer. For that reason, she lip-synced to Selena's music in her performance scenes — except for her rendition of "Como La Flor," for which she performed the first couple of words herself.
Using Selena's voice in a movie or show about her life honors the singer and her legacy in a way that recreating her vocals simply couldn't. When fans tune into Selena: The Series, they'll hear Selena throughout the whole soundtrack — just the way Serratos always knew it should have been.
This article was originally published on