The Bachelorette's Dale Moss Just Confirmed His Split From Clare Crawley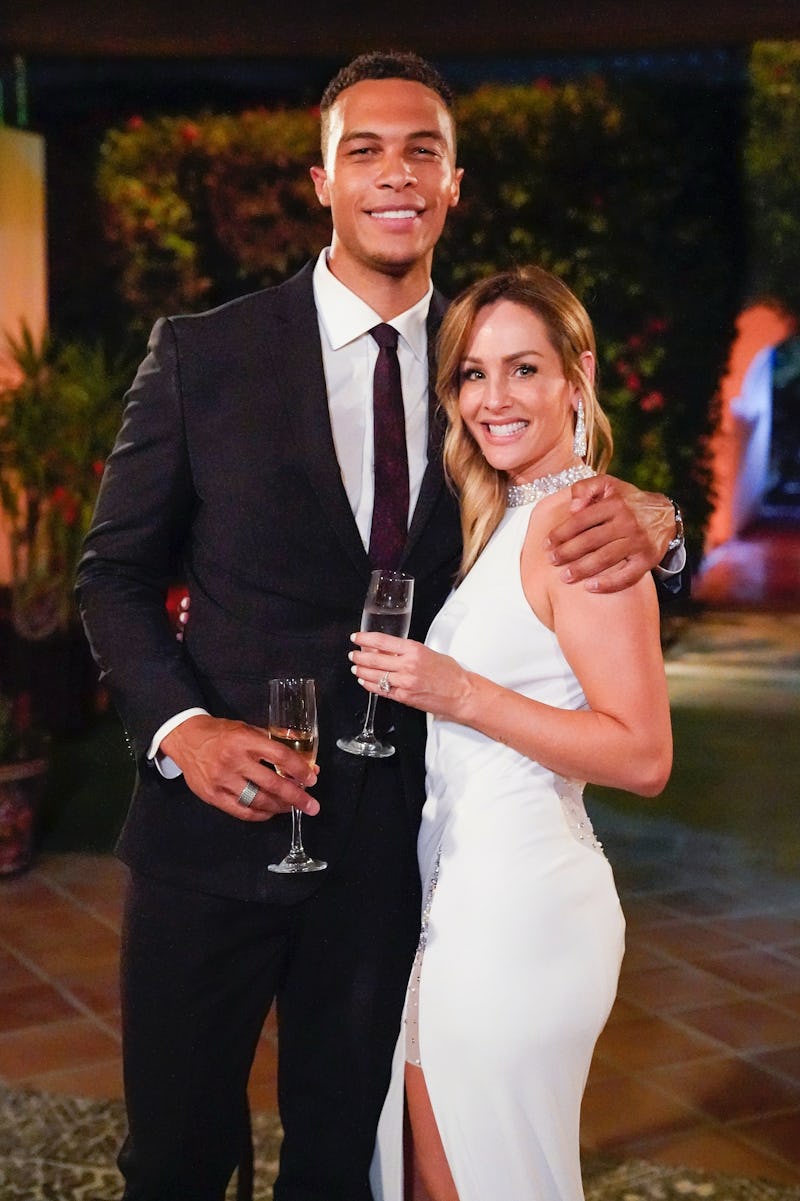 The Bachelorette/ABC
Bad News, Bachelorette fans — Clare Crawley and Dale Moss have officially called it quits. The 32-year-old football player took to Instagram on Tuesday, Jan. 19, to confirm the news himself. "I wanted to share with you all that Clare and I have decided to go our separate ways," he wrote. "We appreciate the love and support we've received from so many people, but this is the healthiest decision for both of us at this time."
Clare and Dale got engaged mid-season after only two weeks of knowing each other. Some viewers found their instant connection to be romantic while others doubted if they would be able to make their relationship work long-term. Dale's statement, however, proves their concerns were valid. "We strongly believe in leading with love and always remaining true to oneself - something our families have taught and instilled in us throughout our lives," he continued. "We only hope the best things for one another."
Dale's official announcement came shortly after E! News reported that he and Clare were having relationship troubles. "Clare and Dale have been fighting a lot recently," a source told the outlet earlier today. "They are mainly in disagreement over lifestyle preferences. Dale wants to be in a lively city and focus on his career, and Clare is rooted in Sacramento to help care for her mom. It's been very tense recently between them."
Us Weekly published something very similar. "Dale and Clare are technically still together but there are serious issues they are working through," a source told the magazine. "They're in communication but on a break."
The E! News insider also added that Clare and Dale were "still getting to know each other" and that they "decided to take some time apart for now." Dale, for his part, was reportedly beginning to feel like he was "rushing into something."
These reports are a far cry from what Bachelorette fans heard when the couple appeared on the Bachelor Happy Hour podcast on Nov. 6. "What I love about Dale is that nothing scares him," the hairdresser said at the time. "I talk about babies all the time and he's like, 'Yeah, that's what I want.' I'll remind him of things all the time, you know, 'I'm not getting any younger!' I'll say things like that, and he's like, 'You think I don't know this? Yeah, let's do this.'"
The model seemed to be on the same page, adding that he was excited to have "so many babies" with Clare. "As long as we're together, for me that's all that matters," he said. "We're building a life. We're building a foundation." The 32-year-old football player seemed just as smitten during the couple's post-engagement interview with Chris Harrison, in which he explained that it was "love at first sight." "Everything he was looking for was everything I was looking for," Clare added.
The couple's extremely short journey to find love raised a lot of eyebrows, with many fans wondering how they could have possibly known they wanted to spend the rest of their lives together so early on. "I understand that it was fast-paced, but this is the first time a 39-year-old woman sat up here," the hairdresser told the franchise's longtime host. "And I know exactly what I'm looking for."
In October, Clare shared with Us Weekly what it was like meeting Dale for the first time. "It was breathtaking. It was one of those moments where you don't know it until you experience it, what exactly that feeling is," she said. "I still can't put it into words what that feeling is though. It was when your body has that kind of, like, a goosebumpy reaction to things; it just takes your breath away." Sadly, it seems the honeymoon phase of their relationship is over.
This article was originally published on