Colin Firth Revealed His Favourite Mr. Darcy (& No, It's Not Himself)
He even wrote a fan letter.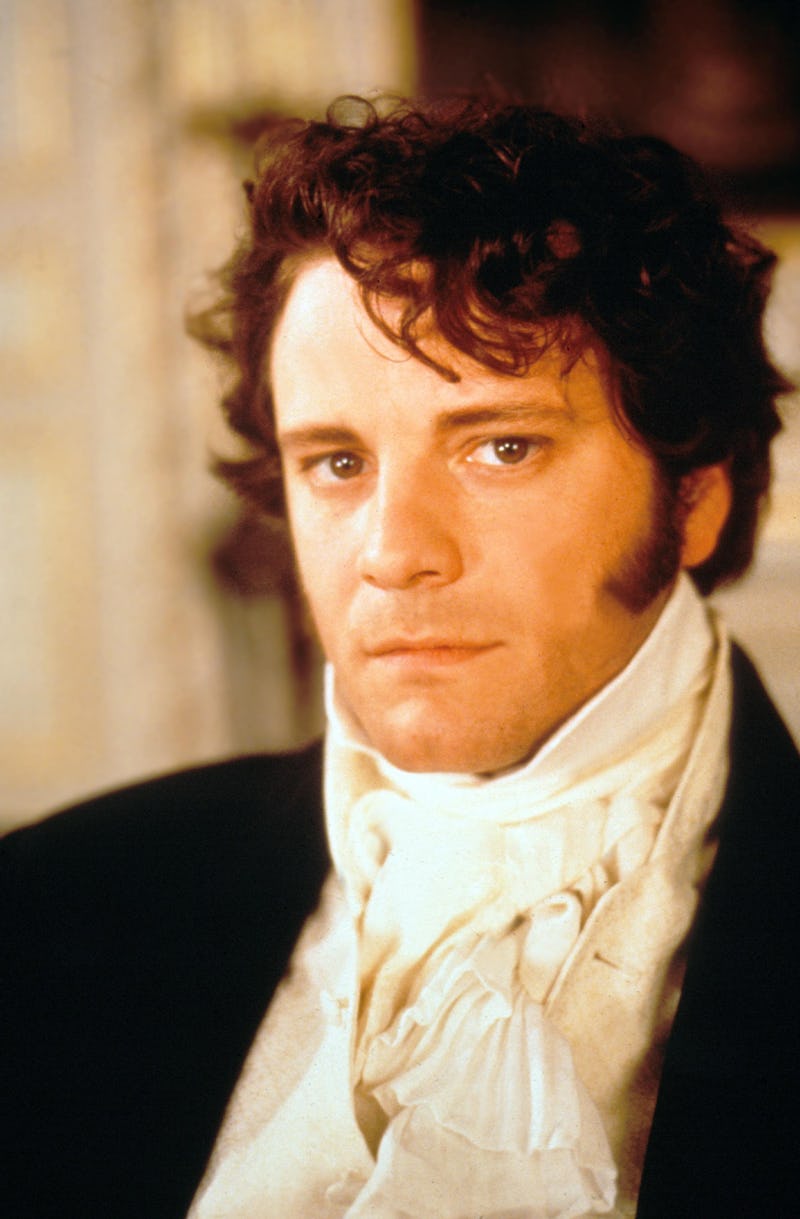 Moviestore/Shutterstock
When you think of Mr. Darcy, either Matthew Macfadyen or Colin Firth will come to mind. Both have portrayed the lovelorn antihero in different adaptions of Jane Austen's Pride and Prejudice, but had never worked together before a project called Operation Mincemeat — a film based on Ben Macintyre's book of the same name.
Since becoming co-stars, the two have fallen in love "bromantically" as Firth so delightfully put it at the film's London premiere. When asked how their friendship began during an interview with Vanity Fair, Firth said that "shallow chit chat" set it off, as well as a "tendency to wear the same clothes." "I would come dressed as Colin, and vice versa," Macfadyen added. "Sometimes it's just an instinctive ease," Firth continued. "This wasn't a blind date. We had a project to do. So I think a lot can spin off from just having this common endeavor."
Their portrayals of Mr. Darcy are another "common endeavor," one that they surprisingly didn't talk much about on set. "I remember saying there is this sort of weird pressure that comes with playing stuff like that," Macfadyen recalled, "I think we touched on that briefly, but we didn't talk about it."
Even though Firth doesn't seem too bothered by the fact they've both played Mr. Darcy – "it's not as if we're the only two people who played it" – the actor can't help but praise Macfadyen for his portrayal of the character. In fact, he revealed in a Vanity Fair profile of his co-star that Macfadyen's take on Mr Darcy is his favourite. "I finally understood the character! I had to write a fan letter. Definitely my favourite Darcy," he told writer Joy Press.
He also explained to the publication how it's "much more challenging to do [Pride and Prejudice] as a feature film", Firth said that he thought his co-star's ability to "tell the whole story in a more condensed form" was "masterful". He continued: "I think it was a huge achievement that that story was told [in that short time], and that Matthew managed to span the arc of that character.
This praise would've meant a lot to Macfadyen, seeing as he's previously cited Firth as being a major inspiration for him. "When I was sort of thinking about the possibility of being an actor when I was a teenager, Colin was a big influence," he told movie news site HeyUGuys, referencing A Month in the Country and Tumbledown as two performances that particularly stood out.
However, Macfadyen joked to Vanity Fair, "I'm the young Darcy, and I'm not going to let him forget it!"