Connor Made More Than One Fashion Statement On The Bachelorette
Katie called his night-one cat costume "purrfect."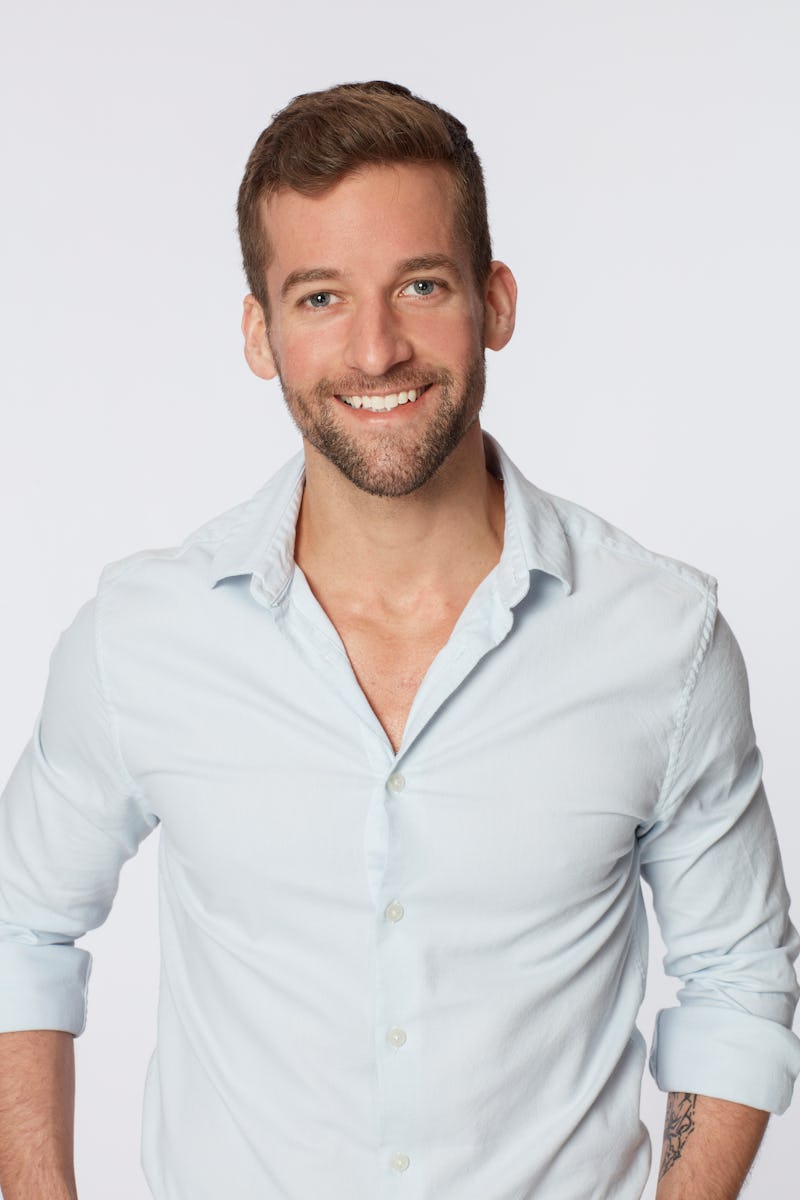 ABC/Craig Sjodin
Despite showing up in a cat costume, Bachelorette contestant Connor Brennan wore a much more special accessory while competing for Katie's affection on The Bachelorette. In a May 18 Instagram post, Connor's mom, The Auditorium in My Mind: Treasuring My Transgender Child author Lisa Brennan noted that Connor wore a a transgender flag ankle bracelet to support his sister Deirdre. "While we're proud that our son, Connor is going to be on this season of The Bachelorette," she wrote. "We're even more proud that he wore a trans flag ankle bracelet."
The 29-year-old Nashville resident made a "purrfect" first impression and even scored a first-night kiss, though Katie admitted in a promo it "wasn't great." Love of puns and sartorial comedy aside, here's everything else to know about Connor.
Connor's Job
According to his ABC bio, the St. Louis native is a "lovable, quirky and charming eighth-grade math teacher" with a master's degree in medical physics and a resume that includes nuclear engineer as a job title. He certainly "owns his nerdy side, but he is not afraid to poke fun at himself," the bio reads. The website for Nashville's private Templeton Academy, for grades 5–12, states that Connor is new to the area, having previously worked as a nuclear engineer in Wisconsin, and was thrilled to be teaching the school's first music class.
Outside of academics, Connor is also a musician and CycleBar spin instructor. "He first discovered indoor cycling in grad school when a friend took him to his first class, and as soon as the first big beat drop hit, he was hooked!" his staff bio reads. "In his classes you can expect to hear a great mix of music ranging from Pop to Rock, Disney to Broadway, and all your favorite bangers!"
Connor's Music
In his Instagram bio, Connor describes himself as a songwriter and "dueling pianist," and also links to a five-song EP of folk music on Spotify, titled Rough Draft. "Mean Boy," "Dead to Me," and "Shelf Life" are among the album's track titles. "These five songs were recorded @_pinehollow with some of my all-time favorite friends/musicians during one of the happiest periods of my life," he wrote in a May 7 Instagram post. "The songs themselves are eerie and acoustic, weaving their way through longing, leaving, anger, and growth."
Connor's Instagram
Connor's love of music and fitness is evident in his Instagram posts, as he seems to be just as likely to be working out shirtless as he is to be playing a guitar, piano, keyboard, or even a banjo or accordion. He also seems to have a great sense of humor, poking fun at his Bachelorette cat costume in a June 7 post, which he captioned, "when she says she's a cat lover...tune in to the #bachelorette premiere tonight to find out if it's a fur-ever love!!" His preferred puns aren't all cat-related either: he captioned one poolside shot "water you talking about."
He also recently reflected on starting his teaching career during lockdown in a June 2 post. "Survived my first year as a teacher and I am just so overwhelmingly grateful," he wrote. "Grateful for this school, grateful for every other teacher who worked tirelessly to make sure kids still got an education this year, and grateful for students who continued to show up and bring joy to the classroom any way they could."
To kick off the past couple New Years, he's posted his own handwritten "best of" lists, sharing his favorite movies, music, podcasts, and other standout memories.
What Connor's Looking For
ABC notes that Connor is a family man who is searching for "a woman who will share his enthusiasm and zest for living every day to its fullest," describing his ideal partner as "genuine, kind, socially accepting and open-minded." His perfect match must also enjoy a multi-location date with a theme, because he likes to go all out. His one major dealbreaker: a woman who doesn't respect waiters, "because there is no place for any bullying in his life."