Courtney Love Demanded Flowers From Olivia Rodrigo For "Rude" Twinning
The grunge star took issue with Oliva Rodrigo's Sour Prom visuals.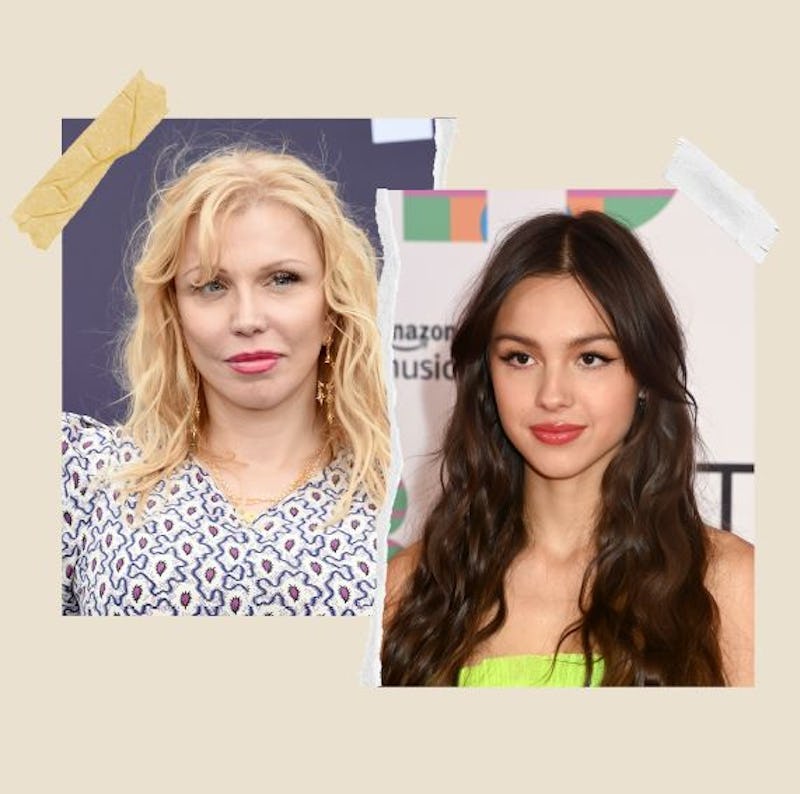 Gregg DeGuire/FilmMagic/Getty Images; Dave J Hogan/Getty Images Entertainment/Getty Images
Courtney Love is calling out Olivia Rodrigo on social media, saying the Disney star ripped off the disillusioned prom queen aesthetic from her band, Hole. The 56-year-old grunge star first took to Twitter to point out the similarities between Rodrigo's Sour Prom Concert Film promo photos and the album cover for Hole's Live Through This, which was released in 1994. Later, she demanded restitution in the form of flowers and a note.
In the allegedly copied photo, Rodrigo holds a bouquet of flowers and wears a sparkling tiara while mascara smudged tears run down her cheeks. The 18-year-old pop star tweeted the photo, captioning it, "Since I never got to go to prom, I wanted to throw a little prom party with my fav ppl (you guys obvs)." Love retweeted the concert film announcement, seemingly joking by captioning the post, "Spot the difference! #twinning!" and adding multiple emojis and tagging Rodrigo.
It's possible that Rodrigo was simply paying homage to the iconic album cover shot by Ellen von Unwerth, which depicts a zoomed-in shot of a smiling prom queen with black mascara tears under her face, framed with a bouquet of flowers and, of course, a tiara. However, Love continued to call out Rodrigo's team, this time on Facebook, where she made it clear that she saw the photo as less of a tribute and more of a "rude" instance of mimicking her original ideas without permission.
In one comment, Love wrote, "It was rude of her and Geffen [Records] not to ask myself or Ellen von Unwerth. It's happened my whole career so I d c. But manners is manners!" And in another comment, she doubled down on her statements, saying, "It's rude not to be asked. I know Ellen Von Unwerth isn't amused." She added, "My cover was my original idea," finishing the statement with the comment, "Yes it's rude." While Love made it clear she's annoyed, she also had a solution: "I've asked her for flowers and a note," she wrote.
So, will Rodrigo send her flowers? It's hard to say but the "Drivers License" singer did leave a comment for the four-time Grammy nominee on Instagram, saying "Love u and live through this sooooo much."
"Olivia - you're welcome," Love said in response to Rodrigo, before reminding the star that she still expected flowers. "My favorite florist is in Notting Hill, London! Dm me for deets! I look forward to reading your note!"
This isn't the first time Rodrigo's team has been called out for similarities to another work. Earlier this week, a thread of comparison between the High School Musical: The Musical: The Series star's album promo and indie pop-punk band Pom Pom Squad's aesthetic went viral. Perhaps more flowers could be in order.